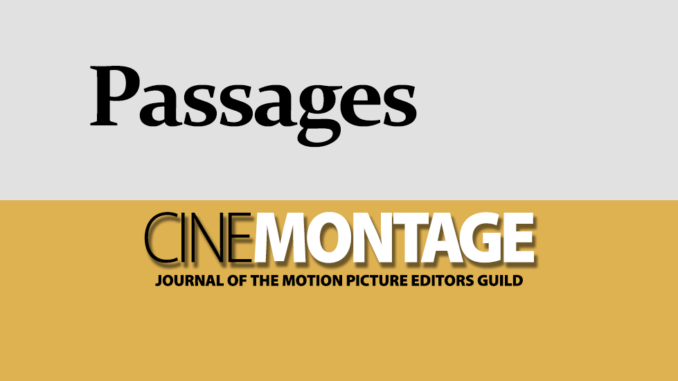 Norman Hollyn, ACE
Picture Editor
May 11, 1952 – March 17, 2019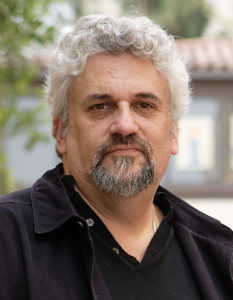 Norman Hollyn, ACE, was a large persona: tall, with a head of snow-white hair and a great laugh. His life was enormous and touched thousands of people around the world. He was an assistant editor, a music editor, a picture editor, an author, a teacher, a husband and a father. He was also the first holder of the Michael Kahn Endowed Chair of Editing at the University of Southern California, where he served as a full professor at the School of Cinematic Arts.
Born May 11, 1952 in Queens, he grew up on Long Island and studied at Stony Brook University, where he received a BA in Theatre Arts. He loved the movies. He loved telling stories.
On his first job as the apprentice sound editor on Lenny (1974), Norman was always the first into the editing room and the last to leave. A lover of music, he gravitated to the music department as John Strauss' assistant music editor on Hair (1979).
After completing 18 months working on that musical, Norman wrote the The Film Editing Room Handbook: How to Manage the Near Chaos of the Cutting Room (1986, now in its fourth printing), with photos by his then-new girlfriend Janet Conn, whom he would marry in 1984. Janet was the love of his life. I have never known a closer couple. Their daughter Elizabeth was born in 1987 and has followed her parents into the arts as a fine artist, photographer and professional archivist, working with two established artists. Norman's second book, The Lean Forward Moment: Telling Better Stories for Film, TV and the Web, was published in 2009. It inspired a panel discussion he moderated annually at ACE's EditFest.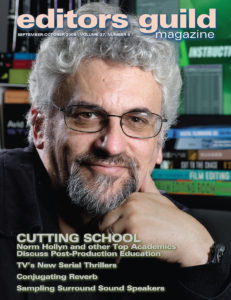 As a music editor, he worked on Fame (1980), Four Friends (1981), Sophie's Choice (1982) and The Cotton Club (1984). As a picture editor, he cut seven episodes of The Equalizer television series (1985-1989) and the Oliver Stone-produced miniseries Wild Palms (1993), as well as many features, including Heathers (1988), Meet the Applegates (1990), It's Pat: The Movie (1994) and, most recently, Shot (2017), directed by his USC colleague Jeremy Kagan.
But Norman's life was so much more than the sum of his credits. He was a friend to hundreds of people within the film industry, and influenced thousands of film students around the world — first through his books and then by teaching and lecturing in China, Japan, Malaysia, South Africa, Estonia, Brazil, the Czech Republic and Israel. He held workshops with Jordan's Royal Film Commission in Amman in 2005, which led to the establishment of the Red Sea Institute of Cinematic Arts that opened in 2008 in Aqaba.
A major consultant in the establishment of the Johnny Carson Center for Emerging Media Arts at the University of Nebraska, Lincoln, he also served as president of the University Film and Video Association and was a member of CILECT, the International Association of Film and Television Schools.
Norman died March 17, doing what he loved: teaching — in Yokohama, Japan. He was cremated in a traditional Buddhist ceremony attended by his wife Janet, their daughter Elizabeth and his colleagues at Tokyo University of the Arts. The cherry blossoms bloomed for him.
Michael Jablow, ACE