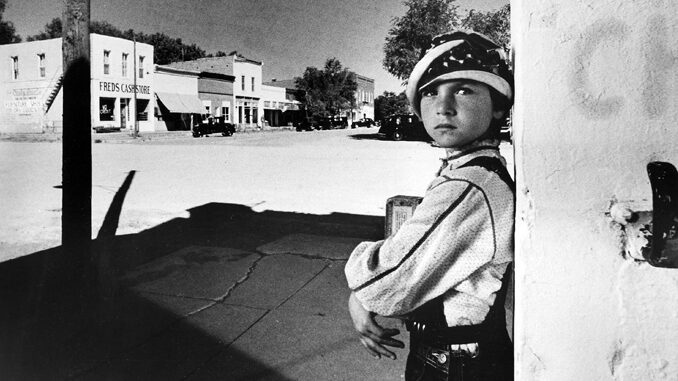 by Adam Lichtenstein
When I was growing up in the 1970s, there were at least two cinemas in my town that used to play double features in the old tradition. For the price of one admission, you could spend the entire afternoon watching movies on the big screen. It was often the case where a new release would be paired with what the programmers imagined was its predecessor: The Sting played with Butch Cassidy and The Sundance Kid, Love and Death was paired with Sleeper and, on one particular occasion, The Bad News Bears was coupled with Paper Moon. Back then, I came for the former, but stayed for the latter — and for that I will be forever grateful. To me, Paper Moon is the perfect gem and remains my favorite film to this day.
There aren't many people who point to this Peter Bogdanovich movie as their favorite picture, and so, over the years, it has been incumbent upon me to offer an explanation. I was the last of four children with as many as 15 years between my sister and myself. This left me growing up with my parents' cultural influences. Not until Paper Moon was I given a first-hand child's-eye view of the 1930s. It wasn't so much a period piece as it was a time machine! I came out of the theatre that day in 1976 with a new appreciation for WPA (Works Progress Administration) photography, crooner Dick Powell, comedian Jack Benny and old cigar boxes that held coveted objects.
When it arrived in 1973, Paper Moon looked to me more like it had been pulled out of a time capsule, and not freshly made alongside contemporary releases like The Exorcist, Live and Let Die, The Day of the Dolphin or even The Sting (which was also set in the '30s). It's known as a comedy, but it's always brought tears to my eyes. A little girl is on a journey with a man whom she believes may be her only living relative, but is coming up short. The little girl's resilience in the face of rejection tugged at my own little heart.
Though I wouldn't understand it for many years to come, the themes of the film also struck a personal note. As they evade the law, bootleggers, carnival eccentrics and a virtual parade of desperate characters, the question of paternity hangs over our two main characters. This tension was amplified by the filmmakers' decision to cast real-life father and daughter Ryan and Tatum O'Neal. As a child, I had long heard the stories of my mother's father, the bookie, who kept the family afloat taking bets and side-stepping the law. My mind reeled not only by the romance of my grandfather's life, but — with such a gap between the ages of the children in my family — at the possibility that my parents might not be who they said they were. Never sentimental, never cloying, Paper Moon has only impacted me more and more over the years.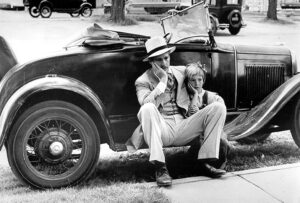 Even without these personal connections, the film is worthy of admiration. Deceptively simple, one of its subtleties that make Paper Moon the jewel that it is is director Bogdanovich's incredible attention to emotional detail. Plus, this wasn't just any movie about the '30s; this was a movie about the Dust Bowl. The film portrayed people living on the edge, decimated by the Depression — not the usual subjects of escapist pictures. These were marginal folk, not jet- setting champagne-sippers like characters from The Thin Man movies. These were rural characters leading hardscrabble lives filling out every frame.
Cinematographer Laszlo Kovacs' wide lenses and enormous depth of field captured evocative portraiture and many fine details, which production designer Polly Platt handily provided. In the early '70s, with strip malls starting to encroach on the historic centers of big cities, the wise decision was made to shoot on location in Kansas and Missouri in order to best take advantage of the authentic, stark landscape.
Of Verna Fields' masterful editing career, her work in Paper Moon rivals anything she ever did on Jaws, brilliantly orchestrating an array of tempo changes — from lonely darkened bedrooms to threatening police interrogation rooms, from high-action car chases to methodical con games. Fields' work takes its lead from the story but never shows off, remaining ever modest.
Paper Moon is one of those movies whose many production choices reflect the filmmakers' desire to take their audience on an authentic emotional journey through time. It's this kind of tireless support of story that makes it possible all these years later to enjoy the film, which is one with a particular meaning for me..