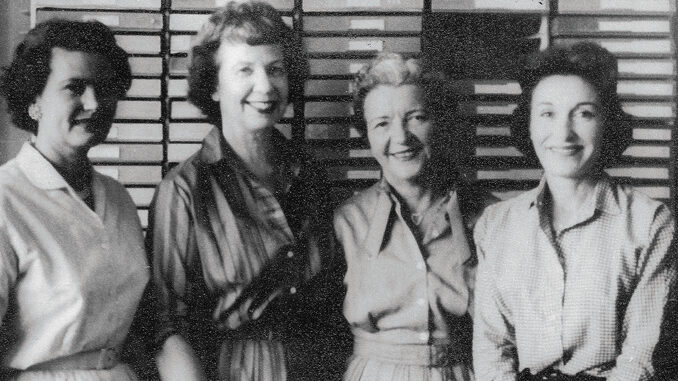 by Edward Landler
The Motion Picture Editors Guild has existed 75 years, a time period often associated with the span of a human life. It is no surprise then that the lives of some of the Guild's retired members encompass the Guild's entire history. With that in mind, CineMontage spoke with the union's earliest members to gain a fuller below-the-line perspective on the industry in which they spent their working lives.
A charter member of the Society of Motion Picture Film Editors from 1937, Mary Steward at 102 is the oldest living member. Born in Dayton, Ohio in 1910, she settled in Los Angeles with her family at the age of 10. In 1929, she started her career in Universal Pictures' film lab run by film development processing inventor Roy Hunter.
Steward then worked for Howard Hughes at Multicolor, a company he bought to shoot his World War I aviation picture Hell's Angels (1930) in color. Soon after, she became an apprentice editor. In 1935, she started working at 20th Century-Fox under studio chief Darryl F. Zanuck and was assistant editor for such major editors as Barbara McLean, Robert Simpson and Dorothy Spencer. Among the films she worked on were Henry King's The Song of Bernadette (1943), Alfred Hitchcock's Lifeboat (1944), and Elia Kazan's A Tree Grows in Brooklyn (1945).
"Mr. Zanuck had final say on everything and made all the decisions on every picture," Steward says. "Fox was a small lot and everybody knew each other. I used to go bowling with Tyrone Power and Don Ameche."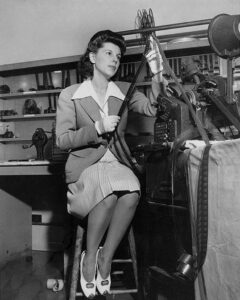 The formation of the Society, she says, "made a difference. We used to work seven days a week." But an early meeting with a union executive didn't sit well with her: "With his feet up on his desk, he told me, 'My dear, we don't get jobs for girls.' He didn't last long."
At Fox, Steward worked on four John Ford films, including Drums along the Mohawk (1939) and The Grapes of Wrath (1940). She recalls, "Every time I went to the set or out on location for business, Mr. Ford would always yell, 'Bring Mary's gam box' — that's 'gams' as in 'legs' — and they'd put an apple box on the ground in front of me. Then he'd tell me I had to stand on it and turn around two times before I could open my mouth. I just wanted to get back to work."
In the 1950s, Warner Bros. offered Steward a job. By that time, she had married special effects expert Don Steward and had three children. She decided to change studios: "It was easier to get from our home in Hollywood to Burbank than to go all the way to the Fox lot."
Studio boss Zanuck personally offered her a picture and to make her a full editor. "I told him I never wanted to be an editor," Steward remembers. "He said, 'If you want to come back, just phone us.' I liked being an assistant editor. I guess I was good at it."
Steward retired in 1975. Her last feature (uncredited, as usual) was a TV movie, Sidekicks (1974) with Larry Hagman, Lou Gossett, Jr. and Blythe Danner, but she remembers working on one TV series for a short time, Gilligan's Island: "It was the only show I ever quit."
Also a charter member of the Society, Jerry Young was born in Chicago in 1916, moving to Los Angeles as a kid. His first industry job was driving trucks at Republic Pictures in 1936. Fascinated by editing, he became an assistant music editor around the time the Society started. The differences he noticed after joining were a pay raise from $20 to $22.50 weekly and extra pay for working overtime.
Young became an assistant picture editor and, after serving in the Army Signal Corps during World War II, became an editor of industrial films in Chicago. But he returned to Hollywood where he was assistant editor on Robert Rossen's prizefighting picture, Body and Soul (1947), which won an Oscar for its editing. Young relates, "The fight near the end was 15 rounds, but we cut down the number of rounds we showed as we went along."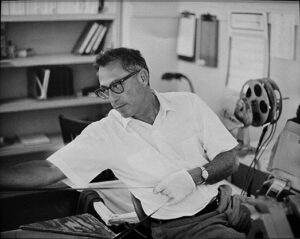 He still worked occasionally as an assistant music editor, but during the 1950s he became a full picture editor for episodic television and low-budget features, including I Was a Teenage Frankenstein (1957) and Alexander Singer's highly praised A Cold Wind in August (1961). Then Young switched entirely to TV.
"I was raising a family and preferred the steady work," he explains. Sometimes, though, he had to do more than he expected. "On one series, the director covered entire scenes from every possible angle — masters, medium shots, over the shoulders, close-ups, eyes, lips — and left it to me to put it all together."
After working on shows like Sky King (1951- 62), Wanted: Dead or Alive (1958-61) with Steve McQueen, and the first season of The Beverly Hillbillies (1962-71), Young was hired by Quinn Martin Productions for The Fugitive (1963-67). He spent 14 years with Quinn Martin, receiving two Emmy nominations for his work there: Best Editing for a Series on The Streets of San Francisco (1972-77) and, for a Special, Attack on Terror: The F.B.I. vs. the Ku Klux Klan (1975). "I liked features best," offers Young, and from 1976 until his retirement in 1985, he worked exclusively on TV movies. He got another Emmy nomination in 1980 for Best Editing of a Limited Series for Shogun from James Clavell's novel.
Norman "Stormy" Palmer, A.C.E., joined the Society of Motion Picture Film Editors on June 2, 1939. He was born in Santa Ana in 1918 and started as a projectionist at the Walt Disney Studios in 1938. "When I started in editorial," he recalls, "Disney sent the whole department — there were only eight or nine of us — to sign up in the union together."
Palmer's first job in editorial was as a gofer, which was then apprentice and assistant work. On Fantasia (1940), he spliced picture and fixed tracks, "blooping holes on music tracks so they wouldn't hear the pops."
During World War II, he joined John Ford's Field Photo Branch of the US Navy and, after the war, returned to Disney as an assistant editor (uncredited) on Make Mine Music (1946) and Melody Time (1948). Palmer got his first full editing credit on Beaver Valley (1950), the second short film in the documentary True-Life Adventure series.
"Everybody else thought it was going a step down to work on 16mm live action from 35mm animation," remembers Palmer. Beaver Valley won the Oscar for Best Short Subject and Palmer edited three more True-Life shorts, all of which got Oscars: Nature's Half Acre (1951); Water Birds (1952), with a sequence cut to Liszt's "Second Hungarian Rhapsody"; and Grand Canyon (1958), edited to Grofé's "Grand Canyon Suite."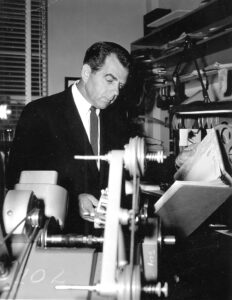 "I liked doing the films with music," Palmer says. "You got to get that real sense of rhythm and feeling — not oom-pah-pah, but oom-pah-pah. Some editors just get things done mechanically, but a lot of feeling has to go into it."
He also edited four True-Life features, two of which won Oscars for Best Documentary Feature: The Living Desert (1953), which earned a place on the National Film Registry, and White Wilderness (1958). After the nature films, Palmer edited dramatic features, usually involving animals. For The Shaggy D.A. (1976), he lip-synced a live- action dog to look like it was singing "If I Had the Wings of an Angel." "It looked great,but we had to cut it out of the picture," he laments.
Palmer retired in 1983. On the walls of his home, he displays oil canvases by Disney artists as well as paintings by his wife Barbara, who worked in Disney's Ink and Paint Department. "I held Disney in awe," says Palmer. "The studio was like a big campus and Walt Disney understood the problems of the technicians. He was our champion. When the cuts were screened, he suggested changes and the directors would say, 'We'll have it for you tomorrow.' And he said, 'No, give Stormy the time to work on it and get it right.'
"Disney personally approved everything before release," he continues. "Only after his death did the studio start setting release dates without knowing the show would be ready."
Born in San Francisco in 1920, Edward A. Biery, A.C.E., came to Los Angeles when his mother, Ruth Lieber, got a job editing Photoplay, one of the earliest movie fan magazines. His uncle, Perry Lieber, ran RKO's publicity department and got him work on the studio labor gangs while he was taking classes at Los Angeles City College.
Biery was soon given the choice of going into camera work or editing. He decided on editing and joined the Society on April 6, 1940, when he started as an apprentice in RKO's
trailer department. While an assistant editor, he took two years off to join the Army Air Corps. Stationed in Italy, Biery rose to the rank of Captain and earned two Distinguished Flying Crosses. His job was waiting for him after the war and he got his first full editing credit in 1947 on Six Gun Serenade, starring singing cowboy Jimmy Wakely.
From 1954 until 1968, Biery worked in episodic television, with two notable exceptions. At RKO, he had worked as an assistant to Robert Swink, who brought him in to share editor credit on William Wyler's Friendly Persuasion (1956), and on John Frankenheimer's first theatrical feature, The Young Stranger (1957).
He remembers his work on the last episode of The Lucy-Desi Comedy Hour in 1960 with less pleasure: "It was shot and edited while Lucy and Desi's marriage was falling apart. Desi kept coming into the editing room to tell me to take out Lucy's close-ups."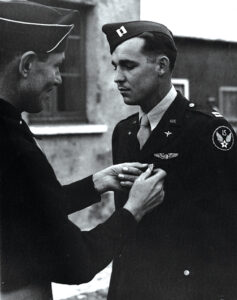 In 1968, Biery began the most important working relationship of his career when he edited a TV movie called Shadow Over Elveron, directed by James Goldstone. Over the next 18 years, the editor and the director would collaborate on eight more TV movies, eight theatrical features and a major network miniseries, Studs Lonigan (1971), based on James T. Farrell's classic trilogy. "Jimmy was in the cutting room a lot," says his editor. "He liked to mess around with it."
Biery enjoyed doing the racing scenes for Winning (1969) and, on They Only Kill Their Masters (1972), he and Goldstone experimented with quick cutting. They hung all the shots from a fire scene on a line strung across a projection room and randomly assembled them off the line. "It came out pretty well," he says. "We only had to make a couple of changes."
His toughest job was the TV movie Kent State (1981). Biery recalls, "The National Guard's attack on the student protestors was shot with nine 16mm cameras and, to save money, they transferred all the footage to video for editing. It was the only time I didn't work on a Moviola."
"My basic editing philosophy is that the show is the director's," he concludes. "Until the director and the editor get it into shape, you shouldn't show it to the producer." Biery retired in 1988. His wife Bettie also worked in the industry as a music editor.
Negative film cutter Marge Sokolow was born in Sioux City, Iowa in 1920 and her family moved to Los Angeles in 1932. In 1942, she started at Technicolor assembling dailies before they were developed, printed and sent back to the studio editorial departments. At that time, she joined the Lab Technicians' Local 683, which merged with the Editors Guild in 2010. "I got the job because during the war, the men were gone," says Sokolow. "But also, they thought women handled negative cutting better than men."
Local 683 had been chartered in 1929, and she learned from her older co-workers about the changes the union had brought about. "Before the union," she recalls, "negative cutters were sent home when there was no work, and called in at a moment's notice when the negatives were ready — anytime day or night."
Sokolow moved to Consolidated Film Industries (CFI) in 1943, where she worked as a projectionist looking for defects in the prints, and received a positive pay rate instead of a negative rate. She got another step up in pay when she returned to negative assembly at the Pathé Movie Lab in 1946 and learned how to sync up optical tracks. "I was good," she says. "I didn't drink at work. The story they told was that negative cutters always had a bottle of vodka stashed in their cutting rooms."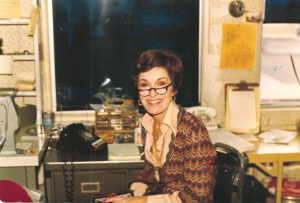 In 1952, Sokolow left the industry to take care of her three children — one of whom became a negative cutter and is married to a picture editor. She herself was married to CFI color timer Leonard Sokolow, who received three scientific Oscars. She returned to negative cutting in 1957 and spent the rest of her career mostly doing episodic television.
"This was perfect for me," she says. "I had regular work 39 weeks a year and then I was off for 13 weeks when the kids were home from school."
Over the 1950s and '60s, Sokolow worked for companies like Desilu and Don Fedderson Productions and on a host of shows including Bachelor Father (1957-62), The Dick Van Dyke Show (1961-66) and Family Affair (1966-71). "Whenever sweeps week came, we often had to work overtime to have the best shows ready," she recalls. "That's when we felt the union protected us. They saw to it we got paid overtime."
During the 1970s, Sokolow worked for an independent outfit run by Jack Hooper out of Deluxe Labs. From 1978 until her retirement in 1984, she was in Aaron Spelling's negative cutting department.
In 1982, however, her technical experience aided Sino-American relations. Representatives of the revived post-Cultural Revolution Chinese film industry visiting Hollywood invited her and her husband to visit their facilities in Shanghai and Beijing. At the expense of the Chinese government, the Sokolows spent a month there advising on how to modernize their antiquated system.
These five guild members represent a rich panorama of technical skills and aesthetic talents that have directly affected our entertainment over the past three-quarters of a century.