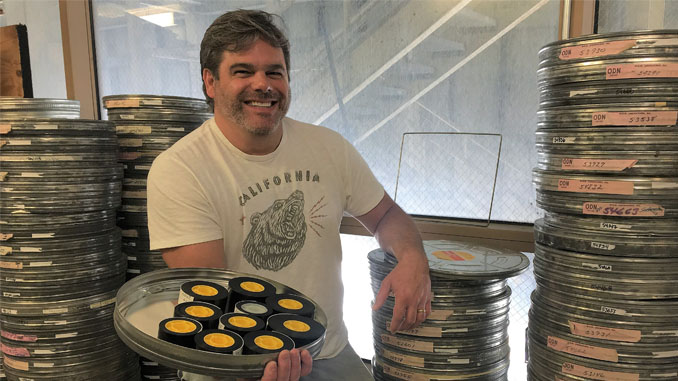 Where are you currently employed?
Paramount Pictures Film Archive.
Current Project?
Archive librarians tend to juggle multiple projects at any given time, but currently I am spending the better part of my day re-organizing and cataloging the complete picture and negative cutting room inventories on William Friedkin's film Sorcerer from 1977.
Describe Your Job.
My primary job is to identify and "tag" an asset into our tracking system to be able to quickly retrieve that item in the future. Our group works with all departments that create new or newly remastered content, including Preservation, Feature Post, Special Features, Marketing, Editorial and others. We consistently field department requests to retrieve their previously created content.
How did you first become interested in this line of work?
I came to archiving by way of the cutting room. After several years of freelance work, I was ready for the industry luxury of steady employment! The real-world cutting room experience lends itself nicely to many aspects of working in the Paramount Archive.
Who gave you your first break?
During my freelance days, every job was like a first break, but my true first break came from producer Alan Barnette and director Christopher Crowe, who took me under their wings when I started as a PA on Off Limits in 1988. But also, folks like sound supervisor John Larsen, assistant sound editor (and best friend) Gayle Wesley, post supervisor Kiki Morris, negative cutter Gary Burritt and Fox Film Preservation's Schawn Belston and Barbara Crandall…just a few of the many, many people who really looked out for me on multiple projects.
What was your first union job?
The Public Eye in 1992 was my first union gig. It was a negative pick up, and we finally "went union" when our cutting rooms were set up on the Universal backlot. There was plenty to like working on location for the show — like projecting dailies for the crew in our hotel's conference room/makeshift theatre/cutting room.
But when we got back to LA, we were hidden away in the old wardrobe building at Universal. Word got out that a non-signatory show was on the lot and we were required to go union. Originally, we were working 80-plus hours a week to meet schedule; but once we were covered under the union contract, [the producers] did not want to pay for those crazy overtime hours. The schedule was extended and we simply worked our weekly guarantee!
Which of your credits or projects have made you the most proud and why?
The Public Eye was my first official screen credit. That is always memorable, but I listed myself as Jeff. My mom's reaction was immediate. She said, "I named you Jeffrey." Ever since then, any credit, any check, any legal document is signed "Jeffrey!" 
What was your biggest challenge in your job (or on a particular project) and how did you overcome/solve it?
In 1995, we were temp dubbing Dunston Checks In when the power station on the Fox lot literally exploded. The next morning, the studio refused to change the schedule even though we had no power! On a moment's notice, we had to load up our personal vehicles — including my 1965 Ford F100 — and haul our entire cutting rooms across West LA to Acme cutting. We were up and running by lunch that day. Adapting to crisis is expected in the film industry; it's about getting the job done.
What was the most fun you've had at work?
Paramount Archive's celebrations of two classic John Travolta films with on-lot screenings and parties. Last year was the 40th anniversary of Saturday Night Fever and this year the 40th anniversary of Grease. It is always a ton of fun seeing these restored films, and boogieing afterward.
Jobwise, what do you hope to be doing five years from now?
Now in the latter half of my career, I hope to fully eye some form of retirement in five years. In a perfect world, I'd have the opportunity to keep working on special projects, with the ability to spend more time traveling and with family.
What are your outside activities, hobbies, passions?
I love to travel with my husband, Christian. I am a sweepstakes junky, which has fueled many of our trips. We've had the good fortune to win travel packages to Coronado Island, Palm Springs, Sonoma, London, Ireland, Italy and France.
Favorite movie(s)? Why?
I am naming a movie moment as my favorite: In Scorsese's GoodFellas, when some kids were playing stickball under the New York City "El" train walk up into the frame, the piano chord from Derek and the Dominos' "Layla" starts, and we cut to the grill of a pink Cadillac. The camera slowly rises up over the hood to reveal the corpses of Johnny Roast Beef and his wife. For me, the whole tone of Henry Hill's story pivots 180 degrees on that sequence from coming-of-age to frenetic self-destruction.
Favorite TV program(s)?  Why?
M*A*S*H, for its ability to capture the frivolity of war and the humanity of man.
Originally, we were working 80-plus hours a week to meet schedule; but once we were covered under the union contract, the schedule was extended and we simply worked our weekly guarantee!
Do you have an industry mentor?
A dear friend and mentor who has passed, David Diaz. Not a Guild member, but our senior systems analyst when I was at the Fox Film Archive. He taught me how to navigate the business end of our business. Whether reminding me how not to write a professional e-mail, or how to hold my own in a room full of department managers and vice presidents, he always had my best in mind.
What advice would you offer to someone interested in pursuing your line of work?
I am old enough to have seen the continued corporatization of the film and TV industry, and to have seen many of the jobs once filled by the "who you know" method now being sourced through the studios' human resources teams. For that, a library sciences degree certainly adds to your pedigree in areas related to the archiving field. But more than anything, do not be afraid to take any work to get your foot in the studio door. Interning, tour guiding and production assistant jobs have all led to bigger and better gigs. Just come ready to work.
Was there ever a circumstance when you had to rely on the Guild for help or assistance?
There was a period when I had to take a leave of absence to deal with personal family issues. Working with the Guild, I was able to freeze my dues during the break in service and re-up when I was able to return. It was great knowing my Guild was there for me through good and bad.
Is there anything you'd like to say to your fellow Guild members, some words of encouragement?
It is a privilege to be part of such an outstanding group of craftspeople. I was once fired by the late picture editor Sid Katz. I still hold that memory close to heart. I may have been too young to maintain the gig then, but I was wise enough to know how lucky I was to have been in his cutting room. I hope my continued career has made up for some of my naivety.
Compiled by Edward Landler      
Editor's Note: To recommend a member (including yourself) to be featured on CineMontage.org, and the home page of the Editors Guild website, please contact edlandler@roadrunner.com.