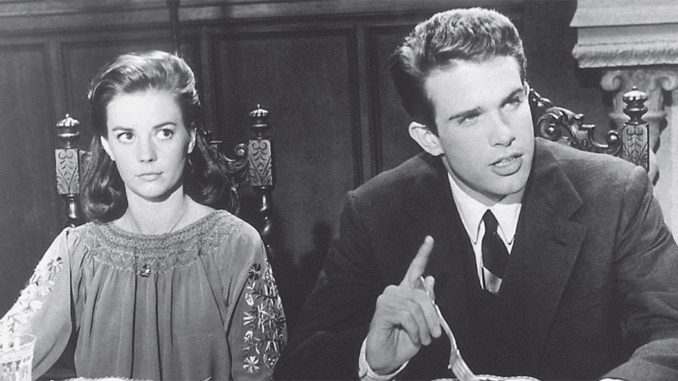 By Garby Leon
Back in 1962 Jack Kennedy was president and about to face the Cuban Missile Crisis, Marilyn Monroe was found dead in her bedroom and Johnny Carson became host of The Tonight Show, events which still have a fateful resonance today. On the cusp of adolescence I spent that distant summer with my Spanish grandparents in Yonkers in their rambling three-story house on the Hudson Palisades, practicing the piano.
After wandering in the land of Schubert, a place very far from Hollywood, I was utterly unprepared for the overwhelming impact of sitting in an empty Yonkers movie palace one afternoon with my cousin to watch Natalie Wood and Warren Beatty star in Elia Kazan's and William Inge's Splendor in the Grass, a script that won Inge the 1962 Oscar for screenwriting.
Splendor in the Grass is a small-town love story set in 1928 Kansas which sees unbearably beautiful Natalie Wood (as Wilma Dean "Deanie" Loomis) hectored by mother Audrey Christie not to give in to her love and passion for gorgeous Warren Beatty (Bud Stamper), the high school football star and son of the town's wealthiest man, forcefully played by Pat Hingle. Intimidated by a father who offers prostitutes and advises him to find "another kind of girl" to relieve his sexual desires, Bud also wrestles with his father's blunt class-bias message that Deanie is beneath him, that Bud is headed for Yale and a better match.
The movie is visually sensual; Richard Sylbert's sets capturing small town America in rich Technicolor cinematography in a style that feels as if it emanates sex and desire from every frame. The escalation of chemistry between Wood and Beatty––physically the two most beautiful actors in Hollywood and rumored to have had an off-screen affair during the production––becomes unbearable. This is literally so for Deanie, whose enforced virginity and repressed desire leads Bud to be unfaithful and, after her suicide attempt, sends her to a sanitarium for years of recovery.
 Social taboos, parental distortion of a young person's psyche, the deep mystery of love. All of this and maybe a lot more left me stunned and shocked when the movie was over.
All this is powerful and emotional enough, but nothing prepares you for the movie's climax, surely one of the greatest scenes in American cinema and one that elevates the film itself to near-greatness. Years later, Deanie––recovered and dressed in virgin creamy white––finds Bud again, but in one shot we and Deanie realize that it's too late. Bud is transformed; now with a pregnant wife and an infant, he's a blue collar laborer on his hardscrabble farm, his father having lost everything in the 1929 crash. Bud tells Deanie he doesn't "think much about happiness any more," that the light of his spirit gone. But Wood achieves a kind of luminosity that is almost supernatural as Deanie realizes that there is no going back.
The movie tells us that no matter how strong love is between two people––even people destined, fated and meant for each other––love doesn't conquer all, it's a fragile flower in time. Splendor in the Grass confronts us with a rare exception to the happy ending cliché, creating instead a story climax that strikes with astonishing and tragic power. The scene's acting and direction is complexly nuanced and breathtaking as Inge in essence says to the audience with deep irony that the "splendor" of young love is not consoling at all, that the past leaves permanent wounds, that time itself is unforgiving and permanent, and that love has a single season when it must be captured or lost forever.
Adolescent longing, social taboos, parental distortion of a young person's psyche, the deep mystery of love and sex between perfect, innocent partners and the so-easy fall from grace if the heart's longings are not pursued. All of this and maybe a lot more left me stunned and shocked when the movie was over. So much so that my cousin and I stepped wordlessly onto a bus and then the IRT subway and rode silently for hours all the way to the southern tip of Manhattan and back to decompress and delay our re-entry into reality after the crushing beauty of the movie. Weeks later, I still felt a dreamy state of removal, and, unable to recapture the movie's world, found myself picking up Photoplay and other Hollywood fan magazines whenever a picture of Wood or Beatty appeared on the cover. I slowly realized that these were real people in the film, actors who lived out west and had careers and real lives. Maybe that was the first step that led me to follow them many years later.