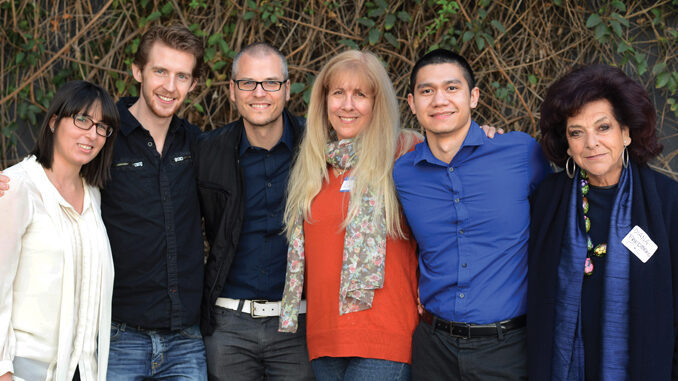 by Edward Landler • photos by Martin Cohen
For over two decades, the American Cinema Editors (ACE) has sponsored the ACE Internship Program to help bring motivated individuals into the editing profession. This little-publicized annual program has introduced gifted, prospective editors into the industry, accelerating their rise into assistant editor positions. In the process, the program has also created a network of editing professionals encompassing internship alumni and many applicants to the program.
Now, after years of service, Internship Director Lori Jane Coleman, ACE (Covert Affairs, 2010-present), and Co-Director Diana Friedberg, ACE (Dog Whisperer, 2004-present) are handing the reins of the program to new leadership. The new directors are 2008 Internship alumnus Carsten Kurpanek (Earth to Echo, 2014) and 2006 alumnus Tyler Nelson (The Social Network, 2010).
Over the year leading up to the 2014 Internship (which took place in January and February), Kurpanek and Nelson learned how the process works — from applications, interviews and orientation through the actual internship to the final meeting. The outgoing directors will oversee the new directors as they prepare for the 2015 Internship and, to aid in the changeover, Coleman has compiled a detailed manual of procedures to help guide them. "The interns' best interest must always be at the heart of the program," she says.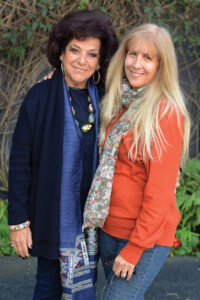 The Internship Program was started in 1992 by Bill Gordean, ACE (Teenage Mutant Ninja Turtles, 1990), to offer college graduates interested in editing a unique opportunity to be mentored by industry professionals. In the first year, the original committee who interviewed applicants were Gordean, Jack Tucker, ACE (Shogun, 1980), Howard E. Smith, ACE (The Abyss, 1989), and Tina Hirsch, ACE (Gremlins, 1984).
During the first year of the program, Coleman, who had just started editing Picket Fences (1992-96), mentored intern and now editor J.P. Bernardo (Warehouse 13, 2009-2014). Also during that year, Gordean asked Coleman to take over the program along with Friedberg, who became "my sounding board and friend," says Coleman.
Friedberg adds, "Lori and I both had a similar feel for people and understood the importance of professionalism and standards. We work well together. We discuss the ideas and concepts for every year's program." The first woman to direct a feature in her native South Africa, Friedberg worked there as an editor for 20 years before coming to work in Hollywood in 1986.
Coleman and Friedberg developed the program into its present structure. Each of the applicants selected as interns is assigned an ACE member as his or her individual mentor to whom he/she e-mails a daily journal during the internship. Over this time, the interns observe assistant editors working on features, scripted television and reality TV. They also explore the range of post venues including lab, telecine, visual effects facilities, sound effects and music editing rooms, and ADR and dubbing stages. From the program's early days on, notes Friedberg, "All interns write a report on their internship including thanks to their mentors. It's published in ACE's CINEMAEDITOR magazine."
"Without ACE editors and their assistants opening their doors, projects and hearts, this program could not exist," Coleman emphasizes. As more ACE members got involved, she and Friedberg found they could delegate tasks to their fellow editors. Presently, Troy Takaki, ACE (Hitch, 2005), chairs the committee that secures TV and feature venues, Mark Andrew, ACE (Beyond Scared Straight, 2011-present), is chair of the reality venues committee and Herb Dow, ACE (Anything But Love, 1989-92), chairs the committee for lining up post facility venues.
Friedberg is chair of the orientation and final meeting committee and Tracey Wadmore-Smith, ACE (About Last Night, 2014), chairs the committee for the thank-you dinner. The dinner was created about eight years ago to acknowledge all the editors, assistants and post personnel who contribute to each year's program. "I can't say thank you enough to them," notes Coleman.
The interns also work at the Blue Ribbon Panel, where the films nominated for the ACE Eddie Awards are screened, and at ACE's Invisible Art/Visible Artists program, where the Oscar- nominated editors discuss their work the day before the Academy Awards are presented. The interns receive their plaques at the Eddie Awards nominees' cocktail party and are guests at the Eddie Awards ceremony.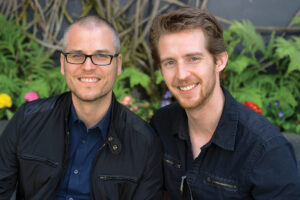 From 1992 through 2006, the program accepted two interns each year. In 2007, an international slot was added for a foreign intern and, in 2012, a fourth internship was offered for veterans of the US Armed Services. The program was streamlined down to two American interns for the current year, but Coleman hopes that the international internship can be re-established.
Every year, ACE receives up to 100 applications. Coleman and Friedberg pare this number down to five-to-10 for in-person interviews with the full committee. Coleman chairs this committee, whose members include Christopher Cooke, ACE (Resurrection, 2014-present), Sabrina Plisco, ACE (The Smurfs, 2011), Hirsch, Takaki and Friedberg.
Ten years after becoming director, Coleman initiated another integral feature of the program to broaden its networking capacity. Impressed by the applicants' level of ability, she felt they should all benefit from the program and help it develop into a kind of family. She created the Internship Lecture Series, to which all applicants are invited every year.
Scheduled for immediately after the intern selection, the Lecture Series is a set of panel discussions among editors and assistant editors. Series chair Stephen Lovejoy, ACE (Eureka, 2006-12), organizes the panel participants. All the program's committee members have served as panelists — as have Angus Wall, ACE (The Social Network, 2010), Bonnie Koehler, ACE (In Plain Sight, 2008-12), Virginia Katz, ACE (Dreamgirls, 2006), Stephen Mirrione, ACE (The Hunger Games, 2012), Alan Heim, ACE (All That Jazz, 1979), and many others.
Coleman planned the series to explore the technical, aesthetic and personal skills necessary to rise in the editing profession. This year's series, presented in January at Universal Studios, was a clear example of her approach. Throughout the day, an interactive exchange among panelists and audience kept the sessions lively and informative.
The outgoing directors moderated "Getting Started," the first discussion, with interview committee co-chair Cooke and new chiefs Kurpanek and Nelson serving as panelists. Skills, cutting-room protocols and etiquette were the central topics. "Teaching about manners and personalities is unique for an editing program," says Friedberg.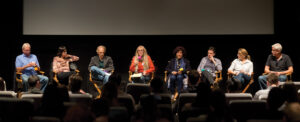 The second panel, "Assistant Editors in Dramatic TV and Features," was an overview of editing procedures from setting up the cutting room to dailies, online and delivery. Coleman and Kurpanek moderated the panel of assistant editors that included Amy Colla (House of Cards, 2013-present), Vince Filippone (American Beauty, 1999), Evan Fisher (The Walking Dead, 2010-present), Leslie Webb (Need for Speed, 2014) and former intern Laura Zempel (Dexter, 2006-13), along with editor/visual effects editor/assistant editor Evan Schiff (Pan's Labyrinth, 2006).
Moderated by Coleman, "Film Editors in Dramatic TV and Features" focused on moving up from assisting to editing and offered insights into editors' hiring practices. Panelists were MaryAnn Brandon, ACE (Star Trek into Darkness, 2013), Steven Cohen, ACE (the Jesse Stone TV movies, 2009-12), Terry Kelley, ACE (Homeland, 2011-present), Harvey Rosenstock, ACE (The Blacklist, 2013-present), Christopher Rouse, ACE (Captain Phillips, 2013), Lynne Willingham, ACE (The X-Files, 1993-2002) and Friedberg.
"Reality Film Editors and Assistant Editors" capped the day with Coleman and Kurpanek, who started out in unscripted TV, moderating the discussion about organizing workflows for the massive amounts of footage demanded by reality shows. The editors on the panel were reality venues committee chair Andrew, Vince Anido (Celebrity Wife Swap, 2012-present) and Marlisse Malkames, ACE (The Bachelorette, 2003-present), joined by assistant editors Alex Seymour (The Bachelor, 2002-present) and Ciaran Vejby (Gator Boys, 2012-present).
Coleman closed the panel with words summing up the program's goal: "You are all part of the ACE family now. We have great hopes for you. Please apply all that you have learned. Keep in touch." Her request is sincere. Over the years, many applicants have served as volunteer staff for ACE events, along with the interns.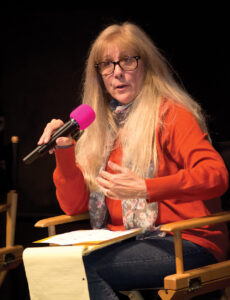 Supporting Coleman's words, American Film Institute graduate Kyla Plewes says, "This was such a great networking opportunity. I feel like this is a community I can be part of." Giovanni Costa, from the Art Institute of Fort Lauderdale, notes, "I learned three semesters of material in one day." Shannon Weiss, a 2012 intern, agrees, adding, "This is teaching us the mindset you have to have to work with people in the industry."
The cumulative knowledge shared by series panelists and conveyed through the program has been incorporated in a book written by Coleman and Friedberg. Published by Focal Press in 2010, Make the Cut: A Guide to Becoming a Successful Assistant Editor in Film and TV covers the nuts and bolts of the profession. They are now writing a follow-up volume entitled Make the Next Cut, dealing primarily with making the transition from assistant editor to editor.
The Monday immediately after the Lecture Series, this year's selectees commenced their internships. Syracuse University graduate Susy Benaim started e-mailing reports to her mentor, Plisco, while Alfonso Carrion, from Emerson College, began writing to his mentor, Cooke. The interns also utilized a new program component — Big Brothers/Big Sisters. During the planning for 2014, incoming co-director Nelson proposed that new interns be advised by internship alumni. Thus, Benaim was able to call on assistant editor and former intern Marissa Mueller (NCIS: Los Angeles, 2009-2012) for advice while assistant editor and alumna Shoshanah Tanzer (Ugly Betty, 2006-10) was available to Carrion.
The first week, the interns observed editing procedures for dramatic TV. Carrion spent five days watching assistants Mindy Elliott and Damien Smith with editor Tod Feuerman, A.C.E, on House of Lies (2012-present). Benaim split her week between assistant editor Judy Guerrero — working with Steven Sprung, ACE, and Arge O'Neal, ACE, on The Crazy Ones (2013-present) — and assistant Brock Hammitt with editor and internship alumnus Hunter M. Via, ACE, on From Dusk Till Dawn (2014-present).
The next week was feature editing. From a TV show with extensive visual effects, Benaim went on to a major visual effects feature, Brett Ratner's Hercules (2014), shadowing assistant editor Chris Jackson's work with editor Mark Helfrich, ACE, and 1993 intern and editor Julia Wong, and visual effects editor Scott Janush. Carrion sat in with assistant editors Nelson, Alex Olivares, Paul Alderman and apprentice and 2012 alumnus Billy Peake, working with Kirk Baxter, ACE, on David Fincher's Gone Girl (2014).
The post houses that the interns visited the following week included Deluxe, Technicolor and several others. Carrion says, "I learned where I fit into the whole post- production process."
Unscripted TV was the next week's focus. Benaim observed assistant editor Jessica McGovern on Beyond Scared Straight (2011-persent) with editors Mark Andrew and Rob Goubeaux, ACE, while Carrion followed assistant Kristine Nelson working with editor Anido on Celebrity Wife Swap.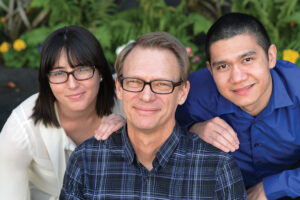 Benaim notes, "The networking aspect really makes the difference." Carrion says he sees everyone in the program "as friends I can reach out to." A final meeting between the interns and Coleman and Friedberg took place in February with Kurpanek and Nelson on hand to observe.
This meeting also culminated the change-of- leadership process. Almost two years ago, Coleman started putting out feelers to ACE members about taking over the program. Then, in March 2013, Kurpanek organized a surprise birthday party for her, with many who were involved in the program attending.
Recalling her surprise, Coleman says, "I spontaneously asked the whole ensemble who they thought should be the new director. Everybody shouted, 'Carsten!' 'And who should take Diana's place?' All shouted, 'Tyler!' I took their names to the ACE Board and they approved."
Coleman notes, "Carsten is a natural nurturer, going out of his way to assist others, and Tyler is on the cutting edge of technology for editing and assisting." Friedberg adds, "Having been through the program, they understand it."
As new director, Kurpanek says, "It's all about giving back and mentoring. It's done a lot of good things for us…and it's a great honor." Nelson continues, "We will try to live up to everything they created. We expect there will be changes with the evolution of the industry, but right now we have an amazing template to start with."
Reflecting on all that she and Friedberg put into the program, Coleman felt especially gratified in 2011 when editor Via became the first alumnus to win an ACE Eddie Award for his work on The Walking Dead (2010-present). The first thanks in his acceptance speech went to Coleman and the Internship Program.
Coleman is also grateful for the continuing support from ACE Executive Director Jenni McCormick and staff members Tami Flannery and Marika Ellis. Of her co-director, she says, "Diana has been my rock and now she will just be my dear friend." Friedberg says, "I admire Lori's sense of ability and sense of flow and communication."
As for continuing with the program, Coleman concludes, "I'll be a part of the program committee as long as they'll have me. I love the idea of just going back to being a mentor."