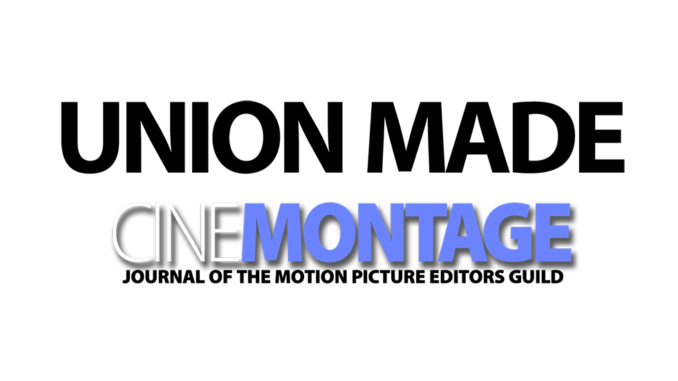 by Doug Ibold, ACE
My career may have started in St. Petersburg, Florida, when I was 13 years old and first saw the magnificent Western Shane (1953). I was so enthralled that I stayed in the theatre and watched it a second time; the joy of cinema entered my soul.
Born in Cincinnati, and raised and educated in St. Pete, I graduated from Florida State in 1962 and was quickly drafted into the army. There was a pretty cool guy with whom I hung out at Ft. Polk, Louisiana, who had been a cameraman at KNBC. He told me I ought to get into television. It sounded interesting…
When I was discharged, I went back to Tampa/St. Pete and made the rounds to the TV stations, but they all said, "We don't hire inexperienced people." I asked how I could get experience if they wouldn't hire me and they said that was my problem. Eventually, I got hired by the local educational TV station as a cable puller for minimum wage: $1 per hour! But it was a great training ground; I did everything from lighting, sound and camerawork to set building. Within a few months, I was hired as a cameraman at the Tampa CBS affiliate. My odyssey into film and TV was up and running.
The next nine years took me from Tampa to Cincinnati to New York and to Washington, DC (during the Watergate era). There were some amazing jobs and life experiences along the way: directing live TV, partnering in a small film business, being cameraman on the Gemini 7/6 space shot recovery (first live TV coverage via satellite), and cameraman on Ladies & Gentlemen: The Rolling Stones (from their 1972 tour — and it still rocks).
The next 30 years were mostly pedal-to-the-metal down an incredible boulevard of good jobs, cool people, neat digs, great trips, tasty food and wine and, best of all, making friends for life.
I still remember my nervous interview for the job as editor for John Lennon and Yoko Ono's Imagine film. My partners and I took the elevator up to the 18th floor of the St. Regis Hotel to their corner suite (with a fabulous view looking south to the still-under-construction World Trade Center). Hellos and intros, and then John switched on his Nagra (portable audio recorder) and out came "Imagine." While listening to this hauntingly beautiful song, I watched helicopters drop huge steel beams on to the top of the twin towers. It was an unforgettable moment. I got the job. After working on Imagine, I knew that editing was my calling.
It was 1974, and I felt like I had some solid credits, so it was time to go west, young man. So I'm movin' to LA — the Beach Boys, surf's up, California girls, play a round at Riviera, cut a feature, join the Editors Guild… SFX: Loud Game Show Buzzer! No way, young man. The Roster was still closed then and there was no reciprocity between coasts (pre-merger). Everything on my resume was not worth squat. It was starting-over time, and quite a jolt!
My first job was editing a training film titled Gastro Nasal Intubation for Geriatrics. I sensed this getting-in-the-union thing might be a difficult road. It was. The path led to more industrial films and documentaries, a TV pilot, a porn flick, B-movie trailers, sound effects backgrounds — you get the picture. After several years of paying dues and doing diligence, I finally got in the Editors Guild… CUE: Etta James' "At Last." My first union job was Quincy, M.E. at Universal. I actually felt an inkling of security.
The next 30 years were mostly pedal-to-the-metal down an incredible boulevard of good jobs, cool people, neat digs, great trips, tasty food and wine and, best of all, making friends for life. I was fortunate to work on 11 MOWs, three miniseries and seven series that produced over 100 episodes — projects produced by dynamic and creative filmmakers, including Don Bellisario, Michael Mann and Dick Wolf. My BMW, if you will. It was a great ride.
By late 2005, I was working at Universal and nagging health issues were telling me it was time to retire. I did. I chilled for a couple months and was starting to think about what to do with this new lifestyle, maybe teach… SFX: Phone Rings — it's Norman Hollyn at USC asking me to be the editing adjunct professor. I ended up teaching there for six years. It was the perfect button for my career, giving something back to the industry by teaching and advising the next generation of editors. It was a totally new, enlightening and enriching experience for me.
Forty years in show biz. I'm so grateful for all the good times. The bad times? They just happened and I've stopped trying to explain them. I leave you with my four Ps for survival and success in show biz, or any biz:
PASSION    (You gotta love what you're doing.)
PATIENCE    (It's not gonna happen overnight.)
PERSISTENCE    (Somebody says "no," move on.)
and
PREPARATION     (Somebody says "yes,"  be ready to rock 'n' roll.)