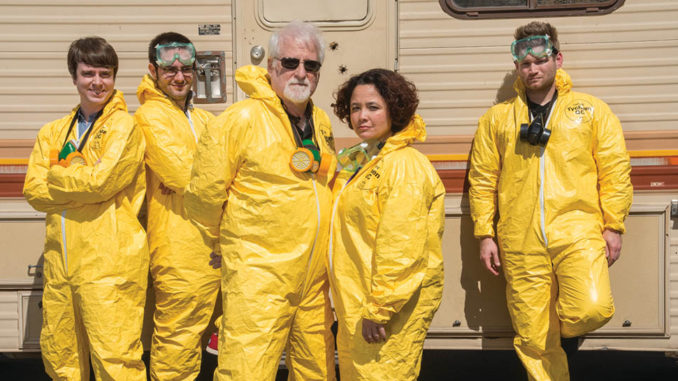 Thanks to Sharidan Williams-Sotelo for writing the great article on Breaking Bad (CineMontage SEP-OCT 13) and organizing the photo shoot. It was a lot of fun to see everyone and the old RV again!
There is just one thing I'd like to correct in the article. Sharidan said that in Season 3, "…Lynne left to work on True Blood." I didn't leave to work on True Blood; I actually left without having another gig, and I'm sure there are many who wonder why I'd leave a show as wonderful as Breaking Bad with nowhere to go.
Writer-producer Vince Gilligan is the heart and soul of Breaking Bad. It was his focus on detail that gave us all one of the best shows to ever find a TV screen. But it was this single-minded vision that made it more than difficult for him to run production in Albuquerque and post-production in Burbank. Ultimately, in Season 2, we added weeks to the post schedule after production shut down to finish at least half of our shows.
In the third season, Sony decided that the best thing for the show was to let Vince finish production before he started post. It was proposed that each editor would get his or her episode through director's cut and then shelve it until the end of production months later. Then editors would each be laid off for eight to ten days until the dailies for their next episode started. This would happen to each editor four times within an eight-and-half-month timeframe.
I had real concerns about being committed for eight-plus months while being paid for six. I wasn't sure I'd be able to pick up a two-month job between seasons, and I was already losing two months of salary because of the proposed change. I was possibly looking at four months off a year, which was un-doable for me and my responsibilities.
 "I didn't leave for more money or another job." – Lynne Willingham
I knew that the answer was for the show to go to a two-editor rotation, but Vince was very loyal to all three editors and unwilling to lay anyone off. If push came to shove, I was afraid that Kelley Dixon, my former assistant, might take the hit because she had the shortest resume, and I didn't want that to happen.
So sadly, I decided I'd leave the show. I was the most visible, thanks to the series' success. I'd won the Emmy Award and the ACE Eddie for the pilot and was nominated for another Emmy for "ABQ." I felt I could make the move easier than anyone else at that point in time, and everyone's salaries would remain stable.
So that's the story. I didn't leave for more money or another job. I left because I felt there was no other choice for me. I just wanted to maintain the status quo, but that wasn't an option. I'm grateful it worked out for all of us. And, I'm still one of Breaking Bad's biggest fans!
Lynne Willingham, A.C.E.,
Picture Editor, Agua Dulce, CA
I just read the review of the book The Inventor and the Tycoon in the SEP-OCT 13 issue of CineMontage. You have motivated me to buy and read it.
I said it before and I will say it again: You are publishing the absolutely best magazine in the motion picture industry. Your articles are well researched and well written, and they deal with issues and history that are both fascinating and important.
Kent Beyda's article on Days of Heaven stirred memories of an interview that I did with Nestor Almendros in 1988. Nestor spoke about his life and career. He was born in Spain and spent his youth in Cuba, where he began his career shooting documentaries. Days of Heaven was his first narrative film. Nestor spoke eloquently about how his experiences shooting documentaries played a significant role in creating the natural look that Terrence Malick envisioned in the film.
Bob Fisher,
Founder, CCS Public Relations, Encinitas, CA
Congratulations to CineMontage and the Editors Guild on your four awards from the International Labor Communications Association's annual Labor Media Awards, honoring work in 2012. Three of them for first place and one for second — fantastic! How lucky we Guild members are to have such a talented, dedicated magazine editor, as well as creative, thoughtful contributors. Kudos to all involved! The magazine looks great; keep up the good work.
Pamela Malouf, A.C.E.,
Picture Editor, Joshua Tree, CA