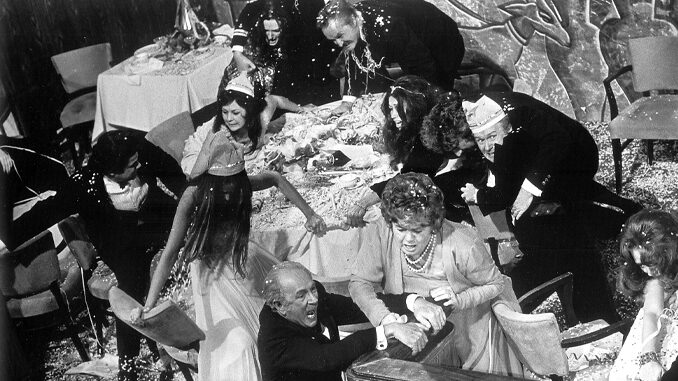 by Erik C. Anderson
The emergency lights flickered on and off. I found myself 30 feet in the air hanging onto the edge of a railing. My heart raced, the muscles in my arms burned. Letting go meant falling to my death, and that was not an option. Finally the pain in my hands was too much and I was forced to let go. Thirty feet suddenly turned into three as I fell backwards off the top of my sister's bunk bed and onto a mattress filled with stuffed animals. Screams erupted as my two younger sisters fought over who would next re-enact stuntman Ernie F. Orsatti's famous fall into the glass skylight of a capsized ship.
Considering my age at the time, I probably shouldn't have seen The Poseidon Adventure. My mom hoped my sisters and I would grow bored with the movie and fall asleep in the back seat of our car, parked at the drive-in theatre. But we did not, and for weeks after seeing the film, we would flip our bedroom furniture upside down and re-create the movie over and over again. I wish editor Harold F. Kress, ACE (Oscar-nominated for this film), a former President of the Editors Guild, could have seen how much joy his capsizing sequence brought me. His cutting made it seem so real. Director Ronald Neame was even quoted as saying, "He put the jigsaw puzzle together on his own. It's so good…we don't need to touch it."
Only after I became an editor did I realize the joy of not only cutting a film, but being able to shape an actor's performance.
The plot of the movie was straightforward. A group of passengers struggle to survive when their ocean liner capsizes after being hit by a 90-foot tidal wave. The film was produced by "the Master of Disaster" Irwin Allen, and he succeeded in compiling a brilliant cast, including Gene Hackman, Ernest Borgnine, Shelley Winters, Stella Stevens, Red Buttons, Roddy McDowall, Jack Albertson, Pamela Sue Martin, Carol Lynley, Eric Shea and Leslie Nielsen.
I didn't know it at the time, but it was that cast and their wonderful work that would influence me in pursuing a career in the film industry. They made me care when someone died, and believe that a ship could stay afloat while upside down. And when things were hopeless, they managed to make me laugh. I remember the moment when Reverend Scott (Hackman) has to push Mrs. Rosen (Winters) up the Christmas tree by her derriere; cutting to a close-up of her expression said it all. When Robin (Shea) walks into the bathroom only to discover that the toilets are all on the ceiling, holding on a wide- shot made the moment hilarious. Only after I became an editor did I realize the joy of not only cutting a film, but being able to shape an actor's performance.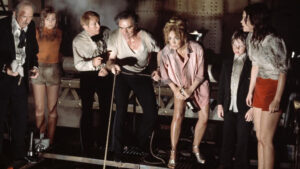 That year, the Academy honored the film with nine nominations and it received the first ever Special Achievement Award for visual effects. It also won for Best Song, "The Morning After," which I still sing to myself when there is no end in sight to the amount of hours I have to spend in the cutting room to meet a badly planned deadline. By the end of 1974, the movie ranked among the six most successful features in film history.
It's funny how life seems to come full circle. In 2006, there was a screening of the movie celebrating the 90th birthday of Neame. I had to go, so I dragged my wife Patty and fellow editor Larry Bock to the Aero Theatre in Santa Monica. When the opportunity arose to have Stella Stevens sign my movie poster, I took it without hesitation. Little did I know she would be channeling her Poseidon character Linda Rogo that night by complaining that she gets $20 for an autograph. I told her how her performance influenced me to become an editor and that I would be honored to pay for her autograph. She paused, smiled and gave me the most beautiful autograph, gratis.
High on seeing the film on the big screen, we decided to celebrate by having dinner at Trader Vic's. I almost spit out my Mai Tai when I saw Red Buttons dining with friends; I knew I had to say hello. He had no idea there had been a screening of the film that night. I spoke to him about his performance and how his character's (Martin) caring for each of his doomed shipmates made him my favorite character in the film. Before he left, he came over to our table and introduced himself to my wife and Larry like a true gentleman. It was sad to learn about his passing a month later.
The Poseidon Adventure might have been my earliest film influence, but two years later a film about a shark named Bruce would make me afraid to jump into a swimming pool. But that's another story.