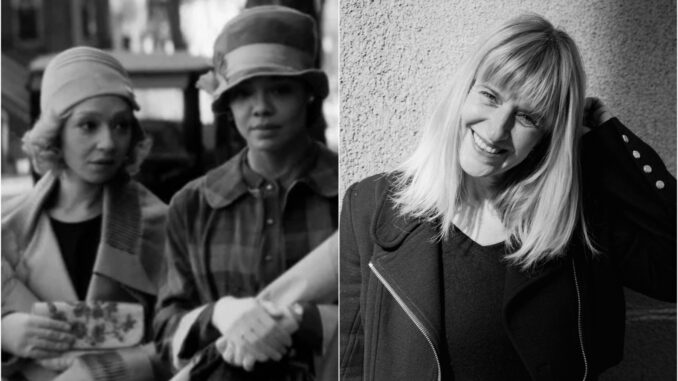 Sabine Hoffman, ACE, began her editing life as a student in Berlin before moving to Boston to intern with Robert Wilson at the American Repertory Theater. She found a home for herself in New York's indie film scene, working frequently with producer Gary Winick and cutting Rebecca Miller's film "Personal Velocity," which won the Grand Jury Prize at the Sundance Film Festival.
Her most recently released work is Rebecca Hall's adaptation of Nella Larsen's 1929 novel "Passing" for Netflix, released in theaters this week.
The film, rendered in black and white, tells the story of two Black women, Irene Redfield (Tessa Thompson) and Clare Kendry (Ruth Negga), who can "pass" as white but choose to live on opposite sides of the color line during the height of the Harlem Renaissance in late 1920s New York. After a chance encounter reunites the former childhood friends, Irene reluctantly allows Clare into her home, where she ingratiates herself to Irene's husband Brian (André Holland), as well as her larger social circle. As their lives become more deeply intertwined, Irene finds her once-steady existence upended by Clare and the lies people tell themselves.
Hoffman had read the book and was excited when she heard there was an adaptation in the works. "Belonging, unbelonging, and longing are connecting themes among the characters," Hoffman explained. "Irene wants a life of security that cannot actually exist in a racist society; Brian is longing to escape this and find a better place in Brazil. Irene experiences his desires as a menace to her own security, which she considers essential above all else. Clare is longing to reconnect to "her" people; the life she had to and chose to deny. Clare embodies being both black and white, straight and queer, and Irene is unraveled by Clare entering her life; there is a thread of sexual longing between them, we don't know for sure but assume a past they may have shared. Irene perceives Clare simultaneously as a seduction and threat. Nothing is exactly as it seems on first impression, and we leave the audience uncomfortable."
To balance these nuanced through-lines, the filmmakers find various ways to express the characters' internal struggles. The camera holds gazes, frames carefully composed compositions, and cuts to details; silence and specifically deployed soundscapes focus our attention. A great deal of technical and thematic understanding were required of Hoffman, born of experience and sensibility.
CineMontage: What was the narrative challenge presented by "Passing"?
Hoffman: "Passing" is a story of many layers—it invites another look, a second viewing, and with every round you notice other aspects. Yet the film's story is also withholding resolution on multiple levels.
While in the novella a lot of chapters start out from Irene's recollection (e.g. "This is what Irene Redfield remembered") and a lot of the tension comes from her feelings and thoughts—the film had to accomplish pulling us into Irene's experience and perspective without the help of voice over or expository dialogue, and find its own way of conveying those thoughts and feelings. We were very deliberate about perspective and how/what we wanted to feel in every scene. How do we convey emotions?
It is what I treasure about the art and process of editing: the manipulation of the interplay between knowing and assuming, text and sub-text, and how to carefully craft every moment. It is an editor's dream job to have room to explore all the different aspects and readings of moments, while also tracking and weaving them throughout the overall narrative—a continuous back and forth between micro and macro concerns and repercussions. Looks and what is between and behind the dialogue make up a big part of the film—there is almost always an extra layer to every moment. To see what happens when you add just another beat or lack of a beat, a few frames can make everything shift and change what you think or feel: editing addresses the "in-between spaces."
One of the challenges of this adaptation is that the novella plays with perspective in a way that can make the narrator potentially unreliable. We wanted to allow access to various ways of interpreting and connecting to the story and its characters—it is a slow-burning thriller of sorts, where Irene, her world crumbling, is looking for ways to keep it together. We follow a deterioration of her self-reliance and while closely experiencing with her, we are not meant to entirely trust this perspective. The story is so much about what takes place between the lines and highlights what we may not quite see. The film is open to the viewers interpretation, allowing audiences to own their gaze and interpretation. We wanted to invite diverging viewpoints and experiences and engage the audience to feel and conclude on their own, all while grounding us emotionally with Irene. We had amazing screenings where people responded with strong and passionate opinions: Is Irene jealous of Clare or of Brian? What is wonderful was that the film gives space for all these interpretations.
CineMontage: The film's visuals rely on incredibly composed frames. How did you work with them and how do you work performance within them?
Hoffman: Every frame is composed in a way to support the story. Because seeing, being seen, and perspective are a big part of it, the film often utilizes mirrors and reflections. Edu Grau's gorgeous cinematography perfectly embodies Rebecca's vision, there is so much poetry in the film's visual language. Irene tells Hugh Wentworth during the ball, "You can't just tell by looking," and this is a motif throughout. It was wonderful to embrace this in our editing, as what we see is not simply what we get—there is so much happening between glances and what is said. We pay a lot of attention to detail, showing subtle gestures, repeat visual themes (the hand reaching, a gaze down, a look without words) and utilize unusual angles and extreme close-ups.
CineMontage: There is a tremendous amount of silence in this film—at times almost vacuous. Can you talk about its use and how it impacted pacing?
Hoffman: Clearly sound is paramount in this film and the absence of it as much as its presence are composed and deliberate. Of course, there is never complete silence—we hear the ticking of the clock, the tea cups of the other patrons, Zulena working, approaching or receding steps, and also Clare's unique laugh and Irene's breaths (which punctuate her experiences significantly). Sound also helps us with the narrative perspective in obvious and less obvious ways. From the beginning, Rebecca also had a clear sense of the rhythm she wanted for the film and its atmospheres, very much supported by the wonderful work of sound designer and re-recording mixer Jacob Ribicoff.
CineMontage: What was your collaborative process with Rebecca Hall? Did having an actor directing impact your treatment of performance?
Hoffman: When we met, Rebecca shared some of her notes and a book of storyboards she had created for nearly the entire film; I was blown away with how intentional she is with everything. We talked about our love for the story and its characters; how Nella Larson is able to capture its complexity and the nuances; its intriguing ambiguity; and how Rebecca wanted to create a film that embraces ambiguity. We met several times to discuss the script scene by scene; to examine characters, their motivations, and our narrative perspective. I love this immersion into the fabric of the story ahead of time. I always try to understand as much as possible about the director's vision, intentions, and questions before the shoot and try to help "fix it in prep."
We had tremendous performances to start with and a great script. The film's adaptation is very careful to maintain/protect the language of the novella. As a terrific performer herself, Rebecca has a deep understanding of how to communicate with her actors before and support them during the intense process of the shoot—she is kind, generous, and brilliant. It was wonderful working with her. From the beginning it was important to us that our editing room be a safe place. I like to think of it as a secret playground where we can explore and try ideas together. Often by trying something that might ultimately not work, you get to learn something about another aspect, so it is important to remain playful and open.
We experimented a lot and did various drafts. When thinking about the experimentation we did, it seems that almost every scene has its own importance and additional layers that we were able to discover, harvest, and offer to/share with our viewers. When Irene first enters the hotel, it feels like a refuge to her—an escape from the summer heat and the outside world. But as she gets stared at by a white woman and subsequently approached by her, we see Irene panic and she tries to escape. Only Clare's signature laugh helps Irene to finally recognize her friend—we witness the moment of recognition seeping in, the slow understanding of what this means and feel her relief and wonder. The many emotions that happen in those micro-moments and the syncopations were a such a joy to track and shape. We also spent a lot of time on the final sequence: the party leading to the death, the ambiguity of what happened—was it an accident, did she jump, was she pushed? The only certainty is that Irene feels guilty for it, even if just for having wished for Clare to disappear. In the novella, it simply says, "One moment Clare had been there, a vital glowing thing, like a flame of red and gold. The next she was gone." So, how to transpose this in a way that we keep all possibilities open? How do we edit in a way that we witness but maintain ambiguity around what exactly happened, even if we play it over and over? There is no catharsis after the gut punch we receive at the end, yet the film has a unique power to resonate and actualize in unexpected ways.
It is a collaboration and I want to acknowledge and thank my team, especially First AE's Justin Rosen and Alexander Ragona, Post Supervisor Jen DiLullo, and PA Azuree Lyman.