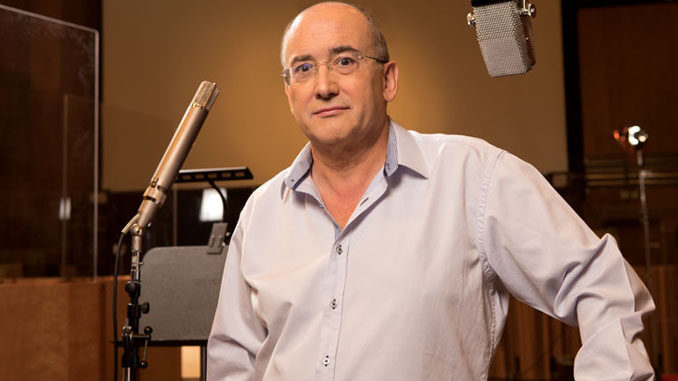 by Mel Lambert • portraits by Wm. Stetz
Probably best known for his creative work on the scores for director Peter Jackson's The Lord of The Rings trilogy, scoring mixer John Kurlander earned three consecutive Best Score Soundtrack Album Grammy Awards for Fellowship of the Ring, The Two Towers and Return of the King. He has also received three consecutive TEC Awards for Best Film Sound Production. With a busy and productive career now celebrating 45 years of orchestral music and film scores, Kurlander was most recently involved in the music recording and mixing for director John Moore's A Good Day to Die Hard, the fifth offering in the high-energy franchise that opened February 14.
Other landmark productions include mixing and/ or engineering the musical scores for Hotel Transylvania, Deadfall, The Sessions, The Thing and The Hurt Locker, in addition to music for a series of video games, including World of Warcraft: Mists of Pandaria (the trailer for which was nominated for an MPSE Golden Reel Award this year). Other soon-to-be-released films on which he worked include Snitch, Warm Bodies and The Host.
Starting in 1967, when he joined the world- famous EMI Abbey Road Studios in his native London, Kurlander remains a talented mixer and engineer with that "classic British touch." "I started at Abbey Road the year the Beatles performed that landmark live version of All You Need Is Love in Studio One, which was the venue for many of my successful classical sessions and motion- picture scores," he recalls. Watched by 400 million in
26 countries, the Lennon-McCartney song was initially performed by the Beatles on Our World in June 1967, the first live global television link via satellite.
"My first major assignment was as assistant engineer on the Beatles' Abbey Road album at the specific request of producer George Martin and engineer Geoff Emerick," Kurlander says. "I assisted on subsequent solo albums from John, Paul, George and Ringo." Promoted to first engineer after less than two years working as an assistant, Kurlander's early pop-music projects included sessions with Badfinger, Mary Hopkins, Mickie Most, Peter Noone and Renaissance. He is also experienced in musical theatre, having engineered a number of London West End and Broadway musical cast albums, as well as studio cast recordings of such classics as West Side Story, The King and I and My Fair Lady during a 20-year period.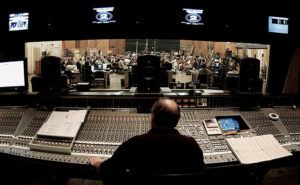 "I also handled the tracking of full orchestras for major bands, like Elton John, Toto — including the multiple-Grammy-winning Toto IV, with orchestra arranged and conducted by film composer James Newton-Howard — Supertramp, Pete Townshend, Ozzie Osbourne and Jeff Wayne's War of the Worlds," he adds. "And I recorded several orchestral and choral works for Paul McCartney."
During his long career, Kurlander has specialized in sessions with the world's major classical orchestras, including the London Symphony, London Philharmonic, Royal Philharmonic, Berlin Philharmonic, La Scala- Milan, Vienna Philharmonic and Boston Symphony, earning two Grammy nominations for classical engineering on the last recordings of Eugene Ormandy conducting the Philadelphia Orchestra. In 1985, he was appointed chief recording engineer of Abbey Road Studios and chief engineer of EMI Classics. It was there that he began to mix film scores, seeing it as a natural progression from his position as recording engineer. Philadelphia (1993) was one of his early scoring mixing jobs.
"About a decade later, I moved to Los Angeles to concentrate on freelance scoring," Kurlander relates. He has worked with such prominent film composers as Howard Shore, John Barry, John Debney, David Newman, Marco Beltrami, Antonio Pinto and Mark Mothersbaugh. "I can read and write music, and used to play a little piano — but I would never practice enough!" he confesses. "I guess you could say that at the very least I have a musical appreciation. But next to all the musicians I work with, I'm no musician."
The assignment to record and mix the score for A Good Day to Die Hard came to Kurlander through his long-time association with the composer Beltrami. "Director John Moore wanted a vibrant score that would propel the action forward and establish a high- energy mood" that viewers expect from the film series, according to the scoring mixer. For the latest outing in the Die Hard series, John McClane — played by Bruce Willis in traditional, scenery-chewing fashion — travels to Russia to help out his seemingly wayward son, only to discover that the latter is a CIA operative working to prevent a nuclear weapons heist, causing the father and son to team up against underworld forces.
Beltrami and Moore discussed what would be needed from the musical score, and settled upon a 90-piece orchestra plus supplemental percussion recorded at 20th Century Fox Studios' Newman Scoring Stage in Century City.
"I like to think that I bring a European sensitivity to scoring sessions and the creation of space and ambience in orchestral recordings," Kurlander suggests. "Studios in Europe tend to be large, with at least 40-foot or higher ceilings, and offer a generous reverb time of between 2 and 2.25 seconds, whereas the ceilings of most scoring stages here in LA tend to be slightly lower, with shorter RT60s [reverberation time]. Because of those higher ceilings, I grew up working without screens. Another major factor is that earthquake codes here do not permit the extensive use of heavy stone and brick, which is prevalent in Europe. That has a huge effect on the overall acoustics and low-end resonances. The Newman Stage is very spacious, which offers quite a tight RT60 and is therefore ideal for fast tempo and highly percussive action cues such as those we used on the score for A Good Day to Die Hard."
"If we had hit a problem, they would end up waiting for music, which is never acceptable for production."
The score for the film was remixed into component stems and individual elements by Kurlander at Pianella Studios, a facility co-owned by Beltrami and fellow composer Buck Sanders. Located on 20 acres in Malibu, the two-story building houses a main stage, two isolation rooms and a control room, as well as Beltrami's composing studio. "The control room features a 40-fader Avid D-Command control surface linked to a Pro Tools HDX workstation with a Meyer Acheron 7.1-channel monitoring system behind a woven screen," he says. "I mixed all of the tracks 'in-the-box' using Avid, EMI and UAD plug-ins." The supervising music editor on the project was Jim Schultz, who has worked on a number of Beltrami's successful film scores.
"Originally, Jim and I had planned to track about five cues in stripes, with the orchestra overdubbed in separate sections of strings, woodwinds, brass and percussion," Kurlander continues. "At the sessions, however, John Moore was so excited by the stunning complete takes by the orchestra that he requested we reduce the striped cues to only two and, even then, for Jim to use the complete performance takes, if editorially possible."
All orchestral and additional tracks, including dulcimer and harmonica, were recorded to an Avid Pro Tools workstation in 24-bit mode at a sample rate of 48 kHz. "Because I prefer to avoid the sound of sample-rate conversion, I always check with the dub stage what sample rate they will be using in the finals, and then record, mix and deliver in that same format. I sent a total of 20 stems to the dub stage — some in 5.1, some in stereo and some in mono," Kurlander explains. The soundtrack was re-recorded on Fox's John Ford Stage by Ron Bartlett overseeing dialogue and music, and Doug Hemphill handling sound effects; supervising sound editor was Jay Williams.
"While normally I prefer to visit the dub stage during the mix, for Die Hard I was just too busy with the music mix to get over there," Kurlander says. "But I was able to listen to the music on the stage before they started to make sure that Ron had everything he was going to need for the dub. I like to split out the tracks so that the re-recording engineers have plenty of options. In addition to my main Decca Tree microphone layout and surrounds mix, I'll also send over individual spot mics for strings, brass, woodwind, percussion, harp and piano tracks.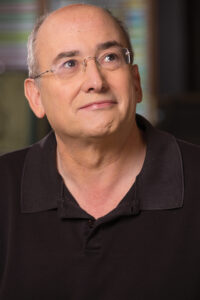 "These extra stems came in very useful because Ron and Doug also prepared a Dolby Atmos soundtrack for the film," he continues. Announced by Dolby Laboratories in April 2012, and first utilized for Disney/Pixar's Brave, Atmos is a surround-sound technology that is said to allow for an unlimited number of audio tracks to be distributed to theatres for playback over a variable number of loudspeakers. The first-generation Dolby Atmos CP850 Cinema Processor supports up to 128 discrete audio tracks and up to 64 unique speaker feeds.
"The score to A Good Day to Die Hard is big and lent itself well to the Atmos process, which provides the mix with a lot more breadth and clarity," explains re-recording mixer Bartlett. "Since Atmos adjusts for the room it is played back in, we mix for the format and not for a specific set of speakers. For example, the Zanuck Theater, which is where we mixed A Good Day to Die Hard for Atmos, has 44 surround speakers plus the five across the front with two subwoofers." Director Moore adds, "I'm very excited about mixing in Atmos, but we must make sure it's not used as a gimmick." Hemphill agrees: "It's important that Atmos serves the film and the story, and isn't used to draw attention to itself."
As Kurlander recalls, "With a number of alternate versions for several musical cues, and extra wild elements, on December 19 — the day before the dub was scheduled to begin — we started to stream what would become a total of 147 minutes of music, for a soundtrack that Marco expected would run to around 90 on-screen minutes.
"For A Good Day to Die Hard, we started the score recordings on December10, and were mixing through the remainder of December, taking off just three days for Christmas," the scoring mixer continues. "We aimed to keep two-to-three days ahead of the dub, but discovered that the director wanted to start with Reel 4, which took us two days to mix and then send to Jim Schultz as Pro Tools sessions via FTP transfer. We then moved to Reel 5 and on to the remainder of the film. If we had hit a problem, or the dub stage moved ahead quicker than anticipated, they would end up waiting for music, which is never acceptable for the production. In essence, there is never any room for anything to go wrong."
Kurlander has a fond musical memory of the sessions. "The score for A Good Day to Die Hard consists of a lot of crossed or odd metering: 4/4 sections followed, for example, by 5/8 and then bars of 7/8, with time signatures changing furiously at almost every bar," he explains. "Those variable tempo parts are extremely difficult to play and demand some extraordinary skills, but the orchestra totally knocked it out of the park by making something so incredibly difficult appear so easy! In fact, the entire sessions were a pleasure for us all."