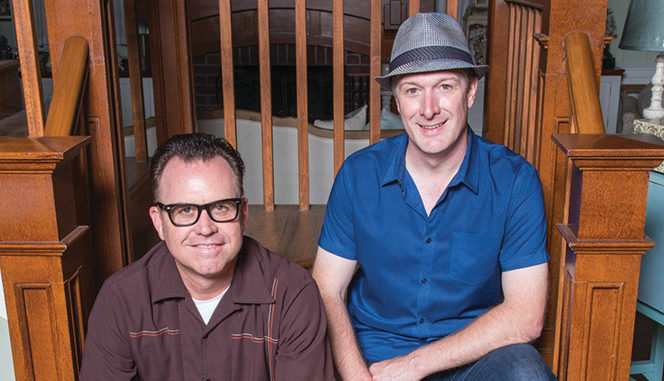 by Mel Lambert
While, for a number of reasons, the two tasks of production mixers of IATSE Local 695 and supervising sound editors with Local 700 are often performed sequentially — maybe because the sound editorial team is not put in until the shoot has wrapped or moved on to another TV episode — there are many instances when the partnership between these essential roles can bring an enhanced level of creativity to the final result.
To find out more about this complementary process, we spoke with the production mixer and sound supervisor working on ABC's highly popular television series Revenge, which is now in its third season, and the mixer and supervising dialogue editor responsible for Columbia Pictures' The Amazing Spider-Man 2, which is scheduled to be released next May.
REVENGE
Revenge is a primetime soap opera starring Madeleine Stowe and Emily VanCamp that debuted in September 2011, and follows the fortunes of several families living in the Hamptons' palatial neighborhood in Long Island, New York. "We shoot on a permanent set and various locations in and around Manhattan Beach, which doubles for the Hamptons," says the show's supervising sound editor Stuart Martin. "Before we started the third season, I met with co-producer Ted Babcock, who outlined his key ideas for the show and how it should sound." Martin also has several years of experience as a sound effects editor on such pay cable series shows as Six Feet Under and True Blood.
"I also met production mixer Scott Stolz on the phone early in the process, and visited the set a couple of times to see what he was working with," the sound supervisor recalls. "The quality of the show's soundtrack depends on what we secure from the set, and upon an interactive collaboration with our production mixer. Because Scott is such an experienced mixer and knows what he's doing, we just needed to gently tweak the process during the first half-season."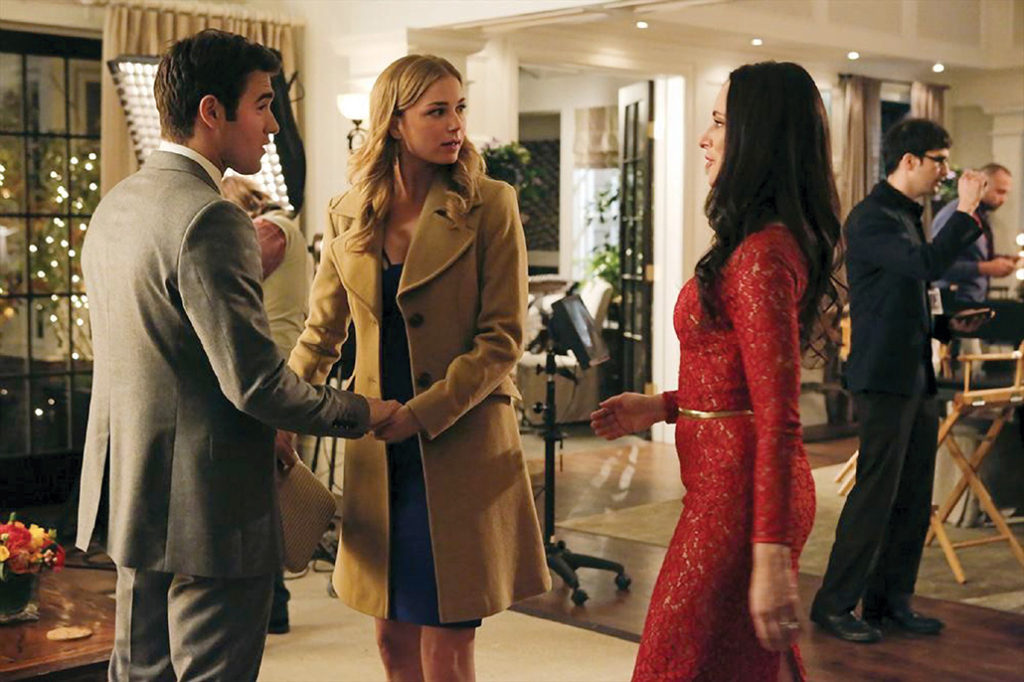 "I have worked on all episodes of Revenge, except the pilot," Scott D. Stolz, CAS, adds. "I didn't meet the supervising sound editor until several weeks into production, when we turned over the first episodes for editorial, but I knew from experience what Stuart would need for the dialogue tracks. We work both single- and multi-camera with two rotating DPs; one DP prefers multi-camera and the other likes to use alternating cameras. How we mic up the talent depends upon the scene and how many cameras might be covering it. Booms are our primary choice for single-camera and close-ups; but I often need to place wireless mics on the talent for long shots and ensembles."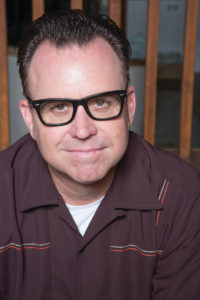 Stolz uses a Sonosax SX-ST-8D analogue mixer and a Zaxcom DEVA 4 eight-track digital recorder, backing up a mono mix with time code to an Apple laptop running Boom Recorder software. "I deliver DVD-RAM discs," the mixer says. "I'm a big believer in that media format; we used compact flash cards on Season 1, but a couple of media failures convinced me that DVD-RAM was the way to go." Each episode shoots for a total of eight days.
To provide a guide track for subsequent voiceovers, Stolz records a wild track of VanCamp, playing the lead protagonist Emily Thorne, whose voiceover introduces and closes each episode. "Those temp lines help editorial determine what timing will be needed in post," he explains. "We also record other wild lines on the set, as necessary, but the producers do not ask for too much material. I don't record room tone because I know that Stuart doesn't need it; if necessary, he can sample ambiences from the dialogue tracks." Dependent upon the scene, the production mixer will record up to eight mono tracks. "Track 1 will be a mono mix at -20 dB-FS, with the same recorded at -23 on Track 2. Track 3 will hold Boom 1 and Track 4 Boom 2, with iso wireless mics on the remaining tracks. If I run out of tracks, I will combine two actors on one track by muting and unmuting the appropriate mics while mixing the take."
In terms of feedback, "No news is good news!" for Stolz, who explains, "Stuart will call if there are any problems; these are normally about extraneous noise from the set, which I minimize if I can. But you have to be diplomatic when asking that something be turned down. My boom operator, Chris Quilty, with whom I've worked for seven years, is my eyes and ears on the set during rehearsals. He can spot problems and determine if we can use a boom or wireless microphones."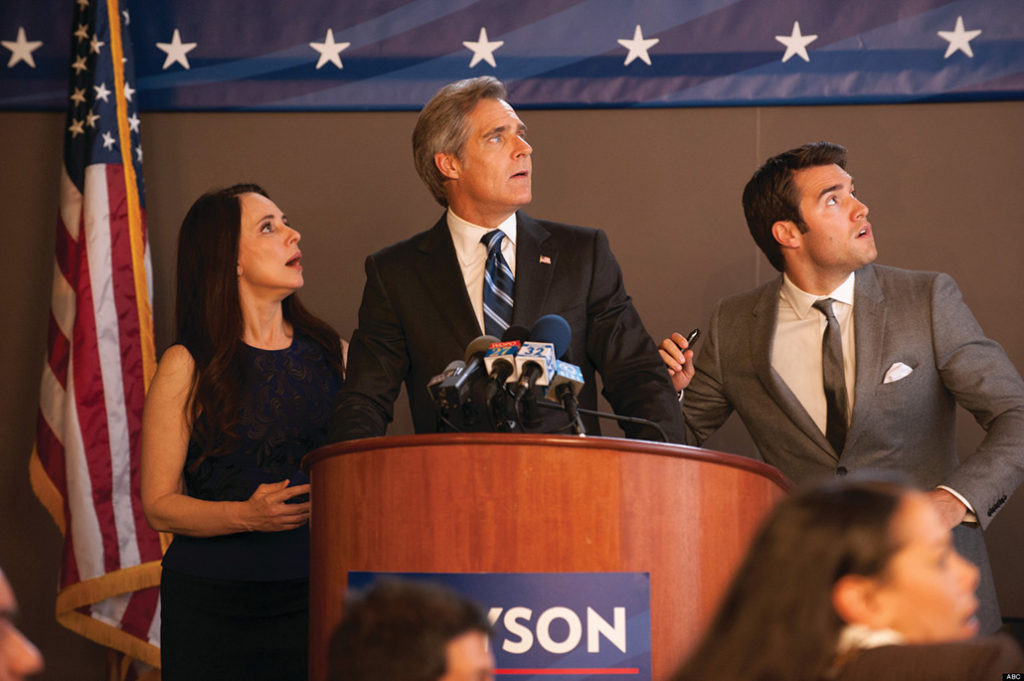 Feedback from the re-recording stage also is useful, according to the production mixer. "To reinforce the ongoing conspiracy, there is a lot of whispering and low-level dialogue on Revenge, and that makes life harder for the dialogue mixer. I have approached some directors to see if an actor could speak up, but you need to do that carefully; you cannot go onto the set swinging a bat! My boom operator is comfortable with asking, 'Can you maybe give me a little more level?' if we have established a rapport. But you also need to tap the energy on the set; the director might even agree that it works better dramatically."
After turnover, the editorial team has five days to prepare the various sound elements. "We ingest Scott's tracks into Pro Tools sessions that are stored on our central server," Martin says. "For TV, we like clean dialogue, as plain and clear as possible. We also receive a few other production effects from Scott, including door closes and the like, which we often sweeten with sound effects."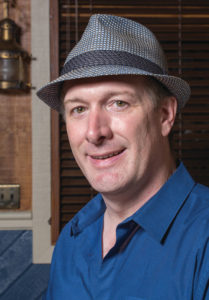 Unlike in features, sound editorial in television doesn't need other sounds from the set. "In TV, we only have five days to build the tracks, so time is always critical," Martin explains. He relies heavily on his dialogue editor, Lance Wiseman, "to clean and smooth rough areas of dialogue recorded from beach scenes, exterior locations, etc. Lance also cuts principal and group ADR, which is an important piece in the sound puzzle.
"We do loop quite a few lines," he continues. "Emily has between 14 to 30 lines an episode, which, because she is so experienced, only takes 60 to 90 minutes. We have maybe four or five added lines, five to six voiceover lines and maybe 20 replacement lines. The main cause is off-set noise; in one episode we had seals barking close by!"
During a mid-season production meeting, Martin recalls that the main topic of discussion was minimizing noise from fans used during exterior shots to mimic wind blowing. "Scott and I asked if the actors could be repositioned to reduce the fan effects," he explains. "But that's always the director's call."
The mix for Revenge, which is handled on Technicolor at Paramount's Stage 7 by Pete Elia, CAS, handling dialogue and music, and Kevin Roache, CAS, handling sound effects (see "Audio Dexterity," CineMontage SEP-OCT 13), lasts for two days. "On the first day of the mix, we'll work on the first 30 minutes of that episode, and then on day two, finish the remainder of the episode," Martin says. "At 4:00 p.m., we'll have a playback for the executive producers, receive notes and then complete the soundtrack. Revenge is a good-sounding show; we have a highly collaborative production team."
THE AMAZING SPIDER-MAN 2
As a common post-production standard, and sometimes to reduce costs, the sound editorial team is brought on only after principal photography for a feature film has been completed. Without an overlap, the production mixer often has moved on to another movie project during sound editing. There are exceptions, however. "Having worked with supervising dialogue editor Teri Dorman before, I knew what she would need for director Marc Webb's The Amazing Spider-Man 2," says production mixer Ed Novick. "Like Teri, I prefer the sound of a boom mic, which captures best what the camera is seeing. But with so many scenes in New York City for Spider-Man — including scenes shot under bridges with constant traffic, elevated subway trains and river boats — we had a lot of extraneous noise to overcome. I made every effort to secure usable dialogue from such hostile locations, but knew that Teri would need to rescue the tracks," by searching out lavaliere mics from his iso tracks.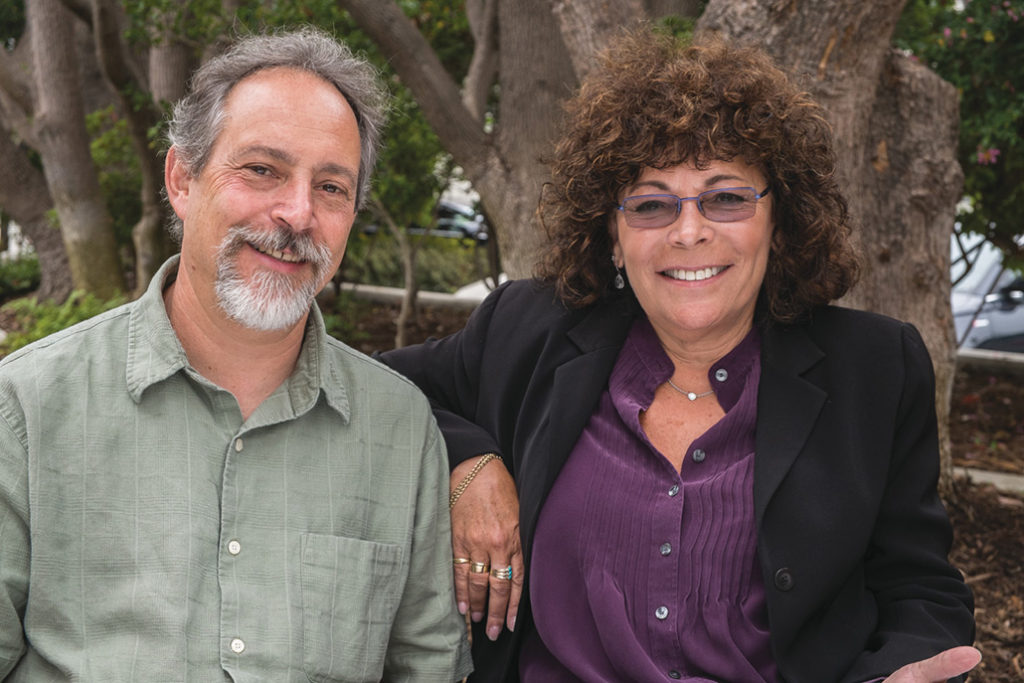 In Novick's world, "dialogue" is taken to mean "anything that is on-camera; I record sound for a specific image," he says. "I try to take out what doesn't belong and make sure to include anything that does belong in the frame. When there is no dialogue, I'll get sound effects as best as I can. For example, the sounds I captured during chase scenes for Spider-Man 2 might be used as a layer, as a base or as a reference" for the editorial team.
"I prefer to use boom mics for close-ups and wireless lavaliere mics for wide shots," he continues. "Of course, when the wide shot and close-up are taken at the same time, that plan may not work.  "During one very dramatic scene, where we needed to use an overhead boom mic, Marc allowed the boom to encroach the wide shot, helping to ensure that the close-up sounded good. A decision was made to digitally remove the boom mic in post." These are always cost considerations, but with so many visual effects for Spider-Man 2, it was folded into the visual effects budget. "They also painted out lavaliere mics worn by Jamie Foxx [playing the Max Dillon/Electro character] and belt packs worn by Andrew Garfield [as Spider-Man]," Novick continues. "But I always checked with the visual effects supervisor."
"No one person is responsible for a film's soundtrack," offers Dorman. "Teamwork is the key to success; it is a circle of talent. Ed provides essential and detailed sound reports, listing everything I might need to know, including channel assignments, mix tracks, boom and lavaliere mics, and specific location problems associated with certain scenes. Plus microphone choices, which are essential when we need to match ADR mics. Whenever possible, I like to visit the set while they are shooting and see the problems and challenges that arise. In this case, the film was shot in New York so that wasn't possible."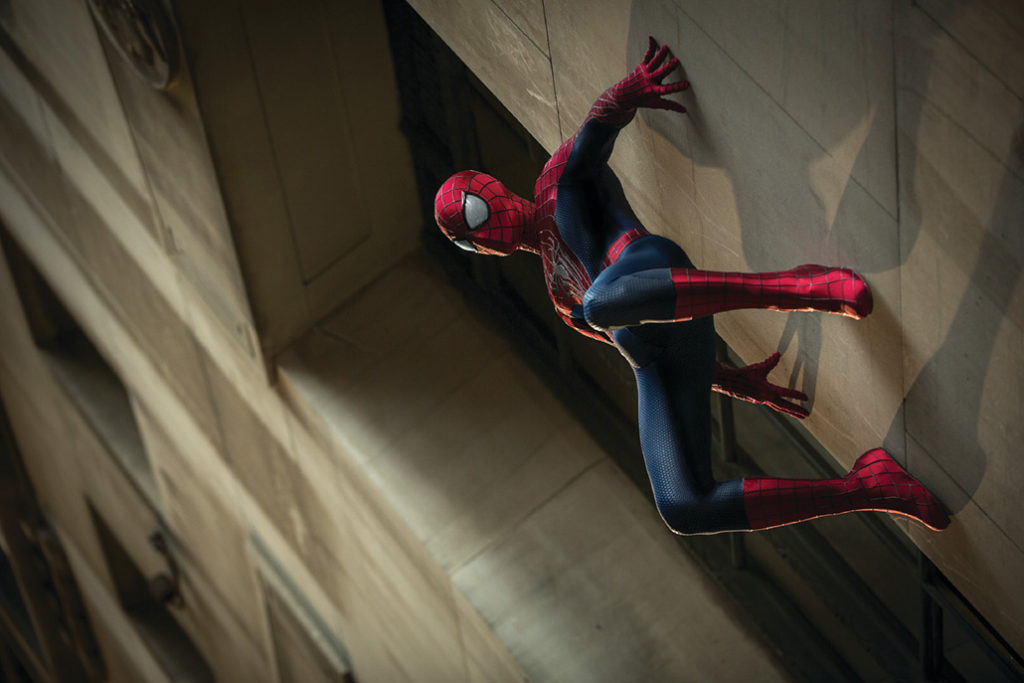 According to Dorman, the production mixer's greatest challenge is to get a full-bodied track of the actors' voices. "Even for the temp mix, we need the best dialogue quality we can get, knowing that we'll need to ADR some of the tracks in post," she continues. "The dialogue editors also need to find where 'the bodies are buried' and what we can use from the boom and wireless tracks; we often ask the production mixer to come to the cutting room. That close degree of collaboration makes a major difference to the soundtrack, and sets a good production mixer apart from an excellent one, like Ed Novick. It's always a close learning process."
Dorman recalls that she first met Novick when they worked together on director Bennett Miller's Moneyball. "Ed recorded some great tracks with Brad Pitt in a long scene with his talent scouts; it produced a montage of sounds for me. The mic separation for each character enabled me to editorially provide the cleanest avenue for the re-recording mixer to get the best sounds in a scene where the actors were overlapping."
On that film, she also spent a day at the Oakland Coliseum gathering a 5.0-channel recording of baseball crowds using a Sanken double-MS surround shotgun microphone. "For me, such material represents a new way of telling a story with sound, in that it is not directly tied to the images," adds Novick. The production mixer uses a Zaxcom DEVA 5 10-track recorder running at 48 kHz/24-bit with an outboard Sonosax SX-ST mixer, "and backup to an Apple laptop running MetaCorder software. I can deliver DVD-RAM discs, a Firewire hard drive, or a compact-flash card. I've even used e-mail and Dropbox for smaller files."
Although the dialogue tracks may have been shot before she joins the post crew, Dorman readily acknowledges, "If I have collaborated with the production mixer on previous films, I'll know his style and will receive sound logs that are very helpful. But, then again, production mixers need to get what they can for the producer and director, to complement the visuals. Some directors have a good audio sense and will listen to the sound crew.
"Wild dialogue tracks are always useful, and can help us avoid ADR sessions," Dorman concludes. "And securing room tone is always a good idea. It can help fill in the ambiences for scenes that require ADR."