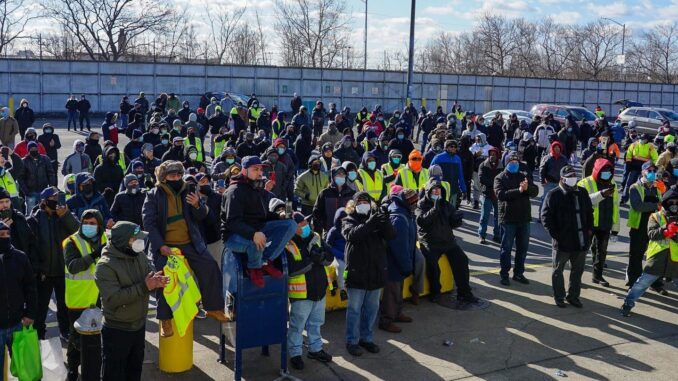 Reprinted from CBS News by its staff on January 23, 2021.
A weeklong strike at Hunts Point Produce Market ended Saturday after workers overwhelmingly approved a deal that includes their largest pay increase in decades and more money for health coverage.
Employees at the Bronx market will receive raises totaling $1.85 per hour over three years, including an increase of 70 cents per hour in the first year, their union said. Management will also make additional contributions of 40 cents per hour to employee healthcare.
About 1,400 members of Teamsters Local 202 walked off the job Jan. 17, upset with how they were being compensated while continuing to keep operations going throughout the coronavirus pandemic, which caused the death of six employees. It was the first strike at the market since 1986.
"Some of us can get a little bit of safe harbor by working from home or telecommuting. These folks can not do that," Local 202 President Danny Kane said in a telephone interview. …
Teamsters Announce Strike-Ending Pact at Hunts Point Produce Market in New York
Reprinted from The New York Post by Brett Bachman on January 22, 2021.
The Teamsters announced a tentative agreement with Hunts Point Produce Market management in the Bronx on Friday night — potentially ending a nearly week-long strike there.
Teamsters Local 202 "will be presenting the agreement to members tomorrow for a vote to settle the strike," the local tweeted.
"Thanks NYC for all your support in this fight!"
The strike had been championed by New York Representative Alexandria Ocasio-Cortez, who has repeatedly joined the picket line since Sunday in support of a raise of $1 an hour and better health care coverage to meet rising costs due to the pandemic.
Details of the tentative pact were not immediately available.
Teamsters Win Hunts Point Strike
Reprinted from an International Brotherhood of Teamsters press release on January 23, 2021.
Teamsters Local 202 members voted this morning to approve their new union contract with the largest raises in the history of their bargaining unit. Over 97% of workers voted in favor.
The win caps a week-long strike that went viral online and gained support across the city and country. After several peaceful strikers were arrested on the picket line on Martin Luther King Day, hundreds of New Yorkers joined the Teamsters on the picket line through the rest of the strike.