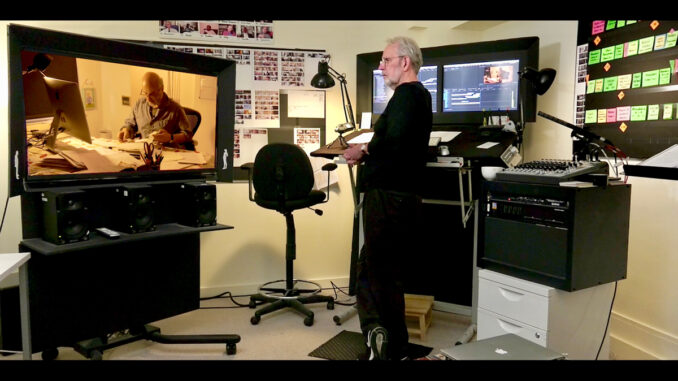 by Mel Lambert
"The editor of an unscripted documentary is always, by the nature of the task at hand, a writer," Walter Murch, ACE, said.
The legendary editor was addressing the complex task of assembling several hundred hours of archive and contemporary footage while cutting "Coup 53." It's an award-winning documentary that follows the remarkable story of Operation Ajax, an Anglo-American coup that in August 1953 overthrew the democratically elected Iranian prime minister Mohammad Mossadegh and reinstalled The Shah (Mohammed Reza Pahlavi) as absolute monarch.
"But for [Anglo/Iranian producer/director and co-writer] Taghi Amirani, the key breakthrough came when we unearthed a transcript that confirmed the actions of a key player in CIA- and MI6-led conspiracy," Murch said. Following the Shah's exile in January, 1979, Ayatollah Khomeini returned to Iran, which then became an Islamic republic.
Holding an audience's attention during a complex documentary like "Coup 53" can be problematic. Relating key fact after key fact is often uninspiring; the viewer wants drama, conflict and, hopefully, a mystery – it's the way humans are wired.
"Having reached a point in June 2018 – I had started on the project three years earlier – with an assembly that ran to eight and a half hours, we felt we were at a crossroads," Murch explained. "Was this a six-part series or a stand-alone feature? We decided, for financial and scheduling reasons, to go for the stand-alone feature length. The question then is: How to condense eight hours to under two? My goals while editing are relatively simple: retain the film's emotional intention; bring understanding to the story; and make the action compelling."
The film had a virtual-cinema run starting on August 19 – the coup's 67th anniversary – at more than 100 venues around the world.
Having premiered at the 2019 Telluride Film Festival, "Coup 53's" director subsequently won the Best Documentary award at last year's Milano International Film Festival – with Murch being nominated for Best Editing – in addition to winning Most Popular International Documentary Film at the 2019 Vancouver International Film Festival. Murch began his sound-editing and re-recording career with director Francis Ford Coppola's film "The Rain People" (1969), in addition to editing sound for and mixing "American Graffiti" (1973) and "The Godfather: Part II" (1974), winning his first Academy Award nomination for "The Conversation" (1974) and his first Oscar for "Apocalypse Now" (1979).). He won an unprecedented double-Oscar for Best Sound and Best Film Editing for his work on "The English Patient" (1996). In recent years he has picture-edited several award-winning documentaries.
At the heart of the new documentary is pressure applied by the UK government, and its US supporters, to prevent nationalization of oilfields controlled by Anglo-Iranian Oil Company (later to be renamed British Petroleum Company or BP). Since Mossaddegh's government wanted to control the company's local assets, the UK staged a trade war with Iran rather than pay revised prices, while the CIA and MI6 arranged a military coup to depose Mossadegh and install a regime more favorable to the British. Although the US has admitted to its role in the coup – some CIA files have already been declassified and released – to this day the UK has not acknowledged its part in the overthrow of democracy in Iran.
The chance discovery in a basement storage room in Paris of a 1983 transcript from an interview with well-placed MI6 operative Norman Darbyshire provided the production team with a remarkable revelation about the oil-driven coup. The room belonged to Mossadegh's grandson, who had been an adviser on a series made in 1985 by UK broadcaster Granada Television, entitled "End of Empire," which detailed the end of British imperial rule in various parts of the world, including Iran.
"We then discovered that the producers of that TV program had donated all the filmed material – outtakes as well – to the British Film Institute for public record," Murch recalls. "No one had touched them since 1985, so we made a deal with the BFI to digitize all eight hours of the Iran episode interviews in exchange for access. We hoped to find the film from which the Darbyshire transcript was made, but it alone was mysteriously missing from all the other interview subjects."
Turning the full-length transcript into an audience-grabbing interview, Amirani and Murch now concluded, was critical to the documentary's overall vision.
"In 1996 I had worked with actor Ralph Fiennes on [director/writer] Anthony Minghella's "The English Patient"," Murch said, "and realized that he would be the perfect actor to channel Norman Darbyshire."
The editor owns, in addition to a home in Northern California, an apartment in London with his British-born wife. "I based myself in Soho [central London] to work on the edit with Taghi [Amirani]. I reached out to Ralph Fiennes, who happened to be in London playing the lead character in Shakespeare's 'Anthony & Cleopatra' at the National Theatre. Ralph agreed to play that pivotal role for our documentary, and gave us three hours in October 2018 to relive the transcript at the Savoy Hotel [on the River Thames], so that the new footage matched existing material from the TV series."
But, in addition to providing important revelations about the progress of the 1953 coup to unseat the Iranian prime minister, Fiennes added something extra that proved a key to understating the latter's role in orchestrating the scheme. "Being a supremely talented actor, Ralph quickly figured out how to inhabit the role on such short notice," Murch said. "Through small facial expressions he showed the audience how devious a person Darbyshire was, yet with an innate humanity. In essence, Ralph 'lived' the lines. We also used a short B-roll segment from that interview early in our documentary – Ralph was turning away from camera while being made up – to provide a teaser for his later reveal, and a key to understanding the conspiracy."
Working with the new material, by March 2019 Murch had a rough assembly that was still far too long. "We had a lot of story to tell and not a great deal of space," the editor said. "But adding Ralph's footage gave us a roadmap for pacing the material. Once we had Ralph, we stayed with him to carry the film's direction. We made it down to a three-hour cut, but then hit an obstacle: how do we reach our target length of two hours? What do we jettison to get home?"
Looking at what he had with "a cold eye," Murch needed to make a number of difficult decisions. "What do we leave in; what can be lost without compromising the documentary? Working diligently, we lost 45 minutes – it was painful but necessary; from that cut we mixed a soundtrack for the first audience previews. Subsequent to the previews, we lost another 16 minutes," he said.
An important key to such deliberations was what Murch refers to, with a smile, as "Bananafication." "While editing 'The English Patient' we had a long scene in the desert during which the participants each sing the whole song 'Yes, We Have No Bananas' in their native languages. [Director] Anthony Minghella wanted to keep the scene but didn't know how to shorten it. I wound up taking individual verses of the song sung in five languages – German, Italian, Arabic, English and French – and strung them together as single rendition of the song, each character singing just one phrase. While we telescoped the scene, it still retains the essence of Anthony's artistic vision."
Murch applied much the same technique while editing "Coup 53." "For instance, there was lots of documentary footage from the United Nations in which US and UK delegates were seeking approval for embargoes against Iran, together with a trial at the International Court of Justice in The Hague," he said. "But rather than fully developing each scene, we skipped through them phrase by phrase, like skating a flat rock across a pond. Working in this way from scene to scene, we managed to reach our two-hour target, while at the same time maintaining clarity and density."
"Editing fiction films is a very different process," Murch stressed, "since I am dealing with scenes already written, editorially interpreting their rhythms, stresses, transitions and emotional colors. For an unscripted documentary, however, editing becomes a 'writing' process of working out what a scene is in the first place, and then what each scene is intended to convey, and where it belongs in the narrative. I often liken the process to churning butter. You collect material for a scene, churn it, see what shots like to stick to each other and then keep the scene – the 'knob of butter' that results – and remove the whey. With 532 hours of material, there is a lot of whey! I needed to decide what sticks to the story arc, and its juxtaposition; it's a continuing process of accretion. Constructing boxes within boxes within boxes."
In terms of deadlines – and delivery of "Coup 53" was targeted at the 2019 film-festival season – Murch considers four years of preparation, writing and editing to be a long time period. "But given where we were in the middle of 2018 when we realized we needed to have Ralph Fiennes speak the real words of Darbyshire, and where we were heading, more time would not necessarily have helped," he said.
This documentary marked the first time that Murch has worked with Adobe's Premiere Pro platform. "It performed much like 'Final Cut Pro 8' – the version of Apple's NLE that might have been," he observed. "Because I had edited with FCP in the past, the transition was relatively easy. I considered using Avid [Media Composer], but soon realized that little had changed in the years since I last used it in 2013/14. I am always interested in editing developments and, for me, Premiere Pro offered a number of powerful features; I also was just curious about learning a new system."
Adobe's software-development team also responded to the challenge. "I suggested some updates, and they returned within a couple of week," Murch recalled. "I became very comfortable with the Adobe system; it was a great synergy. And, unlike Apple, Adobe is a software company, with no agenda about selling you a computer as well."
As will be appreciated, the project's calico-quilt structure included a number of image formats, ranging from Super-8 home movies through Mini-DV to 4K, with different masking requirements for the final 2:1 aspect ratio and a 5.1-channel soundtrack. "Having ensured that all of the video and audio transfers were made to the highest digital quality, that mosaic of different image qualities and aspect ratios worked to our creative advantage," the editor continued. "Material from the 'End of Empire TV documentary was 4:3 which, instead of being centered or letterboxed, we pushed to either left or right, dependent upon the image content and eye lines. We then used the black 2:1 area on the opposite side of the frame for graphics or titles. We could also use the format to set up an implied dialog between two participants, such as Fiennes as Norman Darbyshire juxtaposed with archive footage of CIA and MI6 operatives, including Kermit Roosevelt, Jr."
Picture post-production for "Coup 53" was undertaken by Ashley Hall at Green Rock, London, with soundtrack re-recording at Boom Post, London, by Martin Jensen and David Sendall. Jim Goddard served as sound designer, with Tom Williams as dialogue editor.
More information and virtual-cinema screenings are available at www.coup53.com