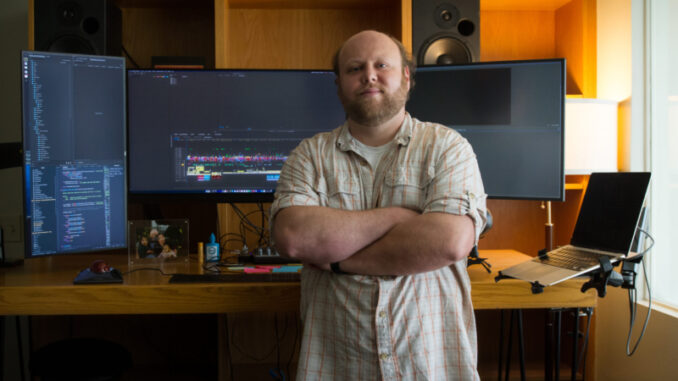 Where are you currently employed?
I'm currently assisting Kirk Baxter on David Fincher's next movie, "The Killer."
Current projects?
Just the one above. Everyone always talks about what they're doing on the side. My wife and I have four-year-old twins. There is no "on the side."
Describe your job.
Overall, the job is to make sure the editor has access to everything they need to work effortlessly with their footage so that they can focus creatively on building the story and not have to get distracted with technical or organizational details. This usually begins before the movie starts by supervising the build of edit systems to ensure they support the needs of the project. During production, the workload is heavy on receiving, processing, and organizing dailies each day so that the editor can review the footage and start building scenes quickly. Once production is over, the assistant editor role transitions more to fielding requests that support the editor and the completion of the movie. This can run the gamut from doing initial sound design or pulling and auditioning music, to recording temp ADR lines and hunting through takes for alternate performances. As the movie progresses, assistant editors help the music, sound and visual effects departments get what they need to work in parallel with the edit. We also receive deliveries from these departments and cut them back into the edit for the editor and director to review.
On Fincher's projects, we also do a lot of temp visual effects – splitting together different takes, compositing green screen, stabilizing camera movement – right in the timeline so they stay live as the edit changes. All of our assistant editors are seasoned in these techniques.
And while it's not officially the assistant editor's job, I do a fair amount of coding. There are magnitudes of efficiency that come from having the computer do repetitive manual work for you. Everyone should at least be willing to explore it.
How did you first become interested in this line of work?
I've always loved movies. Even bad ones. If I started watching a movie, I had to finish it. I think I've only turned off one movie in my entire life… it will remain nameless here to protect me from the retaliation of those who worked on it. (I didn't even turn off "Good Burger"… caught on TV by accident… with ads!) To this day, I'm captivated by the way movies transport us into their own world. You don't even have to put in any effort and you're somewhere new. That never gets old for me.
I also love computers and tech — things like setting up video systems, digging through a tangle of wires, and making everything work. It just sort of comes naturally to me.
I'd honestly say that, for this particular line of work, it's where all my interests melded naturally.
Who gave you your first break?
This is a tough question. My story isn't so cinematically satisfying as a lifelong career of success and mentorship that blossomed out of one momentary spark of a relationship. I think it's more that I've found myself at a number of forks in the road and approached them with a willingness to take new risks, even though it meant shaking up my world a little bit. I've always told myself that I want there to be a 5% chance on every project I do that I will completely fail, but also to be 100% confident that I can overcome that 5%. If that 5% risk isn't there, I'm not pushing myself or taking any risks to grow, and I need that. It definitely informs how I make decisions at those forks.
But if I had to credit someone, it would probably be my friend Toby Louie, a producer I met while we were both working in commercials. Toby knew people whom I could only dream of working with, and his generosity with introductions made those dreams a reality.
What was your first union job?
First assistant editor on "Mindhunter," season 2.
What credits or projects are you proudest of, and why?
I'm really proud of "Mank," "The Batman," and a commercial for a videogame called "Battlefield: Hardline" that I assisted on a number of years ago.
"Mank" was my first project where I was first assistant from the start of the project. It was also my first time starting a Fincher project from the beginning. And literally days after we finished filming in early 2020, a pesky global pandemic collided with humanity. From the start of that show, I was determined for it to go smoothly, and COVID didn't change that. We were actually ahead of the curve and had already begun work-from-home protocols a few days before California instituted them statewide. We weren't caught off guard by the transition from the office to home, but it was still a fast transition and it had to go smoothly.
We're a very tech-forward team but we still had to invent a lot on the fly. I didn't want anyone on our team to compromise how they work because work from home couldn't accommodate it, and for the most part, no one did. We finished on time. The movie won awards. "It worked out," as Mank himself says in the film. The editor, Kirk Baxter, mentioned to me that he was asked how the pandemic changed the way we had to work, and he answered simply, "It didn't." That was the biggest compliment I could have received.
"The Batman" was so much fun. It's the kind of movie that made me want to make movies. Big on spectacle. Big on action. All-star cast. Huge audience anticipation. It was such a thrill to see fan interest and speculation evolve outside while watching the movie evolve inside. Working on a film like "The Batman" was always a dream, but an opportunity I wasn't convinced I'd ever actually encounter. I'm very proud to have had the privilege to be a part of the team that made it.
"Battlefield: Hardline" was a 360-degree immersive interactive experience that was created to market the game. You'd watch it online from the perspective of a bag of money being stolen by bank robbers. You could point the camera in any direction at any time as you were whizzed down city blocks on a motorcycle, thrown over people's shoulders, tossed from car to car… super crazy fun stuff. In addition to the 360-degree experience, the advertising agency wanted to create more traditional media to run in commercial ad spaces. This meant that the director (Nicolai Fuglsig) and editor (Eric Zumbrunnen) could essentially choose any angle from within the 360 degrees to tell their story. They could cut. They could whip pan. They could do whatever they wanted as if they were operating the camera.
My job in the edit suite was to figure out how to actually do this — and this was still a few years before virtual reality editing tools were a thing. We created super-wide tiled media that allowed Nicolai and Eric to rotate the camera anywhere in real time. But the biggest fear was that Nicolai and Eric's work wouldn't translate to the finishing artists adding visual effects. I wrote some code that took all of their work from Premiere, collected the keyframes, and translated them into camera rotation data that let the finishing artists exactly match every decision that Nicolai and Eric had made. It was incredibly satisfying. With that project, it felt like we had actually brought something new into existence that had never been done before.
What was your biggest challenge in your job (or on a particular project) and how did you overcome/solve it?
The biggest job challenge was definitely making the decision to leave where I was comfortable for the opportunity to grow. It's scary, but necessary. In this industry, everyone fills a role that someone next to them, or above them, relies on. They need you there, so they want you to stay where you are and keep doing that thing you do better than anyone else. You have to step out of the box yourself. It's the biggest challenge because it never became any easier to overcome – it was a leap of faith every time.
What was the most fun you've had at work?
A friend and I were working on a movie in Winnipeg, Canada with one of the producers of "1408." Our hotel, the Fort Garry, was rumored to be haunted – specifically, Room 202. When we mentioned this to the producer, he marched over to reception and booked the room for the two of us to stay in that night. We had no choice.
This was not the kind of thing my friend was into. Every sound was an event. Every minute was an hour long. We heard and made up all kinds of things that didn't exist. A room that is rumored to be haunted becomes haunted when you're in it. We brought camera and recording equipment to the room with us and all it recorded were his screams and our laughter.
What are your outside activities, hobbies, passions?
I like tinkering with electronics and robotics, things like that. I don't really know what I'm doing, so when the robots attack, blame me.
I also love camping and skiing.
Favorite movie(s)? Why?
"Ace Ventura: Pet Detective." Final answer.
Favorite TV program(s)? Why?
Currently? "The Boys." It's dark and gritty and unexpectedly brutal. I love it. I'm also very much into "Raised By Wolves." I know exactly what side I'm rooting for when I watch this show, and I'm continually impressed with how the other side continues to lure me in. Everyone has their own turn being a hero and a villain. It's great. "Righteous Gemstones" is just a joy that I hope never goes away. And I just got hooked on "Outer Range." Wow… it suddenly sounds like I have a lot of time to watch TV. I do not.
All time favorites? "Seinfeld." "Halt and Catch Fire." "Deadwood."
Do you have an industry mentor?
Not really, but I think everyone should. It's a relationship I wish I had. It's easy to lose perspective of one's own value, and we all need someone in our corner to remind us that we do good work. Someone we can ask questions. Try things out with. Be dumb with and not suffer judgement. A phenomenally talented editor once told me he worried every job he did was going to be his last – that he wasn't sure why people would hire him after this one. I like to think that we were building a mentor/mentee relationship that would have matured if we had been able to continue working together, and that we were both creating a safe space for each other to be honest and dumb, because, in truth, his worry couldn't have been more absurd.
What advice would you offer to someone interested in pursuing your line of work?
Say yes. You're entitled to nothing. Be patient.
Was there ever a circumstance when you had to rely on the Guild for help or assistance?
Not yet, but I'm immensely thankful for the Guild. Without the Guild and what it has fought for on our behalf, it would be much harder to enjoy working in this industry.
Is there anything you'd like to say to your fellow Guild members, some words of encouragement?
I think we're all too competitive and should focus less on that. We're all way too good at faulting ourselves for missing out on opportunities we believe our peers are getting, and using that to define what our success should look like. This makes us competitive even though we haven't necessarily defined what success means for ourselves. I find I'm much happier being proud of what I'm good at than frustrated by what I haven't achieved yet.
Compiled by David Bruskin.