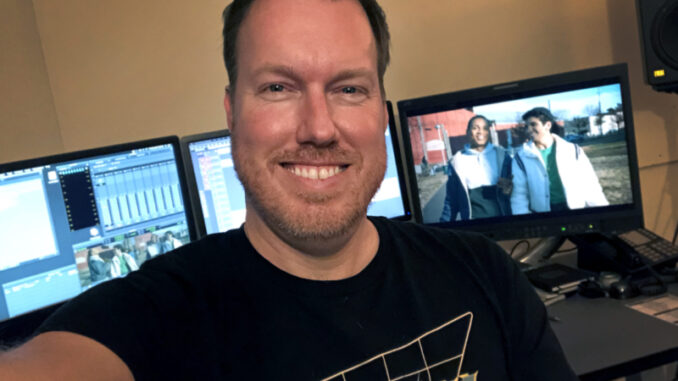 Current projects?
I'm working freelance, editing two episodes on a non-union television show called "Snap." It's a psychological thriller anthology series for AMC/ALLBLK network and Swirl Films. Prior to this, I wrapped up being a first assistant editor on "End of the Road," an action-thriller movie for Netflix starring Queen Latifah and Ludacris.
Describe your job.
First and foremost, my job is to support the creative process between the editor and producers/directors as best I can. That includes assuring that nothing slips through the cracks when we send or receive anything to or from other departments or outside vendors.
Creatively, key things I do on my television shows and features include creating the first pass of sound design, giving the soundscape shape, spotting and choosing sounds that support the story, smoothing out audio levels, and patching in room tone. Sound should enhance the viewing experience and help the editor's picture cuts work even better. I will sometimes temp in visual effects shots such as compositing a video clip onto a television in the scene (often recorded on set as a blank green screen; we add the TV image later). I help find stock footage to use as exteriors or b-roll shots, and I often record temporary new lines of dialogue that are used as placeholders until we re-record them with the actors or with a loop group team.
Logistically, I'm the conduit for footage and information going to post-production. When we receive the dailies, I prep them for the editor. When we lock the cut, I turn over the materials to all the teams such as sound (mix stage), visual effects companies, and post-production houses for online editing and fine-tuning color and for many small outputs such as closed captioning and marketing clips.
Lastly, the editors I work with will let me cut a scene or two, supervising my work and mentoring me toward becoming an editor.
How did you first become interested in this line of work?
I was a directing major in college but always edited my own films. I found many people liked my editing, and I was hired to edit other students' projects. I fell in love with the creativity and storytelling of editing and have been doing it for over a decade now in various roles.
Who gave you your first break?
Honestly, I gave myself that initial break by writing and directing my own features and paying myself nothing to be my own editor! But doing something yourself is different than breaking into the industry as a professional. As for getting into the Editor's Guild and working on a union show, I had a film professor,  Dana Wilson, who let me pick her brain over coffee. She suggested I enter the union as an assistant editor in television, and she helped pass on my resume. It landed at Disney where I got my first union job: assistant editor on a scripted TV show called "Kirby Buckets."
What credits or projects are you proudest of, and why?
I loved working on "Veep." While I didn't have much creative input (I didn't get to cut any scenes because I was the night assistant editor), I LOVED watching dailies and seeing how they shot that show. I'm very proud of "Pose" because it leveled up my sound design game exponentially. I'm incredibly proud of my work on "Shameless" because of what an amazing mentor Nathan Allen was and how much creativity he shared with me during that process. We did the series finale, and it was a beautiful experience.
What was your biggest challenge in your job (or on a particular project) and how did you overcome/solve it?
Early in my career, I was quite intimidated by visual effects. I tended to avoid doing visual effects and would always pull in outside help. I knew I needed to grow, so I took a job as a visual effects editor on "Supergirl" and threw myself in head first. We had an in-house visual effects artist, but I took the opportunity to learn After Effects and Avid's effects much better and levelled up considerably in that year. Now I'm known for my visual effects talent, and it adds to my abilities as an editor and assistant.
What was the most fun you've had at work?
Something that was unfortunately lost during COVID: I love lunch with my coworkers. It's a great time to connect, learn more about each other, and share our creative experiences on the show. I love to work on shows with teams that eat together.
Jobwise, what do you hope to be doing five years from now?
I hope to be an editor regularly working on a scripted television series. I also hope to find an opportunity to direct an episode or two.
What are your outside activities, hobbies, passions?
I love karaoke. I meet monthly with a fantasy-based LARP (live action role-playing) group. And I love travelling with my wife.
Favorite movie(s)? Why?
"Léon: The Professional" – the filmmaking, writing, and acting are extraordinary. ANY films by Krzysztof Kieślowski, but particularly his Three Colors trilogy.
Favorite TV program(s)?  Why?
"Ted Lasso" – it's just the greatest space to be teleported to, with wonderful characters. And "Shameless," which I fell in love with while working on the show.
Do you have an industry mentor?
I have several that mean a great deal to me. Alan Heim, Nathan Allen, and a handful of other wonderful editors that have invested their efforts in me and helped my career.
What advice would you offer to someone interested in pursuing your line of work?
Talent is important, knowing your job is important, but what will get you hired and rehired is being a lovely person no matter how hard things get. Don't complain or gripe, just be there to support the team, and if you're the coolest head in the room, you will undoubtedly be noticed for it. Lastly, take people to lunch or coffee and ask for advice, not directly for jobs. That's how you create mentors.
Was there ever a circumstance when you had to rely on the Guild for help or assistance?
Thankfully, no, but I like to think the contract is there so that I won't have to.
Is there anything you'd like to say to your fellow Guild members, some words of encouragement?
We are all here to support each other. To support our coworkers' pay rates, to support them getting paid overtime just as you or I would want to be paid overtime. As you rise up the ladder, remember to support those below you, making sure they are taken care of, and to appreciate those above you who have your back and take care of you. We are a brother- and sisterhood!
Compiled by David Bruskin. 
Want to be featured in this space? Email: scollins@editorsguild.com.