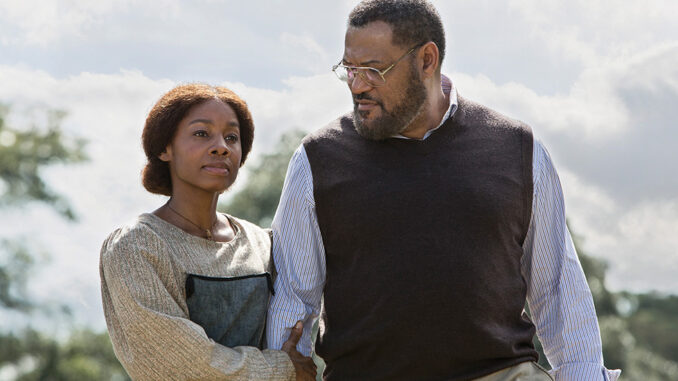 by Laura Almo • portraits by Gregory Schwartz
"Behold, Kunta Kinte…"
If those words ring a bell, you were around for Roots, one of the most forward-thinking and groundbreaking events in the history of television. Executive produced by David L. Wolper and based on Alex Haley's bestselling book of the same title, Roots aired for eight consecutive nights on the ABC television network in January 1977. The 12-hour miniseries, which won nine Emmy awards, depicted the horrors of slavery to American audiences in ways never seen before.
Airing only a dozen years after the struggle for racial equality and the passage of the Civil Rights Act of 1964 — which forbade discrimination on the basis of race, color, religion, sex or national origin — Roots had the network worried about how audiences would respond to a television show where blacks were portrayed positively, while whites were depicted in a negative light. So instead of airing the miniseries over many weeks, as originally planned, ABC virtually buried it in an eight-night run in the middle of winter, assuming few people would watch and that Roots would ultimately be but a blip on the television radar. But the response was quite the opposite: Millions of viewers tuned in and ratings were through the roof, making the miniseries one of the most successful television events of all time.
Although Roots entered the American lexicon, the production itself has not withstood the test of time. A new generation has little interest in sitting down to watch this eight-part series. But it is a story that must be told. And retold. And that it will when the updated Roots — co-executive produced by Mark Wolper, son of the late David L. Wolper (see sidebar, page 40) — premieres simultaneously on the History, A&E and Lifetime cable channels on May 30, running four consecutive nights.
[su_label]Click any photo to launch slide show[/su_label]
[su_custom_gallery source="media: 190,191,192″ link="lightbox" width="210″ height="200″ limit="20″ link="lightbox" title="never" caption="never"][/su_custom_gallery]
When viewers tune in to the 2016 version of Roots, they will see the same characters and the same story, which is the saga of Kunta Kinte's African-American family from the mid 1700s to the Civil War. However, with quicker cutting, contemporary music and young, up-and-coming actors, the new Roots is told in an entirely updated style.
"It's sort of like a retelling of the original, only with 2016 sensibilities; it's far less apologetic and more honest," says James Wilcox, editor of the second night's episode. "The original Roots was done with the sensibilities of where the country was racially in 1977, what television would allow, and the sophistication of the audience in terms of what it could understand about filmmaking."
Nearly 40 years later, the updated version doesn't hold anything back about the horrors of slavery, nor the racism the characters endured. The 2016 Roots was made for a new generation, one that has grown up with civil rights and cultural diversity, but has also witnessed racial profiling, police brutality and uneven economic policies.
The new version is comprised of four separate films, each featuring a different director and editing team. As is the convention, each director chose his editor and, in turn, each editor chose his assistant. Production manager Karen Mayeda oversaw editorial and post-production.
Originally scheduled to air in early 2017 to coincide with the 40th anniversary of the broadcast of the original Roots, the airdate was moved up when executives liked what they saw. Post-production went into accelerated mode to meet the new deadlines.
Each of the four episodes is stylistically different, and this was important for the retelling of Roots, according to Wolper. "When you do a series, you usually have a style that any director or editor that comes in has to follow," he explains. "We didn't do that. In this show, we said, 'Do whatever you want,' so there are four distinct films, four directors, four editorial styles." There are universal themes and a continuity built into the nights through story and music.
---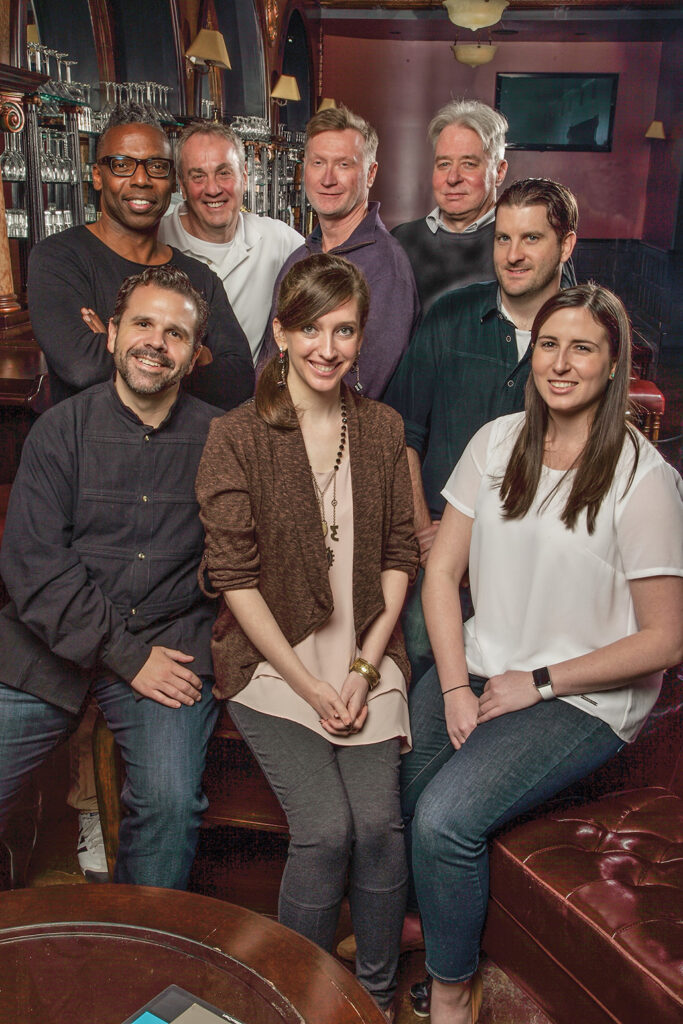 ---
Night One
Marty Nicholson, ACE, Lead Editor
Greg Babor, Editor
Philip Noyce, Director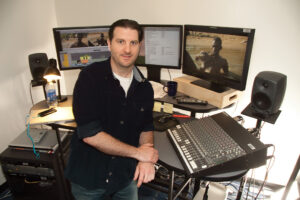 Night one is the "parent of all episodes," according to lead editor Marty Nicholson. It is in this episode that Kinte is captured and sold as a slave. "Night One establishes the story and has to travel through the rest of the episodes," says Nicholson. "It is big and compelling and has to get your attention right away." The saga begins in Africa and incorporates the same iconic scene as the original Roots, in which the protagonist's father holds him up to the night sky full of stars and powerfully declares, "Behold, Kunta Kinte, the only thing greater than you," illustrating the importance of identity, a theme throughout the miniseries.
But the storytelling and filmmaking is different. "It's a much more energetic and visceral style," Nicholson continues. "It does not let you sit back; it challenges you. It's very Kunta-centric. Philip Noyce never wanted it to be out of Kunta's point of view. He always wanted it to echo and have the presence of Kunta Kinte's African spirit — even when he was in America. The challenge of the editing was to maintain this vision."
Director Noyce, who shot in both Africa and the United States, was chosen in part because of his first-hand knowledge of and deep connection to, Africa (his wife, Vuyo Dyasi, with whom he has two children, is from South Africa). It was photographed with two color palettes — one for Africa and one for the US, reveals Greg Babor, who was bumped up from assistant to editor in December because of the accelerated post-production schedule and his prior relationships with Nicholson and Noyce.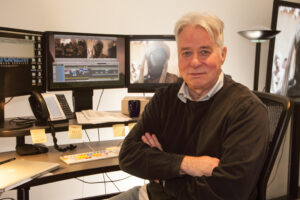 "The most fascinating thing about Night One is the contrast between worlds — the color palette, the cutting style and the songs are very different and show the contrast between the beauty of Africa and the horror of the United States," Babor says. "The idea is that the audience wants to get back to Africa as much as Kunta does because it is a much more beautiful place, as opposed to the current situation Kunta was forced into." Night One ends with another iconic moment from the original: Kinte is forced to say that his name is "Toby."
Night Two
James Wilcox, Editor
Agustin "Auggie" Rexach, Assistant Editor
Mario Van Peebles, Director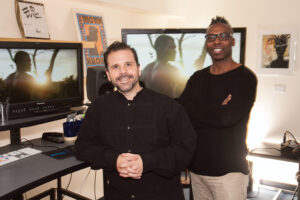 The second episode picks up with Kinte in the United States ten years later. If Night One is about the tragedy of slavery and trying to hang on to one's identity, Night Two is about resilience, endurance and finding a reason to carry on. For editor Wilcox, "Night Two is an emotional rollercoaster. It is a first-hand look at what happens to Kunta Kinte when he gets to America and is forced to accept his fate as a slave."
Director Mario Van Peebles brought his experience as an African-American father to Roots, which helped shape the relationship between Kinte and his daughter, Kizzy. Wilcox says they were "hell-bent" on showing the full experience of how one could bear this type of situation, and how humor would play a part in that. "As time goes on, Kunta Kinte has a larger, more profound reason to think beyond himself and to live — which is ultimately a family," he explains.
Our movie shows Kinte marrying Belle, Dr. Waller's nursing assistant, and their daughter Kizzy growing up from childhood to young adulthood. There is much physical and emotional violence, but there is humor mixed in with the drama. "It's not silly, but there's some situational life stuff that comes up that allows you to laugh," Wilcox adds. "You'll also cry and be saddened, and then you'll feel a sense of triumph. There are small victories mixed in so there are a lot of different flavors."
The editor describes the cutting style of Night Two as "messy drama," such as starting in the middle of scenes and getting rid of unneeded expository. "We wanted to show the audience early on that, wow, this is different; this is not your grandfather's Roots," he explains. "You are thrown into the middle of it; it's highly stylized, highly cinematic and it's got a lot of different gears to it. And it never slows down until the movie is over."
Night Two also includes new historical information that has been uncovered since the original Roots, explains assistant editor Auggie Rexach, who has been Wilcox's assistant editor for two years. "The 2016 version feels like you're right there with everybody, and those events are happening to you," says Rexach, who adds that one of the biggest challenges was to distance himself from his 2016 mentality. "I tried to get into a mindset where I'm not judging these characters, or bringing my 21st century cultural baggage to how these characters would react, because it's an unthinkable situation."
For Wilcox, it was an opportunity to bring his cultural background to the project: "This sense of where our people have come from, what our journey has been, how to appreciate what our ancestors went through, and how strong we must be to endure what happened during that period."
Night Three
Neil Mandelberg, ACE, Editor
Victoria Grimsley, Assistant Editor
Thomas Carter, Director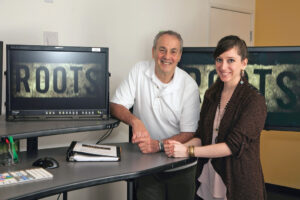 At its heart, Night Three is about the attempt to stay together as a family but ultimately being pulled apart. "It's certainly not as physically brutal an episode as it is psychologically brutal; it's actually the most intimate of the four. It takes place on a smaller plantation run by Tom Lea, a poor landowner who fathered Chicken George because he regularly raped his mother Kizzy," offers editor Neil Mandelberg. While Nights One and Two are the story of Kinte, Nights Three and Four take the audience through the life of his grandson Chicken George. In Night Three, Chicken George seems to have it easier than the other slaves because he's not toiling out in the fields in the blazing sun. Instead he's training birds and traveling to cockfights with his master — the outcome of which will change his life forever.
Director Thomas Carter, who is known for his sports films, treated the cockfighting scenes like sports coverage, according to assistant editor Victoria Grimsley, who says that those scenes were the most artistic — and the most challenging — part of the episode. "They're really flashy with quick cuts and a lot of speed ramps going from fast to slow, and fast again," she explains. "Most of them were shot in slow motion so Neil could make them regular speed or slow them down again." Grimsley also reveals that there was a lot of footage to wade through for this episode. Not only were there many takes because of the variable frame rates, but also because of the difficulties of filming a cockfight. "Birds are not supposed to connect [their feet are not supposed to touch one another] so they'd have to reshoot," she says. "And then the birds would get tired and they'd have to switch them out for new birds."
"Because our script, director and cast delivered strong characters and performances, the most significant challenge we faced in Night Three, aside from the cockfights, was the movie's length," Mandelberg explains. "The length was longer than we hoped for and because this is a historical film, you can't just chop, you have to let it live. Our challenge was finding the best length movie we could without giving up pieces of these characters and their story that are so important to the growth and arc of their lives, which in our case continues into Night Four."
The producers and studio were very supportive through it all, according to Mandelberg, who adds, "I'm very proud of Night Three of Roots; this movie is beautiful and powerful."
Night Four
David Beatty, Editor
Susana Benaim, Assistant Editor
Bruce Beresford, Director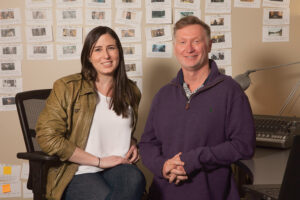 Closing out the miniseries, Night Four covers the Civil War, emancipation and reunification of the family. This episode runs the gamut from action/battle scenes with many extras to small, intimate scenes. And like the miniseries as a whole, it doesn't gloss over the violence, cruelty and brutality. "This episode definitely has some scenes that are graphic and emotionally difficult to cut, including a horrible massacre of black soldiers who had surrendered after the Battle of Fort Pillow," says editor David Beatty. "But it also has poignant, intimate scenes of Chicken George reuniting with his wife after a forced separation of 20 years."
Beatty explains that when Chicken George is finally able to reunite with his wife, the reunion has to take place at a distance because the plantation owners will not allow them to physically be together for the first day. "They have to see each other from a great distance throughout the day, waiting until nighttime to be reunited," he adds. "It's actually a very moving, extended delay where they're so close, yet so far. It's a wonderful sequence. Then we get to see him reuniting with his surviving children. The emotional context is so poignant and winds up being a major theme in this night."
Directed by Bruce Beresford, Night Four concludes with the character of Alex Haley going through the process of learning about his ancestors through writing the book Roots. "Our finale is a very moving moment," Beatty reveals. "Haley has the feeling of being reunited with his ancestry."
The cutting style of Night Four is more conventional — and less stylized — than the other nights. "Bruce's taste as a filmmaker is more classical, almost striving for an invisible simplicity that just tells the story very well," says Beatty.
Still, there is a lot of action that moves the story forward pretty dramatically, according to assistant editor Susana Benaim, who recently participated in the ACE internship program. "I would say it's more linear but absolutely appealing to a younger generation in terms of the content and the fact that there's very little we're holding back. I think that comes from a script and a crew that really wants to showcase what really happened in Alex Haley's world."
Retelling History
Retelling Roots comes with a heavy burden and responsibility. This is not just a remake; rather, it's a retelling of a seminal television event that changed not only television but the nation. You want to do right by it. The collective hope is that it will reach a new generation and have its own form of timelessness.
"We all dream of working on legacy projects, and this is a legacy project," comments Rexach. "This is something that I will always be proud to say I had a hand in crafting. I feel humbled to be here and honored to work on such an important story." This is a feeling undoubtedly shared by everyone on the new Roots.