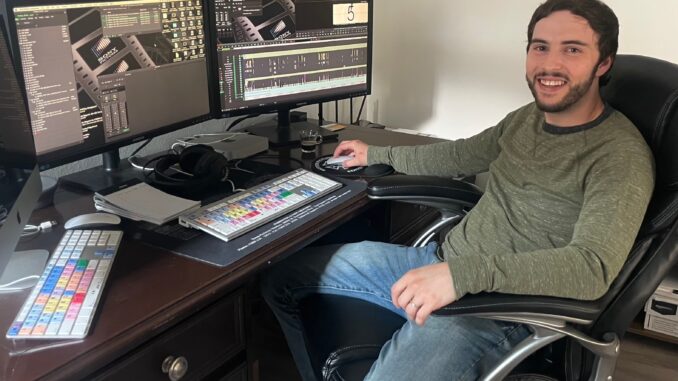 Where are you currently employed?
I'm currently working for Sony Pictures Television.
I also serve as an assistant editor representative on the Editors Guild board of directors (not a paid position).
Season 3 of Amazon's "The Boys."
This is the last year of my first term on the board.
As an assistant editor, my priority is to maintain a well-organized and technically sound Avid project. Clean and disciplined media management is key. The modern duties of the position include temp sound effects and scoring work as well as rough visual effects. We refine and refine the show until it's in its best possible form. That's lock. From there, I do turnovers, which essentially means taking the show apart and sending the pieces out to third-party vendors (sound editing and mixing, picture online, and visual effects) for the final polish.
As a member of the Board of Directors, I attend monthly meetings that include the Guild officers and our National Executive Director, Cathy Repola. We oversee some administrative duties, but most of our time is devoted to examining issues our members face and working on ways to address them; planning social and professional enrichment events; and long-term initiatives to strengthen and prepare the Guild for the future.
How did you first become interested in this line of work?
For as long as I can remember, I've had a passion for entertainment of all kinds, particularly TV/film and video games. My grandfather and I used to go to the movies on a regular basis, and there was nothing like the elevated experience and escape it would give me. I would be totally engrossed. I was very fortunate to attend a middle school and high school with video production classes, so I actually began editing at age 11, first with iMovie and then later on Final Cut Pro. I realized I had a knack for it and I was off to the races.
I've always been very politically active and concerned with the circumstances facing average Americans, especially workers' rights. So when things were heating up during the 2018 Basic Agreement negotiation, I discovered the Guild community online and got vocal. After I attended a general membership meeting, a Board member suggested that I come to a Board meeting as a guest, which any member can do. I didn't even know about the Board of Directors prior to that, but it felt like a place I would have something to contribute. So I ran for election that fall and won an assistant editor seat.
Who gave you your first break?
My very first gig was a travel show called "Drinking Made Easy" on HDNet (now AXS TV). I'm grateful that the host, Zane Lamprey, took a chance on a kid literally two days out of college and hired me directly to the assistant editor position.
What was your first union job?
Assistant editing for Nona Khodai, ACE, on season 2 of NBC's "The Night Shift." I am forever grateful that she gave me a leg up to the union world.
What credits or projects are you proudest of, and why?
Easily, the thing I'm most proud of is my work on "The Boys." It's the most technically challenging and ambitious show I've ever worked on. It's the show I've spent the most time on, every season pushing me in ways that have improved my craft and confidence as an editor. I'm also very happy to say that, pound for pound, it's the best group of people I've worked with, from our showrunner Eric Kripke on down. Respect abounds and it's truly a family.
As for my work with the board, I'm proudest of creating and co-chairing the Local 700 Young Workers Group with my fellow board member, Shiran Amir. The work we've been doing to engage and educate young and new members has been extremely gratifying and inspiring.
What was your biggest challenge in your job (or on a particular project) and how did you overcome/solve it?
So far, the biggest challenge I've found in my career has been to create and preserve a work-life balance that maintains my mental health and personal commitments to loved ones. The reality is, if you're experienced enough that the work is not too hard or stressful, what can get in the way of a healthy work-life balance is if people don't treat you with respect. The way I've solved this is to make gig decisions based largely on whether a crew has a reputation for being good people. I pride myself on working with some wonderful human beings and purposely avoiding those who would make my job, and subsequently my life, a nightmare.
The biggest challenge on the Board is learning to have patience. It's a deliberative body of roughly 50 people and, like any deliberative body, getting major things done can be a slow process. Being assertive but respectful is key.
What was the most fun you've had at work?
For season 2 of "The Boys," the Aquaman-like character, The Deep, has a hallucination on mushrooms where his gills talk to him about his love life, and they do a duet of "You Are So Beautiful." The gills ended up being voiced by Patton Oswalt (which was phenomenal!), but until that happened, we had to do temp ADR for the scene. We weren't sure who was going to sell it best, so we ended up recording about five different people in the office. It. Was. Ridiculous.
The most fun I've had at a Guild function is the annual installation dinner. It's a formal affair  where we celebrate the new members of the board and honor those leaving. Good food, great conversation, free drinks. 'Nuff said!
Jobwise, what do you hope to be doing five years from now?
I'd very much like to be editing full-time. I have an Additional Editor credit and a shared Editor credit under my belt for, respectively, "Home Before Dark" and "Resident Alien." I've been assistant editing for 10 years, and I really feel like I'm ready for the next stage in my career.
In five years, I'd also love to be on my third term as a board member!
What are your outside activities, hobbies, passions?
I'm an information geek of all kinds, so I have a long list of podcasts that I'm learning from all the time. I'm a big gamer and think it's very much an underappreciated artform. I love trying new restaurants, cooking, hiking, and I'm a BIG political junkie.
One of my all-time favorites is "Good Will Hunting." Growing up in the Bay Area suburbs where the focus is much more on sports and business than the arts, I often felt like the black sheep. Will's experience of seeing things through a very different lens than the people around him really resonated with me. It's also got Robin Williams' Oscar-winning performance and a fantastic soundtrack.
I'm also a huge fan of sci-fi ("Interstellar" and "Arrival," to name a couple), and I'm a fan of basically everything David Fincher has ever done.
Favorite TV program(s)?  Why?
"Breaking Bad" because, come on. "Lost" will always have a special place in my heart because it was the first serial show that I deeply got into. And "The Office"—endlessly re-watchable and just pure joy.
Do you have an industry mentor?
I've been very fortunate to work with a number of brilliant editors over the years. Each of them left an impression on me and helped me hone my craft, so I don't have a single mentor per se. I actually prefer it that way. I love that I've received a number of different perspectives from a diverse array of editors, all with different goals and individual paths that got them where they are.
What advice would you offer to someone interested in pursuing your line of work?
Work hard, be curious, pay attention, and try to achieve a certain level of speed. As soon as possible, find the most efficient but precise way to do something. It makes the job easier and your day shorter. More time at the office does not automatically equal better quality work. It's vital to set personal boundaries. Let your professional performance speak for itself and trust that people on the other end will honor that. If they don't, those aren't the kind of people you want to be working with going forward. There is plenty of content out there. Don't waste your time and energy working with people who are abusive or selfish.
If you want to get more involved with the Guild, the Membership Outreach Committee (or any of the many other committees) is a great place to start. Committees are open to all rank-and-file members in good standing, and they're the laboratories where many Guild initiatives are born.
Was there ever a circumstance when you had to rely on the Guild for help or assistance?
I was on a show that had a luxurious schedule, so there were a couple weeks where very little was going on in editorial. I was told by the associate producer that the teams would be staggered so one editor and their assistant would take the week off and then swap the next week. This didn't sit right with me, so I reached out to the Guild for clarification. It turns out this is a little-known part of the contract called a "hold call" or "relay call" and it's not allowed. Post jobs by nature are of long duration, so an employer who tells you not to work one week is essentially preventing you from having a paycheck from anywhere that week, because chances are highly unlikely that someone in post would be able to find and fill one week of availability, particularly on short notice. The Guild reached out to labor relations at the studio and the plan was scrapped. No missed paychecks for us!
Is there anything you'd like to say to your fellow Guild members, some words of encouragement?
This business can be brutal. The hours can be long. The treatment can be harsh. The work can be tedious. There's no shame in being affected by this. It doesn't make you less good at your job or less deserving of your position. If you're struggling, open up to your colleagues about it. We need to be there and support one another. If you're working 12-hour days on a regular basis and it's taking a toll on you, no one should view you as weak. You're human. Don't let anyone, whether it be a producer or a fellow union member, make you feel like you're acting entitled simply for wanting some level of normalcy in your life. It's exploitative, abusive, and toxic, and we have to weed it out wherever we find it.
Never forget that being in a union means we are part of a large family of fellow members, and we have the Guild standing behind us. We have a commitment to each other that, at its best, protects and advances all of us.