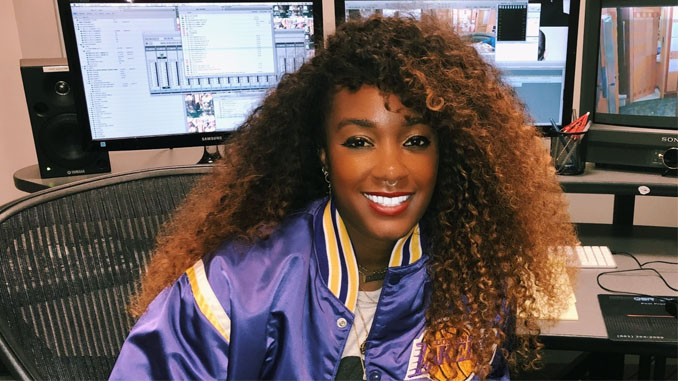 Where are you currently employed?
I recently wrapped a Viacom show for the 2018 BET (Black Entertainment Television) Awards.
Current Project?
The project was called 2018 BET Experience: Acoustically Speaking.
Describe Your Job.
Acoustically Speaking was a live taping of the BET Awards concert at the LA Convention Center. This was the first year the awards show aired on TV and included interview segments with the R'n'B artists who were performing. As the supervising editor on the show, I was responsible for creating a fresh new style and managed a team of talented editors. Along with reformatting the live show for a TV audience, I also oversaw the mixing and editing of the music to fit the one-hour airtime.
How did you first become interested in this line of work?
I attended Howard University for Television and Film. When I arrived in Los Angeles with zero contacts, I landed a production assistant job on a reality show. Then I hustled at a post company called Rocket Science and began to see how TV was created. The editors were the members of the team who really held the driving keys. I wanted that power and a position where my work spoke louder than my race or gender. As a young editor, I idealistically thought that my work would get me into doors that my race wouldn't and, mostly, this has been accurate.
Who gave you your first break?
I've been beating down doors in this business from day one and I'm still looking for that career- and life-changing break. But I am thankful to post supervisor Ryan Abbott, who advised me to learn Avid, and post supervisor Ralik Rachman, who gave me my first job as an editor. I was a lead assistant editor, lacking confidence to make the jump, and he believed in me from day one.
What was your first union job?
For my first union gig, I was honored to cut on two seasons of Project Runway Junior.
Which of your credits or projects have made you the most proud and why?
On Tour with Meek Mill is a documentary film where I could really flex my artistic skills. A lot of companies hire me because I'm a style and music editor, but rarely are you allowed to push the art in unscripted. Still, I'm very proud of Project Runway Junior. My editing partner and I worked on the finales for both seasons, and that was some of my best work.
What was the most fun you've had at work?
Attending the runway shows for Project Runway Junior. Since we were responsible for cutting the finale, the show runner thought it would be great if we attended. In general, the most fun is when I can get out of the edit bay. On the second season of Sisterhood of Hip Hop, as a supervising editor I was brought into the field as a producer (considering myself a "preditor"). Bridging production and post, I crafted story and heightened my effectiveness leading in post. 
What was your biggest challenge in your job (or on a particular project) and how did you overcome/solve it?
Time is a huge challenge, with schedules for episodes getting shorter and shorter. I think it's key to be honest with producers and post supervisors — if you're drowning in material and feel you need extra support, say it! Another challenge was working on a reality project and cutting dailies while on location. Most days they didn't set up a "video village" on set, so I had to cut from "hot sheets" (daily summaries from the set) in a hotel room for 15 hours a day!
Jobwise, what do you hope to be doing five years from now?
I need to win a personal Emmy for editing, and I promised my late mother I would work on a western, which was her favorite genre. Also in the next five years, I hope to be out of unscripted, and directing, producing and editing my own content for networks or streaming services.
What are your outside activities, hobbies, passions?
I have a passion for giving back, especially to gay and lesbian youth and people of color. It's important to show my community that we exist in all areas of media. I also work on content for "(blak)•Unicorn," my own production company, feeding my soul and keeping me hungry. I recently finished Shakedown, a documentary that premiered at Outfest this summer.
Favorite movie(s)? Why?
The movie that blew my mind as a kid was Gone with the Wind. It shocks people when I say that, but I remember this epic story of a way of life vanishing, my first taste of movie magic. Other favorites are The Color Purple, Imitation of Life, Schindler's List, Kill Bill and The Descent. And Set It Off, a great underrated film; when the lesbian Cleo (Queen Latifah) is gunned down by the police, I felt it!!! Growing up black and lesbian, I had never seen images of myself on the big screen. Later, The Celluloid Closet, a great doc about how movies portray queer men and women, brought my feelings full circle.
Favorite TV program(s)? Why?
TV shaped me. As the baby of three kids, I watched All in the Family, The Jeffersons, Sanford and Son and Good Times (thank you, Norman Lear). Taking over the remote, I loved The Cosby Show and A Different World (a major reason I attended Howard University). As a young adult, The Real World, True Life, Buffy the Vampire Slayer and Saved by the Bell. Now, favorites are Stranger Things, How to Get Away with Murder, Noisey, Insecure and The Good Fight.
Do you have an industry mentor?
Joining the Guild's Diversity Committee has given me a great resource for meeting so many talented men and women. Among them are people I admire who may not know they are mentors, like Mary DeChambres. I can always reach out to her and she's always open to give sage advice.
What advice would you offer to someone interested in pursuing your line of work?
I'm still learning that the best advice is to network. Editors spend all their time making others look great on the screen, but we need to be advocates for ourselves. It works to be visible on social media. And it's important to stay working! Remember that you are only racing with yourself. Keep working, keep meeting new people and trust that your time to shine will come!
Was there ever a circumstance when you had to rely on the Guild for help or assistance?
Being part of the Editors Guild is a source of pride and has helped me continue my education as an editor. There are always activities or seminars that allow me to network and learn to be not only a better editor, but a better individual.
Is there anything you'd like to say to your fellow Guild members, some words of encouragement?
I would strongly encourage the Guild to continue to reach out to POC (people of color) and to create a mentorship program so we can really get to know more of the talented men and women who share the title "editor." Lastly, thank you for opening so many doors for me since joining. I hope to continue working with many of you in the future.
Compiled by Edward Landler      
Editor's Note: To recommend a member (including yourself) to be featured on CineMontage.org, and the home page of the Editors Guild website, please contact edlandler@roadrunner.com.