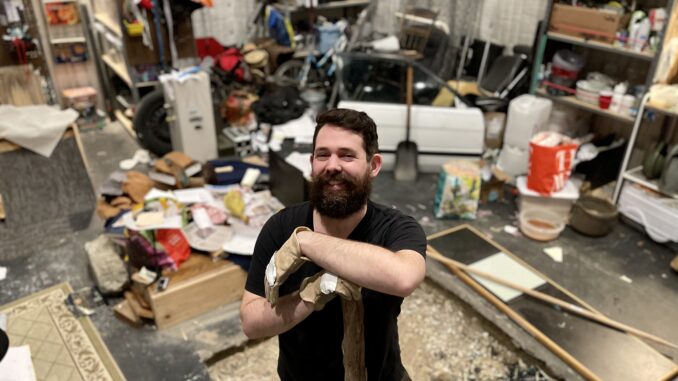 Where are you currently employed?
I'm a co-owner with Studio Unknown and part of Sound Department LLC as a Foley artist and supervising sound editor in Burbank
 Current projects?
Some of my current projects include an animated feature film called "Lamya's Poem," a few unannounced features for Netflix and others, and a massive cinematic podcast for Audible. It's been a surprisingly busy fall (under the COVID circumstances) and it's not letting up taking us into 2021.
Describe your job.
As a Foley artist, on paper, I perform sound effects synced to picture based on movement portrayed by characters, subjects, creatures, and inanimate objects in films. My Foley mixer acts as the direct ears for the film, guiding the sessions and making sure things are being recorded and mixed in a way that translates to the esthetic of the film at hand. From my specific perspective, though, I obsess night and day over the MOST mundane things audiences (and sometimes filmmakers) have no clue about. How much more paper scrap do I need to collect to find the perfect paper to illustrate this character's commitment to writing poetry? Do these footsteps embody the struggle this character is going through? Should I do a sharp U-Turn to go pick up that "FREE" green metal chair I saw down the street? We have an infinite palette of sonic materials to work with, and there are opportunities to discover the best new prop around every corner.
How did you first become interested in this line of work?
I think, on some level, I've been interested in Foley long before I knew it existed. Growing up, I was always into film, art, and music: I sculpted, collected, played with instruments. I ended up in a Fine Arts College, Maryland Institute College of Art (MICA) in Baltimore, and started to explore sound design. Early on, a lot of what I was doing was recording sounds available to me or those I could find in the field. Foley appeared as this perfect blend of all the art forms I loved. It's performative like music, physical like sculpture, and narrative like cinema. And as a Foley artist, you are always at the core of the work you do, because YOU control the sounds. By the time I had put in a few professional years as a sound designer, post-college, we (myself and my studio) realized building a Foley stage was the next step to be able to offer better sound… and it snowballed from there.
Who gave you your first break?
I think of becoming a Foley artist as more of an evolution than a designation. However, prior to professional post work, I was a sound mixer and boom op for independent documentaries. I made the decision to jump into the world of post because I naturally gravitated toward it. I wanted to create, to make things with the sound I was recording. I called a number of places in Baltimore, where I was living at the time, and found a studio that was cinematically focused and, like me, happened to be in a transition period. This boutique studio, Studio Unknown, had a new position opening up, and I joined the team. Happy to say that was close to 10 years ago. I became a co-owner with the folks who gave me a shot. I  started to supervise, built our first Foley stage, trained and added more team members, and we started doing it all over again in 2019 in Burbank. You really have to appreciate every step, big or small, that gets you where you are, and I'm certainly thankful for how things have grown over the years.
What was your first union job?
An indie feature called "Pink Skies Ahead," written and directed by Kelly Oxford and starring Jessica Barden, Henry Winkler, and Michael McKean and acquired by MTV Studios. It's a great coming-of-age drama-comedy set in the late 1990s. It's made good rounds on the festival scene and will be released shortly. They did a fantastic job with the film and gave us the fun task of recreating the sounds of translucent corded phones, gel handbags, and platform shoes.
What credits or projects are you proudest of, and why?
I try to put something special into every project — which I know sounds corny, but let's face it: Some budgets are not always inspiring or don't give you the flexibility to let the creative process breath. So I've tried to make it a mantra to be proud of the work I do, regardless of those factors. There have been ultra-low-budget gigs I've done where we've figured out a technique that will get used on a massive union gig in the future, so without those opportunities, your creative R&D doesn't have as many chances to shine. That being said, I have two upcoming films I'm immensely proud of. One is an insanely creepy horror film that gave us the freedom to detail everything and, being sparse with dialogue at times, the space to hang a creepy soundscape on those details. Another is "Werewolves Within," a super fun horror-comedy that we poured ourselves into. I co-supervised and designed the creature for the show. We took a different approach to werewolf creature design and made the effects as visceral as possible. Super fun film.
What was your biggest challenge in your job (or on a particular project) and how did you overcome/solve it?
Recreating biological/organic sounds is always challenging. A character in a recent film needed to have demonic stomach growls. After experimenting with all kinds of weird setups, I ended up using a pneumatic plunger in a silicone gallon bag filled with loose slime. It makes the most gnarly, growly gurgles and fit the film perfectly. We submerged a hydrophone in the slime to reproduce the internal sound of digestion and combined it with an external mic.
What was the most fun you've had at work?
There is something so fun about doing things indoors that aren't indoor things. Bringing in crushed ice or snow for snow Foley is super fun because it's a massive mess and feels almost wrong on some level. For "Werewolves Within," we filled up the 4×4 dirt pit with 200-300 lbs. of crushed ice and "movie snow."  Getting ice-chapped legs while wearing shorts and a t-shirt indoors — in Los Angeles, in JULY — is wacky when you think about it. I also have great fun making gore or gross sounds for films and immensely enjoy when my mixer is grossed out. That's when you know it's working.
Jobwise, what do you hope to be doing five years from now?
All I can hope for is doing more of what I'm doing now, after five more years of growth. That's one of the most rewarding things to look back on — improving your craft in ways you couldn't have imagined.
What are your outside activities, hobbies, passions?
I'm a HUGE bird nerd. Birding is a somewhat meditative process, and also free ear-training to learn calls and songs before you see the bird. When I'm not using my hands for things like prop-building or Foley, I tend to keep them busy either building things like a wooden fish smoker or learning new instruments. I'm currently learning how to play the banjo after my wife gifted me one for Christmas this year. I've been playing the electric bass for about 20 years now, so that has provided a nice new challenge.
Favorite movie(s)? Why?
I'm a massive fan of the "Alien" franchise. Before sound, I was (and still am) obsessed with creature design for movies. That was my original track, sculpting creatures for films. These days, I do a lot of sonic creature design, which fulfills the same desire. I'm super into Edgar Wright's films like "Hot Fuzz" and "Scott Pilgrim." They're such focused, lean films that are SO realized in their style… and let's not forget about the sound work, which is always absolutely top notch and exciting. I always walk away inspired and refreshed. I've loved watching the Safdie brothers grow as filmmakers. "Uncut Gems" was the last film I saw in theaters before COVID-19 hit, and it's now one of my all-time favorites. Incredibly raw, immersive filmmaking. I could talk about it for hours.
Favorite TV program(s)?  Why?
TV has been outstanding over the last couple of years. The gap between film and TV seems to shrink to almost nothing, depending on what you watch. I've loved "Watchmen," "Twin Peaks: The Return," "Game of Thrones"… but most recently I've been massively bingeing "The Crown." We crushed through four seasons in just over a month. Each season plays like a long film, and the sound work is phenomenal. Much love to the Foley team who just made the show insanely satisfying to watch after a long day of Foley.
Do you have an industry mentor?
One thing I've come to learn about this industry is that mentors are everywhere. Specific to the Foley community, the "Foley Artist" Facebook group has been a big part of my life. It's opened doors to chat with Foley artists all over the world, and everyone is so open and supportive. It's a great "pay it forward" model, because while I might need advice about one thing or another, I'm also able to act as a mentor for someone else. Ultimately, we all want to make sure the craft is being supported properly, done with integrity, and is growing. Getting advice from legendary artists like John Roesch, Alyson Dee Moore and others is more than you can ask for as an up-and-comer.
What advice would you offer to someone interested in pursuing your line of work?
The running joke among Foleys is "Foley is great, you guys just play around all day!" And yes, some days the absurdity of coming up with bathroom sounds and getting paid for it isn't lost on me, but that's a small percentage of the time spent on the stage. Start simple. Like I mentioned, I started doing Foley as a necessity when I found certain sounds were better to perform than copy from a library. It was a gradual evolution from there as our resources accommodated. When you really start doing full Foley passes, endurance starts to become a key strength because Foley exhausts you both creatively and physically. Take care of yourself because YOU are the instrument. Get to know how long it takes you to shoot a typical gig; examine if that's appropriate, seek counsel and advice, and check that ego at the door. Every opportunity to stick your neck out and get honest criticism or advice from trusted pros is a blessing.
Was there ever a circumstance when you had to rely on the Guild for help or assistance?
Because I joined the union within the last year, I had a ton of questions. They've been super helpful from day one with any question that comes up, from determining positions on projects to information to forward to other prospective union members. It's a great resource to have.
Is there anything you'd like to say to your fellow Guild members, some words of encouragement?
It may be overplayed, but 2020 has been an incredibly challenging year for everyone. What's given me encouragement has been to see our community of sound-makers not let it get the better of them and to see them be resourceful with the technology available. Crowdsourcing recording projects like Tim Nielsen's, John Roesch's and Charles Kohlmyer's Foley workshops on Zoom, and the large supply of resources and support that people throughout the community have given each other, have kept up morale and inspiration enough to weather the storm. Talk about silver linings, the community is closer than I've ever experienced, despite our physical limitations during this pandemic. I'm excited to see how things will bloom once we're all able to move freely again. I think great stuff will happen.
Compiled by David Bruskin. 
Recommendations for future profiles: scollins@editorsguild.com.