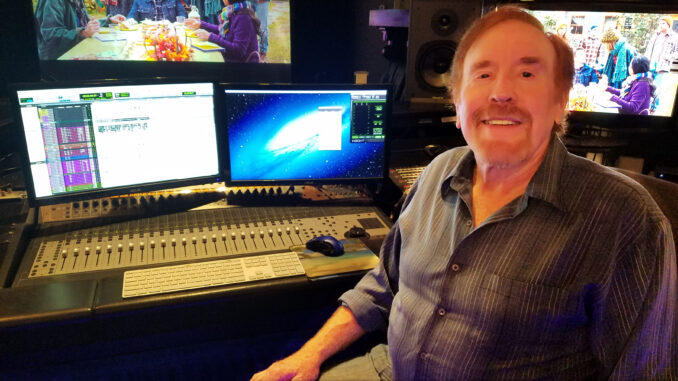 Where are you currently employed?
My partner Robyn Whitney and I own Private Island Audio, an audio post facility in mid-town Los Angeles.
 Current project?
We are just completing the sound mix for "Aftermath," a psychological thriller directed by industry veteran Peter Winther ("Stargate," "Independence Day," "The Patriot"), and "Bit," a vampire movie satire with a quirky twist.
We are also gearing up for the second season of "Pandora," a great sci-fi series on the CW Network for producer/creator Mark Altman.
Describe your job.
I supervise and shepherd the sound process from the beginning spotting session through all the final audio deliverables. I have to make sure everything goes smoothly through the final mix, and I put out the fires that inevitably erupt during the process. It's kind of like herding cats!
How did you first become interested in this line of work?
I was a rock musician for quite a few years before beginning my recording career with a studio I built in a three-car garage under a carriage house I was renting in West L.A. As the studio started to become successful, we built new studios off Sunset Blvd. in Hollywood, but soon the writing was on the wall; more and more people built their own home studios. Record and demo budgets went down. We partnered with another music producer (Mike Flicker, of the band "Heart") to go into post sound. When I recorded a film score for the first time, it captured my imagination. I realized that movies had always been a primary fascination and love for me.
So we started a post sound business as part of the music studios. The business grew, and as I learned by doing all aspects of movie sound, I became more fascinated with the creative things sound can do to make a movie come to life. Movie sound today utilizes ALL kinds of aural elements — sounds, language, music, atmospheres — to create a powerful audience experience.
At the time, I was still doing a lot of music recording when I saw "Saving Private Ryan." That movie transformed me. I was inspired to try and achieve the dramatic and emotional impact that its soundtrack evoked in me. I determined to go full-on into movie sound recording, editing, and mixing. I also got to stay on the music side, doing remixes of hundreds of classic film scores from the 1940s through the early 1990s for CD release from the online magazine "Film Score Monthly" and Intrada Records.
 Who gave you your first break?
There are many, but a few stand out:
Marc Donahue, a composer, hired me to record his first film score composition when I was still in my garage studio. This ignited my love for movie sound and soundtrack scores.
Dan Voltz, a post supervisor, brought many movie sound projects to us in the beginning, and we still work together today.
Lukas Kendall hired me to remix hundreds of film scores for CDs that were marketed through "Film Score Monthly." He also hired us to do sound for his movie "Lucky Bastard" four years ago, and he has a new project about to begin.
What was your first union job?
I believe it was "Under The Silver Lake" for director David Alan Mitchell and producer Alan Pao at his post production facility, Tunnel Post in Santa Monica.
What credits or projects are you proudest of, and why?
I'll list the top five:
"West Bank Story" – the 2006 Academy Award winner for Best Live Action Short Film, it's a funny, brilliantly conceived film with great music and imagination.
"Arkansas" — an upcoming feature film starring Liam Hemsworth, Vince Vaughn and John Malkovich, and directed by Clark Duke. This Coen-Brothers-style black comedy about southern drug dealers is brilliant on many levels, and also touching. And I think it is one my best mixes.
"The Tiger Hunter" — a great American immigrant comedy about a young Indian engineer (Dani Pudi) who immigrates to the U.S. in the 1970s and tries to live up to his "tiger hunter" father's memory. To me, this is the quintessential American story of an immigrant who comes to the U.S., is subjected to culture shock, overcomes some racism and bigotry, and finds a way to merge his culture with ours and become a success. Totally charming.
"Aftermath" — directed by Peter Winther. I believe this is one of the scariest, most intense movies I have had the privilege to work on. (Actually, I'm still working on it.). Sound plays a big role in ratcheting up tension and dread to an almost unbearable level (as it should in all movie thrillers.)
"Avengement" — directed by Jesse Johnson. This action movie has a lot of great characters, amazing fight sequences, and humor a la Guy Ritchie or Tarantino. It got great reviews, including our sound design ("Oscar-worthy" said one critic) and mix.
What was your biggest challenge in your job (or on a particular project) and how did you overcome/solve it?
I've worked outside the studio system, mostly on independent movies, so the biggest challenges are usually the production sound. Because of the speed of the shoots and locations used during many of these movies, the production sound is usually compromised. The universal truth in the final sound mix is that we all HATE ADR — never the same performance magic or sound match — so our job is to rescue as much of the production dialogue as possible.
Years ago, this would not have been nearly as possible as it is today with the new tools we have available. iZotope RX, for example, can remove amazing amounts of noise, hum, and distortion from the dialogue track.
Because of the digital realm of movie sound, filmmakers now often expect pristine dialogue from what was terribly noisy and obliterated production sound. And many times, we are able to give it to them.
What was the most fun you've had at work?
I think just getting into the mix on a great movie, usually an action movie or thriller. They require much more work on thousands of sound effects files, and great creative imagination as far as designing the sound of weapons, atmospheres, unknown machines, etc.
While these mixes are usually more stressful than the simpler dramas or comedies, the end result is really rocking and makes a powerful impact.
What are your outside activities, hobbies, passions?
I was an astrophysics major at UCLA until I discovered I didn't like the math that much, but I am still deeply interested in the sciences, especially astronomy, and keep abreast of all advances in the scientific journals and magazines. I also have a telescope, but it only works well away from L.A.'s light pollution.
My other passion/hobby is movies. I try to see at least one a week when we are not slammed with work, and I'm inspired by movies that are more original and unusual, like my favorites listed below.
Favorite movie(s)? Why?
"Saving Private Ryan"– for the reasons I mentioned earlier, and because it inspired me and moved me to tears in the opening and closing scenes — and gripped me by the throat throughout the rest.
"The Whale Rider" — a brilliant, unexpected rush of "everything is perfect" about this movie, which I went to see because I was curious about the title. A fascinating exploration of Maori culture, feminism, and humanity.
"Alien" — Ridley Scott's groundbreaking movie is the best sci-fi/horror film of all time. I saw it before I got into the business, and it scared the shit out of me. Still does.
"Aliens" — James Cameron's sequel to "Alien" was unbelievably tense and, in my estimation, the best sci-fi action-adventure movie ever.
Favorite TV program(s)?  Why?
"FBI", Seal Team", "Chicago Fire" "NCIS" — these shows are very well written, directed and acted. They're about people who dedicate their lives not to riches but to making the world a better place. It's an important theme worth paying attention to in these divisive times.
"Real Time with Bill Maher" — I need some talk TV that is intelligent, funny, and not afraid to say anything.
What advice would you offer to someone interested in pursuing your line of work?
It requires a LOT of dedication and sacrifice (and irregular paychecks), so make sure you really love it. If you don't love movies – see a lot of them, talk about them — you may do OK in the ancillary jobs of the business, but you most likely will not be exceptional in the demanding creative jobs, which for me are sound editing, mixing, recording and sound design. To be exceptional requires a love and fascination for this art form. Be prepared and dedicate yourself to learn something new every day. Strive to always improve your craft; not to advance is to move backwards.
Was there ever a circumstance when you had to rely on the Guild for help or assistance?
I am new to the Guild, so I haven't needed that yet.
Is there anything you'd like to say to your fellow Guild members, some words of encouragement?
We are in a tough time where budgets for movies and television are steadily declining, mostly because film industries around the world are competing for a slice of the expanding pie, which is constantly full of new ways to see movies and TV.
The budgets of the movies we do at Private Island Audio are half or less of what they were before the Great Recession of 2008, and they don't seem to be rebounding at all, even though expenses have increased a lot. We all have to be more efficient to make ends meet. Supporting each other helps much more than competing against each other, especially in this volatile environment.
Here's to continuing to grow and learn as we go forward in the industry we love.