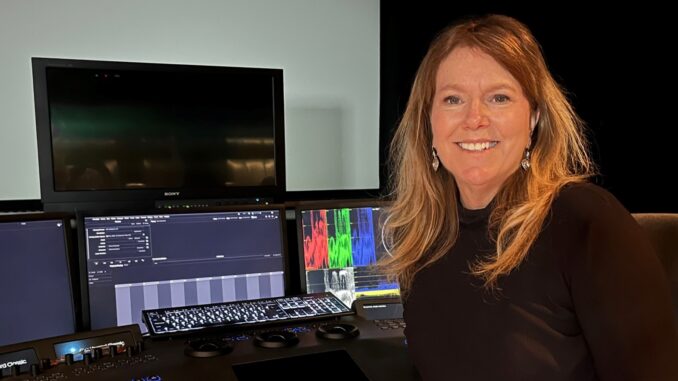 Where are you currently employed?
I'm a colorist at Motion Picture Imaging (MPI) on the lot at Warner Bros. Discovery. I specialize in the restoration and color correction of popular and/or historically noteworthy films. The newly restored version can be for a new 4k HDR (High Dynamic Range) Blu-ray, a new DCP (Digital Cinema Package, which is how movies are shown in theaters), or for streaming. Very often it's all three. Once the studio goes through the effort to create this new version, they want to be able to service any request that might follow.
Current projects?
I work on many projects at once — all of them related to restoration of classic films — so my current ones include "Twister" (1996), "Body Double" (1984), "To Die For" (1995), and "His Girl Friday" (1940).
Describe your job.
It starts with evaluating scans of the best available elements for a film. The original camera negative [OCN] is usually our first choice, but sometimes that's not an option. If the OCN isn't available, we'll evaluate the next best options. Sometimes this means scanning fine-grains (interpositives that were created from the OCN), YCMs (a color separation master where yellow, cyan, and magenta elements are stored as black-and-white film negative reels), or sometimes even regular prints.
Because of years of wear and tear, sometimes the OCN has been slugged with visually inferior duplicate elements or even, literally, frames of black. When faced with these challenges, we scan every available good choice at 4k or 8k and I evaluate those elements with the studio producer. We conform our best possible version with all available elements. This conform is then restored; damage, dirt, scratches, flicker, etc. are digitally removed, frame by frame. I then evaluate the restored files to make sure all our concerns have been addressed without compromising the nature of the film.
Once I have the conformed and restored film, I can start color correction. There is a bit of research at this point so as to lock down the "look" of the film. Since the OCN has not been color-timed, I cannot simply infer the way it was meant to look by the way the log files appear on my screen. This process can include viewing a print or referring to an existing master that perhaps the director or DP supervised previously. Once we decide on the direction of color, I adjust the color balance, contrast, density, saturation, etc. I go through the film, shot by shot, and do my best to be faithful to the original look while moving a classic into a modern viewing experience like HDR or Digital Cinema. Whenever possible, we bring in the director or DP to review the color.
How did you first become interested in this line of work?
I met someone at a Christmas party who actually did this work, so shout-out to anyone who remembers (or doesn't) the crazy Christmas parties this industry had in the '90s.
Who gave you your first break?
A man named Ken Holland. He founded and owned a facility called IVC that was well respected for HD-mastering and digital restoration, among other things. He allowed me to shadow the colorist I met at the party, Steve Wiener. Ken gave me the space to learn, and while this was on my own time, I gladly took the opportunity to get as much experience as possible. After about a year, he hired me and told me I had good instincts. I still remember and hold dear his confidence in me.
What was your first union job?
It's a bit rare for colorists to have a union job. That said, my first union job came in 2010 when I joined Colorworks on the Sony lot.
What credits or projects are you proudest of, and why?
When I joined MPI, I was told my first title would be "Casablanca" — which is only my favorite film of all time. It was the happiest moment of my career and also the scariest. I didn't want to let down this Hollywood classic. I didn't want to let down everyone else who loves it as much as I do. Fortunately, I think it turned out really nice. Even watching it with clients for technical reviews, I still cried. The impact of this film is never lost on me.
What was your biggest challenge in your job (or on a particular project) and how did you overcome/solve it?
One of the hardest films I ever worked on was "Richard III" (1955). It's a Laurence Olivier film with all the scope (actually, it was VistaVision, lol) of a Shakespearean classic. The negative was badly faded, and all the opticals (pre-digital technology, scene transitions such as dissolves and some visual effects created on an optical printer) were also faded in different ways. The negative was slugged with various duplicate elements that had serious color challenges.
In the VistaVision format, 35mm motion picture film is turned on its side and runs horizontally through the camera. Each VistaVision frame is eight perforations wide versus the standard four-perf frame when 35mm film runs vertically through the camera. Because each VistaVision frame has roughly twice the area of a standard film frame, it's a very high-resolution film format.
As this relates to "Richard III," when a film fades, usually the color has deteriorated across the frame. But the image deteriorates across a VistaVision frame in two different ways because once the decline begins, no two contiguous four-perf frames decay in exactly the same way. The film is two hours, forty-one minutes and each frame became a challenge. I would color-correct frame by frame and sometimes create a window across the frame to adjust how each side had changed independently. It turned out great, and I would like to think that the viewer has no idea how hard we worked to make each shot flow seamlessly into the next.
What was the most fun you've had at work?
I've had so much fun over the years. I really do feel blessed to do what I love so much. Jan De Bont came in recently to work with me on "Twister." It was an absolute blast. We really worked to get this classic the way he had hoped for when it was released. We now have so much power in the color correction suite that it's always fun to use these tools and hear the filmmaker say, "It's never looked so good." Those are the moments I love.
Jobwise, what do you hope to be doing five years from now?
Exactly what I'm doing now. I feel it's important not only to save our film history but to continue to bring these classics to new generations of audiences. I recently worked on the new 4k release of "Enter the Dragon." There was a Fathom event where I was able to take my son to a screening. The room was packed and people clapped at the end. My son loved the film and I loved being able to share it with him the way it was meant to be seen, projected on the big screen. It was so fun. I hope there's more of that in the next five years.
What are your outside activities, hobbies, passions?
During the pandemic, I was looking for ways to relieve stress. I think we all were. I took up painting, but I had no idea what I was doing. My son suggested Bob Ross and, well, I was hooked! I also love sports. I'm an LA native and was raised on the Lakers and Dodgers. I follow our Rams because that was our LA team when I was young. I play golf, but not as much as I'd like. I also volunteer at a local dog shelter, Wagmor Pets, and walk dogs on the weekend. It's a great way to get 20,000 steps! (I'm not exaggerating!)
Favorite movie(s)? Why?
"Casablanca" (surprise!) — the setting and period, the drama, the stakes, the lighting, the music. "Young Frankenstein" — the writing, the humor. I just love Mel Brooks. I also love sci fi and still remember when my dad took us to see "Star Wars" when it opened at the Cinerama Dome. That film left a mark — the visuals, the mix. I believed they shot that film in space. I love the artful beauty and storytelling of Hayao Miyazaki, and his films also fill my favorites list.
Favorite TV program(s)? Why?
I enjoy "The Morning Show." I like the energy, the tension, the acting, and I think it looks great! "Ozarks" is a great show: the writing, acting. I will never turn off "Parks and Recreation" or "Futurama" — and yes, I'm enjoying the "Futurama" reboot!
Do you have an industry mentor?
I've had numerous people help facilitate my growth over the years, but I cannot overstate the mentorship of Grover Crisp of Sony Pictures. I had a lot of experience when I met Grover, but I didn't know what I didn't know. His knowledge of film and color took my craft to a new level. His guidance as we worked on some very treasured films gave me the confidence I needed to approach "Casablanca." I also value his dedication to preservation, not just in the background in digital vaults but on our screens. When our classic films reach new eyes and still sparkle and hit, we all benefit.
What advice would you offer to someone interested in pursuing your line of work?
Color correction is a big world, and features, television, commercials, trailers, and restoration are a few of its nations. If you're interested in it as a career, become a fan of what you hope to do. Take in a lot of content. Pay attention to how it looks. If you have access to events where you can meet people, attend. There is still nothing like IRL: make connections, take any opportunities offered. When I started, you couldn't color-correct at home, but it's no longer a very expensive thing to do. Take the time to learn what you can. There is a language around color, and experimenting at home may provide insight into that world.
Was there ever a circumstance when you had to rely on the Guild for help or assistance?
Not really — but again, as a colorist, most of my career has been non-union.
Is there anything you'd like to say to your fellow Guild members, some words of encouragement?
I guess I will close with a story. In 2008, my father was let go from a union job. He was "too old" to find work in what would be called the Great Recession. The benefits he had from the union suddenly became very important as he was forced into early retirement. Those benefits continue to mean a lot to him and my mother to this day. Being part of a union matters. We, as a creative force, matter.
Compiled by David Bruskin.