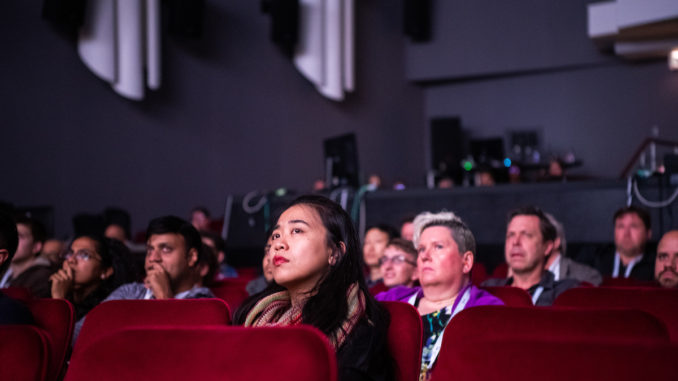 by Mel Lambert
Sometimes, yesterday's music just isn't how you remember it. That's what the sound team learned on Quentin Tarantino's "Once Upon a Time … in Hollywood."
Dialog/music re-recording mixer Mike Minkler, speaking at the Mix Sound for Film & TV event in Culver City, Calif., on Saturday, pointed out that Tarantino's '60s caper features wall-to-wall old songs.
"Quentin Tarantino wanted to use the music of 1969 to create a groove," Minkler said. "He purchased a library from KHJ [then one of LA's top AM stations] and used that during picture editorial" to inform his cuts.
Unfortunately, that creative decision caused headaches during post-production, as the film's music editor, Jim Schultz, explained. "When the time came to replace those elements [with high-quality tracks] we discovered that the band-limited KHJ air checks were sometimes off-speed or maybe pitch-shifted," Schultz said. "We had to reverse-engineer the tracks when transitioning from diegetic AM radio sources, for example, to 'big and glorious,'" for times when a character was experiencing the song as part of their own storyline.
The 6th annual Mix Sound for Film & TV conference was held on the Sony Pictures Studios lot in cooperation with Cinema Audio Society and Motion Picture Sound Editors (MPSE). The all-day event, which this year was organized by Future PLC and attracted a sell-out attendance for 650 audio professionals, featured a thought-provoking keynote address from Oscar-nominated sound designer Wylie Stateman, MPSE, together with panel discussions on immersive sound strategies and achieving optimal editorial workflows.
The panels offered fascinating looks at how sound teams solve daunting problems.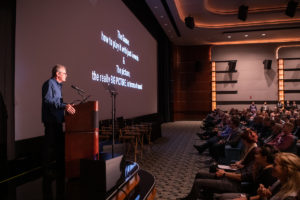 For instance, on the Tarantino film, Schultz used the Elastic Audio plug-in from Envato Tuts+ to match-edit original sources to that of the KHJ material.
"The Beatles' 'Revolution' was 20% faster on the air check," Schultz said. "And during a scene set in the Playboy Mansion, the KHJ track was a semitone off pitch and faster. Apparently, during the AM-versus-FM Battles in the Sixties, DJs would speed up the playback to put more songs on the air. We sent those UnFutz tracks to the stage after we ensured that they were phase accurate with the KHJ versions."
"I had up to five treated versions of each music cue," Minkler said, "and used whatever worked the best."
Other "Hollywood" panelists included the film's ADR/group editor Lindsey Alvarez, MPSE, SFX designer Harry Cohen, MPSE, dialog supervisor Michael Hertlein, production sound mixer Mark Ulano, CAS, and SFX re-recording mixer Chris Minkler.
In his talk, Stateman argued that with tight budgets and shrinking schedules, a film or TV project needs a true Sound Director, Sound Producer and Sound Designer to follow audio elements from script to screen.
Citing his early experience with writer/producer/director William "Bill" H. Brown, Stateman recalled the producer's advice while working on "Ferris Bueller's Day Off" (1986). "He told me that when I'm asked my opinion on any element of a film, 'Always reply in terms of the sound.' After all, Bill stressed, the picture editor does not want your help in terms of the cut."
During post-production of "Once Upon a Time … In Hollywood" – his seventh collaboration with Tarantino – Stateman and his crew used what the sound supervisor described as a rapid prototyping process. By continually incorporating new and refined sound design, dialog and music elements directly into the Avid workstation, a picture editor and director can review sound contributions during the assembly process.
Stateman said that the sound director's role starts in pre-production, "with the building of an audio-specific script and shot list," and extends through post-production. "The sound producer follows the money, and manages expectations; he or she needs to be a precise communicator. The sound designer needs to emphasize the creative realities. And while supervising international mixes you should always strive to honor the film's original vision," he said.
One of the conference's themes was how vital sound is to the final product. "The show's music sets the tone," said dialog/music re-recording mixer Marc Fishman during a session organized by Dolby and entitled "The Sound of 'Carnival Row,'" Amazon Prime Video's dark and haunting series set in a Victorian fantasy world.
"Using Atmos Immersive panning we were able to place music anywhere in the room, using 16 stereo pairs that included choir for the overheads and percussive elements; we panned reverbs into the upper spaces," Fishman said. "Composer Nathan Barr used his original Wurlitzer pipe organ from the 20th Century Fox scoring stage to create low tones that we dropped even lower on the dubbing stage."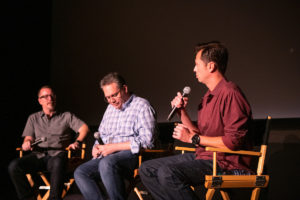 Regarding the creative differences between theatrical and streaming Atmos Immersive mixes, the series' SFX re-recording mixer, Robert Carr, CAS, acknowledged that "you need to be careful about only placing sounds in the overheads [of 7.1.2 and 7.1.4 consumer-format Atmos mixes]. The sound will be there in 5.1-channel [fold-down] but not as prominent. I look to use secondary or sweetener tracks" to maintain compatibility."
Another Dolby-organized session entitled "The Sound of 'Ford v Ferrari'" – the film about building a car to challenge Ferrari's dominance in 1966 at the 24 Hours of Le Mans race – featured supervising sound editor Don Sylvester, dialog/music re-recording mixer Paul Massey and SFX re-recording mixer/sound designer David Giammarco. (More about the film's Native Atmos immersive soundtrack will appear later this year in CineMontage).
The "Ferrari" team stressed the importance of working with other departments. "I like to be embedded in the picture department," Sylvester said, "to be in same room when they are giving notes." Director James Mangold "likes to see a first cut of a scene with everything in, so we need to pre-plan our road map," he said.
"The lead cars became characters within the storyline," Massey said. "The Le Mans race sequence is in four acts. We needed to decide when the excitement should occur, and when it became emotional. While the beginning was an adrenaline rush, during the center section of the race we bring in music to add emotion. We weaved between these two moods, building from the start to the end, with experimentation between effects and music."
"Yes, there was lot of sonic detailing," agreed Giammarco. "I had three weeks to prepare my 26 FX pre-dubs."
During a session entitled "Immersive Audio Workflow: Concept, Editorial, Design and Mix," co-organized by MIX magazine and MPSE, sound supervisor Steve Ticknor, MPSE, CAS, also underscored the key role of collaboration while creating a complex soundtrack. "You need to work seamlessly, because the images are telling the story." "As a sound designer I see myself as running off to the edge of the universe and bringing back all of the treasures," explained Paula Fairfield, MPSE, who recently won a Primetime Emmy Award for HBO's "Game of Thrones" (2011).
Because time is always an issue while working on immersive soundtracks, supervising sound editor/re-recording mixer Toni Lamberti, CAS, advised adopting a flexible workflow. "[CGI-generated] "Spider-Man: Into the Spider-Verse" (2018) was one giant visual effect with lots of changes that we needed to keep up while developing an immersive soundtrack." Other panelists included Caleb Hollenback from Formosa Group, sound designer/re-recording mixer Cheryl Ottenritter from Ott House Audio and Scott Kramer, manager of technology at Netflix.
Also notable at the MIX conference: an overview of workflows, tools and creative techniques for "Dark Crystal: Age of Resistance" with Tim Nielsen, the Netflix steaming series' re-recording mixer, sound designer and supervising sound editor; "Follow the Tracks – Dialog from Set to Screen," presented by Cinema Audio Society, with moderator Gary Bourgeois, CAS, recordist Adam Carl, assistant editor Matt "Smokey" Cloud, re-recording mixer Chris Jacobson, CAS, dialogue editor Anna Mackenzie, plus production mixers Ben Patrick, CAS, and Tod A. Maitland, CAS; and "The Sound of 'Stranger Things,'" with sound supervisor Craig Henighan, dialog/music mixer Mark Patterson, CAS, music editor David Klotz, plus SFX editors Angelo Palazzo and Katie Halliday.