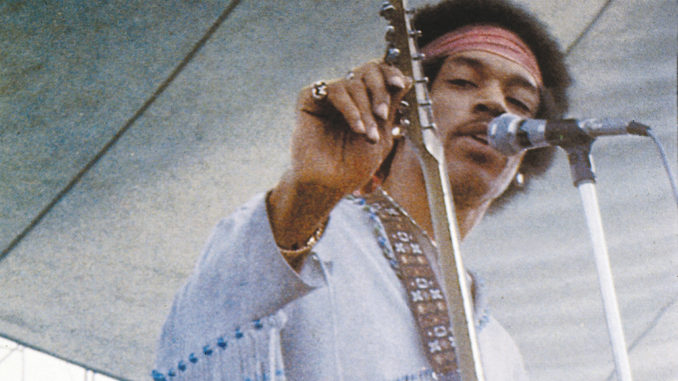 by Michael Kunkes
Woodstock, the film, is on the verge of becoming as big a franchise for Warner Bros. as Bugs Bunny is.  Documenting the Woodstock Music and Art Fair of the previous summer, the original movie was released in 1970 and won the Academy Award for Best Documentary feature.  In 1994, for the festival's 25th birthday, Woodstock: The Director's Cut was released, and included Janis Joplin's performance for the first time, as well as other outtakes.
This summer, with no 40th anniversary concert planned on Max Yasgur's Bethel, New York farm from August 15 to 17, the major commemoration of the milestone has arrived in the form of Warner Home Video's recent release of Woodstock: The 40th Anniversary Ultimate Collector's Edition––a limited and numbered three-disc release in both Blu-ray and DVD, re-mastered from all-original elements.
The box set includes Michael Wadleigh's four-hour director's cut, bonus interviews and featurettes, a customizable playlist (Blu-ray only), a 60-page book and, of special interest, Woodstock: Untold Stories, two hours and 40 minutes of never-before-seen performances from 13 groups, including Jimi Hendrix, Santana, the Who, Joe Cocker, Jefferson Airplane, Country Joe McDonald, Joan Baez and Canned Heat.
What truly makes Untold Stories a memorable event, however, are appearances from five artists––Paul Butterfield, Creedence Clearwater Revival, the Grateful Dead, Mountain and Johnny Winter––whose performances have never appeared in any of the previous film versions.  Their inclusion now in the UCE is attributable in no small measure to the detective work of, among others, Jim Greco, 17-year veteran Warner Bros feature post-production staff editor.  Woodstock may have been, in Yasgur's words, "Three days of fun and music," but for Greco and the Warner Bros. feature editorial and video mastering team, Untold Stories was three tough years of finding footage and editing picture and music––with a lot of fun had along the way.
Untold Stories began in 2006 as a simple research project for Greco, who worked extensively with producer (and librarian) Kurt Galvao, director of assets and technology in Warners' feature post-production department, as well as with associate producer Bill Rush from the studio's video mastering department.  "We knew in 2006 that they were going to want something for the 2009 40th anniversary, but we had no idea what it would be," Greco recalls.  "Our first step was to make an alphabetical list of the acts, go through all the original material to find out what had actually been shot, and then digitize it all into the Avid to see what we had.  The only way to do that was to edit everything––so I ended up cutting every song that was filmed at Woodstock, including the original material, which I knew I would need to match up against anything new that we found."
Appearing for the first time is the Grateful Dead's set, a sequence that took Greco three weeks to cut, largely due to a 39-mintue version of  "Turn on Your Lovelight," a performance that, like all of the material, had to be synched entirely by eye.
The problems in locating and matching footage were plentiful, Greco explained.  "The original material had been picked over for so many years that the codesbooks, camera reports and production notes had long since been lost, along with a lot of the production quarter-inch audio tracks."  Other times, there was picture available but no track, because the producers had given the tracks to the bands or their management when they weren't used in the original film.  Much of this had to be painstakingly recovered. In addition, a lot of original material in the Warner Bros. vault—negatives, trims, mag—was lost, first in a freak flood during the 1971 Sylmar earthquake, and again in the 1994 Northridge quake when the shaking set off the sprinklers.
"We had boxes that said for example 'Creedence,' or 'Joan Baez,' but as we found out, that wasn't always the case."  As it turned out, what the boxes' labels said was no real indication of the treasures within them, and Greco and Rush's perseverance in going through every bit of material paid off.  "We found songs that no one knew had even been filmed, or songs that were feared to be lost entirely," he recalled.  For example, Greco was cutting Canned Heat's "Going Up the Country" when he located another Canned Heat song, "I'm Her Man," at the beginning of the reel.
Another time, in the middle of a Sha-Na-Na reel, Greco and Rush found Jimi Hendrix playing a lead guitar break from "Spanish Castle Magic," a piece of film from a camera angle that had never been seen before and therefore was never cut into the original film. "With this new material, the song was able to appear as a whole for the first time," Greco recalls.
The reason so much of this occurred goes back to the original three days of shooting in August 1969.  The crew was using Éclair NPR 16mm crystal sync cameras, whose magazines were notorious for jamming. Says Greco, "When a camera jammed, they would take off the mag, put the bad one in a black bag, put another one on and just keep shooting.  Later, assistants would fix the jam and reload it into a camera while capturing a different band's show.  There were no logs, no slates, and it was a real mess.  But that was why a lot of this material was never seen before."
Greco and Rush decided to approach Untold Stories as a completely new film, playing the music straight, and eliminating the revolutionary split-screen effects of the original film.  "There were no dissolves or jump cuts, just fades in and out between the songs or bands," Greco explains.  "The music was presented so well in the original feature that, out of respect, I cut everything so that we could have the performances be as real as possible.  Sometimes I had to use crowd footage to bridge gaps in a song where there wasn't any footage at all; the idea was to present the material in a way that would make sense to the original audiences of 1970, as well as the new audiences of 2009."
Appearing for the first time is the Grateful Dead's set, a sequence that took Greco three weeks to cut, largely due to a 39-mintue version of  "Turn on Your Lovelight," a performance that, like all of the material, had to be synched entirely by eye.  "On a lot of the material, I would find Michael Wadleigh's camera position and then sync the track to that camera, building the footage from all the other available camera positions around that one.  I would look for a camera flash, an eye blink, a hand position––anything I could find to help me sync things up."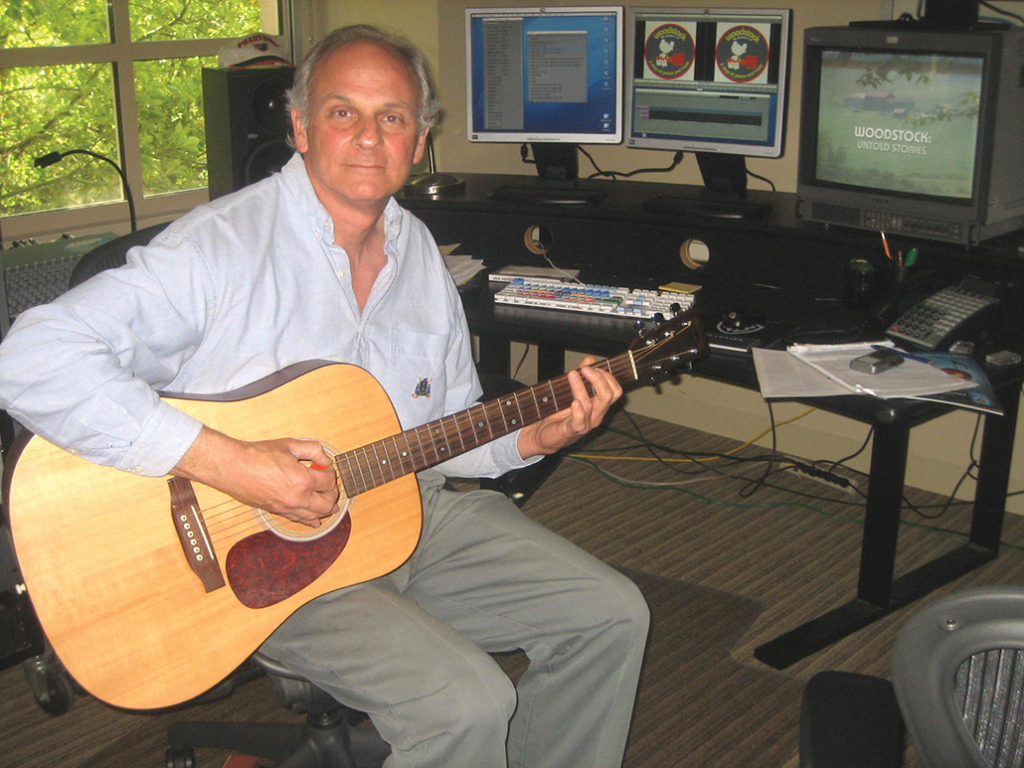 Greco's ability as a guitarist also came in handy when working on sync, he explains.  "I'd see Joan Baez playing a song, but I wouldn't know where the rest of the footage was.  I would pull out a guitar from under my Avid, figure out what chords she was playing, play along with her, then go back and find the missing material for that song.  People would come by and say, 'I thought you were working,' and I would say, 'I am!'  It was unconventional, but that's what I had to do––and it was a lot of fun, too!"
Eddie Kramer, who recorded the original concert, engineered the individual 5.1 mix at Capitol Records, and re-recording mixer Gregory Watkins did the final 5.1 mix for the DVD on mix stage 12 at Warner Bros.   That's all, folks––until Woodstock's 50th!