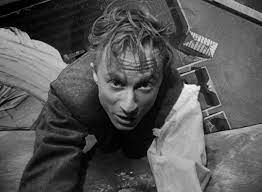 Reprinted from The Guardian UK by Ronald Bergan on May 12, 2021.
Norman Lloyd, who has died aged 106, had the privilege of working as an actor, director and producer with such towering figures as Orson Welles, Alfred Hitchcock, Jean Renoir and Charlie Chaplin; they were also his close friends.
Though Lloyd never made a film with Welles, he took part in two of the revolutionary stage productions by the "boy wonder." Welles was a mere 21 when he and John Houseman formed the Mercury theatre in New York in 1937, and Lloyd was part of that famous company.
"We used to joke about Hollywood," Lloyd said. "We swore we would never make movies. Orson and the others were very vocal, so I thought they meant it." But, in 1939, Lloyd was cast in Heart Of Darkness, which was to have been Welles's first film until the project was aborted after six weeks. Three years later, Lloyd was brought to Hollywood to play the title role (albeit a small part) in Hitchcock's Saboteur (1942). …