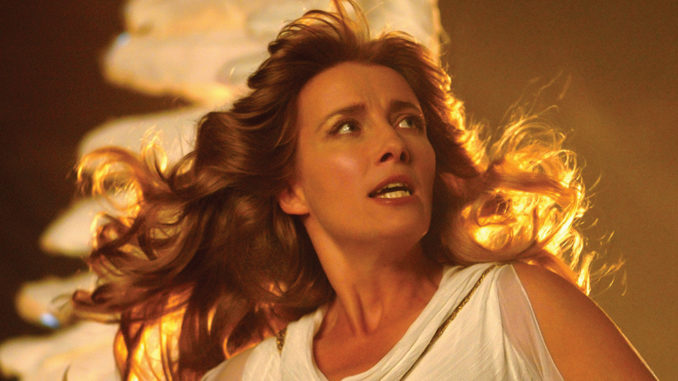 by Peter Tonguette
In 2003, after sound editor, sound designer and re-recording mixer Ron Bochar, CAS, completed work on Mike Nichols' miniseries Angels in America, he felt good about what he and his sound colleagues had accomplished. He felt so good, in fact, that part of him wished he could simply call it a career.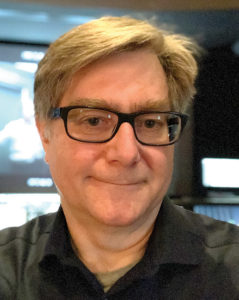 "At the end of it, I think every one of us said, 'OK, this should be the finish now. We should all be 80 years old having done this, so that we wouldn't have to do anything else,'" Bochar recalls. "That was pretty much how we all felt."
Fortunately, he has continued to work in the industry, but hasn't changed his opinion of Angels in America, Nichols' richly imaginative interpretation of Tony Kushner's Pulitzer Prize-winning play about the AIDS epidemic in 1980s-era New York City.
The two-part miniseries, which aired to widespread acclaim on HBO in December 2003, featured Al Pacino as the late real-life attorney Roy Cohn, whose infamous career included a stint in the employ of anti-Communist Senator Joseph McCarthy and who is widely rumored to have been gay. Patrick Wilson and Mary Louise Parker co-starred as a married couple whose relationship is beset with uncertainties, while Meryl Streep, Emma Thompson and Jeffrey Wright were featured in multiple roles — including the heavenly emissaries named in the title. The miniseries was edited by John Bloom, ACE, and Antonia Van Drimmelen.
"It's the perfect film," Bochar reflects. "It had an amazing story, it had an amazing cast and it had sound opportunities galore."
A native of Parma, Ohio — a suburb of Cleveland — Bochar began his journey to post-production far from the heavenly heights of Angels in America. In high school, he participated in a vocational television program in which students provided content to a local public broadcasting station. Encouraged to pursue a career in entertainment, the future sound editor and mixer attended Ithaca College in New York, where he studied film. "It was great hands-on stuff," he comments. "You basically did your whole show: You'd shoot it, you'd cut it, you'd have to do the sound on it and you'd have to mix it. We had very crude gear to do it, but it was fun."
Upon graduation, he eventually found work with a trailer maker in New York, Michael Spolan. "He would cut advertising campaigns: trailers, commercials, what have you," Bochar remembers. "At the end of a campaign, he turned to me and said, 'OK, get it ready for a mix.' I looked at him and said, 'What? Uh, I've never really…' He said, 'Come on. You've got the narration, you've got the production from the set and here are a bunch of sound effects.'"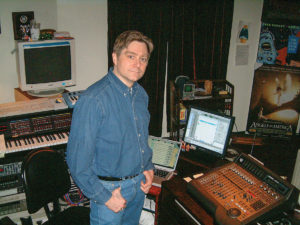 Although Bochar, who served as a first assistant editor on George A. Romero's Creepshow (1982), harbored dreams of becoming a picture editor, he soon realized that his accidental introduction into sound made for the steadier paycheck. "You finally reach that point in life where you want a family and a little more security," he says. "I woke up one day and said, 'I'm good at what I'm doing in sound. Why don't I just make that my career?'"
In 1987, he received his first credit as supervising sound editor on the Albert Finney-starring theatrical adaptation Orphans — the first of a series of films with noted director Alan J. Pakula. While working on Pakula's Consenting Adults (1992), the young sound editor was introduced to picture editor Sam O'Steen, ACE, who, several years later, brought the sound editor onto Mike Nichols' Wolf (1994), a horror film starring Jack Nicholson. "Mike had an established crew that he'd worked with and loved," Bochar comments. "But Wolf had this other layer of sound design — a character turning into a wolf — and they were having some issues time-wise with the sound crew. Sam called me up and said, 'Hey do you think you could come on and help us with some of this stuff?'"
By the time the film was finished, a collaboration had been born. "Mike pulled me aside and said, 'I never knew we could do some of this,'" Bochar recalls. "I said, 'Well, maybe it's because some of the technology we're playing with these days is allowing it.'" He was part of the sound crew on most of Nichols's subsequent films, including such acclaimed efforts as The Birdcage (1996), Primary Colors (1998) and Closer (2004). The director was fascinated with the possibilities of sound. "Everything was about character for him," the sound editor/mixer observes. "Footsteps were characters."
Nichols' philosophy resonated with Bochar, who, in the late 1980s, co-founded the New York-based shop c5 sound, inc., with Skip Lievsay, CAS, Bruce Pross and Phil Stockton, MPSE. "The one thing that all of us in New York both appreciated and grew up with was that it was always about the story," he maintains. "When I supervise, I always make the production the 'god track.' The production is that part of the movie that is telling me the story, and it's also telling me what to put into the film."
In fact, a number of the filmmakers with whom Bochar has worked indicate sound effects or design at the script stage. "The Coen brothers kind of tell you what to put in sound-wise," he reveals. "Elaine May, when she punched up a script for Mike, included sound notes." Sometimes, though, he had to disregard such directions and let the film guide his choices. "You can go to a spotting session and people can tell you what to put in the film," he adds. "Once you're working on it, sometimes what they tell you to put in the film isn't really what you need to put in the film."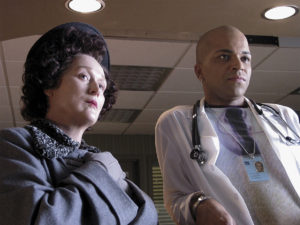 On Angels in America, however, Bochar was left to his own devices to a striking degree. "Mike loved the project, but from a sound end, he let me do whatever I wanted," the sound editor/designer/mixer relates. "We never spotted the film. The project just shouted to me: 'Do this'; 'do that.' We would play Mike reels and, for the most part, we would do a few adjustments of levels. He never dropped a sound effect."
Bochar, who was working on ProTools, found himself exhilarated by the possibilities of telling a story that could conceivably unfold at any length. "We weren't limited by time," he says, since the project was slated to air over multiple hours on HBO. "It could have been six hours; it could have been nine hours. We settled somewhere around six-and-a-half hours."
Angels in America was divided into two core sections, the reality-based "Millennium Approaches" and the more otherworldly "Perestroika." The sections were worked on independently over the course of about a year, and certain rules governed the sound world of each. For the first section, Bochar wanted to tone down background sound. "It's more about the music, it's more about the characters," he reflects. "Mike wanted to develop them without any distractions. We didn't have to do anything weird."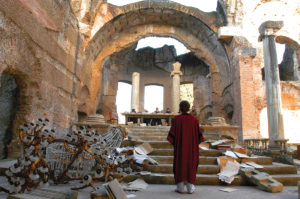 In fact, so subtle was the ambient noise in "Millennium Approaches" that, while Nichols was recuperating from a bout of pneumonia, an executive objected. Bochar insisted that there was enough background sound — just not too much. "Mike wasn't there at the mix that day," he remembers. "I muted the dialogue production track totally, and the whole room was just alive with the Foley and the background. I said, 'You know, maybe you're having this reaction because it was so well-placed within the context of the show that you weren't being distracted by anything.'" In the end, upon Nichols' return, the mix remained as it was.
On the other hand, "Perestroika" was meant to explode on the screen — both visually and aurally. "The angels crashed through," Bochar remarks. "All of a sudden, we had this new component, and from that point on, the city is wild. The angels are there. I mean, it just goes crazy." Much discussion was had over the sound of the angel wings affixed to, for example, Thompson. The sound editor felt that the angels should not sound like birds. "We don't even want to hear feathers," he observes. "We went with wind. It's a lot of wind moving her around. There's a downstroke, an upstroke and a constant gentle breeze that accompanies it all."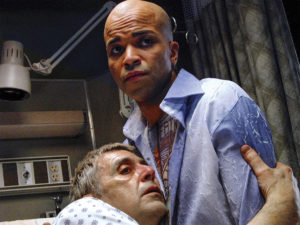 When the first installment of the miniseries premiered on HBO, Bochar and his colleagues tuned in with anticipation. But, right off the bat, it was clear that something had gone seriously wrong in preparing the show for broadcast. "It came out with massive compression on it, so when Roy Cohn slams down a phone, the entire track would go away and slowly come back until the next big, loud thing hit," the sound editor/mixer recounts. "I had to turn off the TV. I couldn't watch it." About 30 minutes in, an adjustment was made in that opening-night broadcast, but for the next night, the show had to be remastered.
By then, Angels in America had won praise as one of Nichols' most memorable undertakings, an assessment with which Bochar agrees. "It's hard to look at anything else that I've been part of that has had every single cylinder firing at 100 percent," he comments. And his colleagues concurred: Along with fellow re-recording mixer Lee Dichter, CAS, and production mixer James Sabat, CAS, Bochar was honored with both an Emmy and a Cinema Audio Society Award for the show.
"To get that kind of acknowledgment meant more to me than anything else," Bochar concludes. "Nominations are terrific, but to win is pretty spectacular."