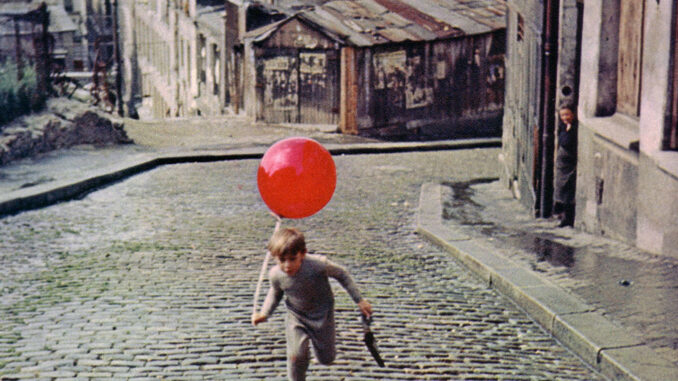 by Nancy Frazen
There was a time, in the 1980s in San Diego, when there weren't any theatres that showed foreign, independent or avant-garde films except for one place: the Unicorn Theatre. It was a magical place attached to the wonderful, counter-cultural Mithras Bookstore. I was lucky to catch its final years; comfortable couches, free coffee, classical music and, in the back, a door that led to the small, 200-seat theatre. There, I saw films that opened my eyes to a different kind of filmmaking — Luis Buñuel, Salvador Dali and surf movies.
One night, I went with friends to see François Truffaut's Jules and Jim. It was preceded by a short, Le Ballon Rouge (The Red Balloon). The charming images of a boy and his red balloon following him all over Paris were so powerful that it went straight to my soul and affected me deeply. I was transported to another world and another time through the eyes of a young boy. In retrospect, I believe that in a way this film informed my choice to be a teacher — and eventually a film editor inspired to work on films and television for children.
Maybe I love The Red Balloon because it was shot in 1950s Paris, or because of its gray/blue atmosphere, or because it's short — 37 minutes to be exact. While those reasons are very much true, I think the real reason I adore it is because it tenderly reawakens the dreams and fears of childhood that we can sometimes forget.
The Red Balloon is a 1956 French film written and directed by Albert Lamorisse. It is the only short film to win an Oscar for Best Original Screenplay, and also won the Short Film Palme d'Or at the 1956 Cannes Film Festival.
With almost no dialogue, The Red Balloon tells the story of a young boy, Pascal, who discovers a large helium-filled balloon on his way to school. After climbing up a pole to rescue it, he soon discovers that it follows him everywhere — as he walks through the streets of Paris, to church and into his school, causing such a commotion with his classmates that the principal locks Pascal in his office. Inevitably, the balloon waits for him. It gently teases, seeming to have a personality of its own.
A gang of boys tries to steal the balloon, prompting a wonderful chase through the narrow alleys of old Paris. Sadly, the boys destroy the balloon with slingshots, leading to the magic realism of the film's ending. One by one, all of the balloons in Paris leave wherever they are and float to Pascal in solidarity over his loss. As he gathers all of the many balloons, incredibly, they lift him up and carry him over the city.
The Red Balloon is the very film I showed to a class of third graders in North Hollywood on the morning of February 28, 1997. This was the year I took a short break from picture editing and went back to teaching public school. I announced to the class that we were going to watch a charming short film but they groaned and complained. "Ew, it's going to be black-and-white." "It's old." "It's stupid."
I rolled the clunky public school-issue AV cart with an even older VHS player into the classroom and pushed the tape into the machine. The students turned their chairs toward the monitor as more grumbling ensued. "Why do we have to do this?" "Can't we watch something good?" I pushed the 'play' button. No one was happy. "Ugh, Miss Frazen, this is no good."
Slowly, I watched as my restless students got hooked, inching closer to the monitor. When it ended, they blurted out: "Miss Frazen, that was sooooo good!," "I loved how the balloon followed the boy," "…all the balloons taking him for a ride; it was so sweet!"
The morning continued with the usual subjects of history and math until about an hour later when the principal's voice came over the PA system: "Camellia Avenue Elementary School is now on lockdown. Teachers, please lock your doors. No one is permitted outside until further notice."
Needless to say, a lockdown with 35 eight-year-olds for five hours is not much fun. We heard sirens and helicopters but had no idea why we were being confined. Students were worried, hungry and anxious. We talked about The Red Balloon many times that day.
Finally, the lockdown was over, and I soon learned the reason for it. It was the North Hollywood Bank of America shootout — regarded as one of the longest and bloodiest events in American police history. Coincidentally, I had stopped at that very bank just before coming to school.
As the students left the classroom, one girl turned back and said, "At least something good happened today, because we saw The Red Balloon." I couldn't have agreed more.