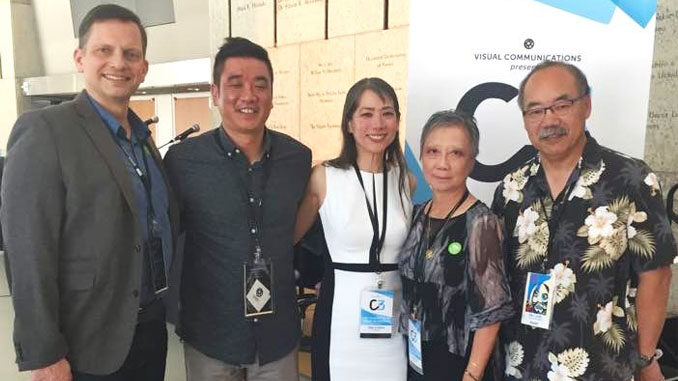 by Edward Landler
Visual Communications (VC), the non-profit support organization for Asian-American and Pacific Islander filmmakers and media artists, mounted the 33rd edition of its Los Angeles Asian Pacific Film Festival from April 27 through May 4. Over three of those days, an integral part of the Film Festival was VC's Future Forward, its seventh Conference for Creative Content, bringing together prominent media professionals to discuss vital issues and current trends in the entertainment industry.
On Saturday afternoon April 29, as a conference sponsor, the Motion Picture Editors Guild presented a fascinating and briskly paced discussion on Editing for Animation and Stop Motion in the Aratani Central Hall at the Japanese American National Museum in Little Tokyo. The panel featured two picture editors whose credits include some of the most popular animation/stop motion films of recent times: Jeff Draheim, ACE, who edited Moana (2016), Frozen (2013) and The Princess and the Frog (2009); and Edie Ichioka, ACE, known for her work on The Boxtrolls (2014), Toy Story 2 (1999) and the TV animated movie, 'Twas the Night Before Bumpy (1995).
Moderating the conversation was VC Board member Maysie Hoy, ACE, (Dolly Parton's Christmas of Many Colors: Circle of Love, 2016; For Colored Girls, 2010; The Joy Luck Club, 1993), a Board member of the Guild, the American Cinema Editors and Visual Communications.
VC Director of Programs and Artist Services Milton Liu introduced the panel and moderator Hoy, who first asked the editors how they got involved in editing animation.
Starting out in film as an assistant on documentaries, Ichioka responded, "Lack of funds turned me into a recordist, transfer operator and post supervisor by default." This multi-tasking led to work in sound and editing for live action. She first came to animation as an associate editor on Tim Burton's The Nightmare Before Christmas (1993).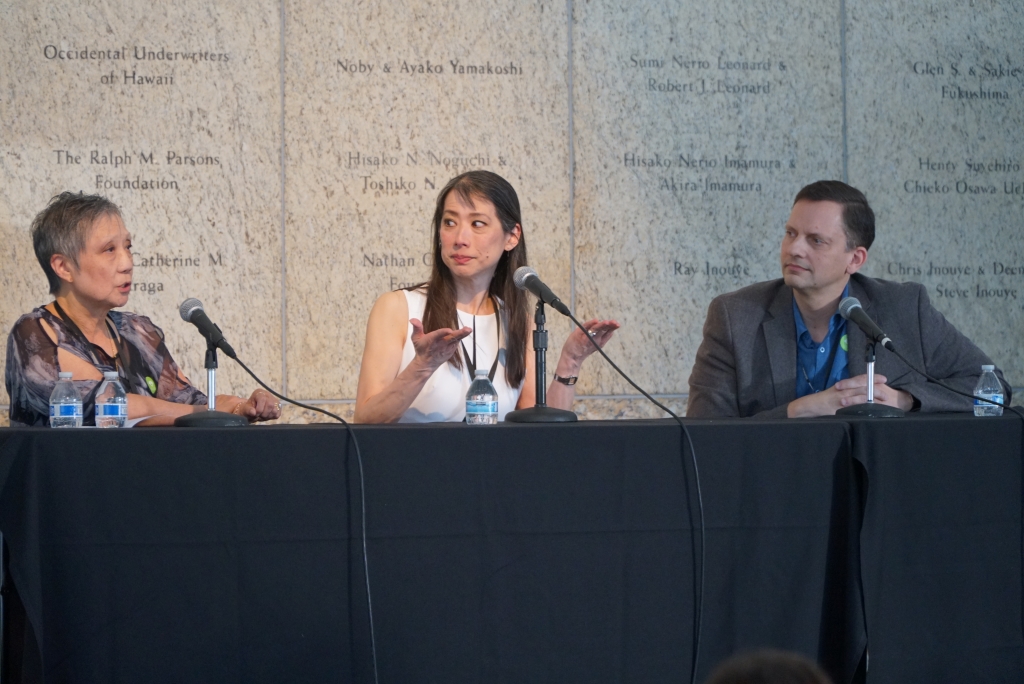 In 2007, she collaborated with her husband, David Bleiman Ichioka, on the feature documentary Murch: Walter Murch on Editing and, drawing from the legendary editor's influence on her work, she defined the differences between editing live action and animation. She said, "In live action, editing workflow is like a pipeline; in animation, editing is the hub of everything… It's not a sprint, it's a marathon and you always have to be inspired."
Draheim first worked for a video company in Florida that was often contracted to do things for Disney Animation. He said, "The editor that Disney later hired me to replace was a mentor to me during that time." Joining Disney in 1994, he was lead editor for the Florida division that created animation for commercials and theme park presentations. After working as additional editor on Brother Bear (2003), he said, "I was ready for The Princess and the Frog."
Working on animated features, Draheim learned the editor's crucial role on shows that take about three years to complete and how the editorial department is the hub for all production elements: storyboards, layout, animation, music, dialogue, sound effects and more. While the show is continually reworked, editorial keeps track of the constant evolution of script, picture and sound. As picture editor, he said, "I'm on first and out last."
Noting that "The Boxtrolls took a few years to do," Ichioka introduced a graphic representation of how animation makes the picture editor a collaborator with virtually every department on a project. She screened a progression reel from her current show, Amusement Park (scheduled for release in 2018).
A scene depicting a little girl walking through a dense forest was shown in each stage of production. As the reel began, the editor said, "From stage to stage, it's not a cookie cutter reproduction of what's been done before." First were the succession of line drawings of the storyboards; then, the layout or previz, with color, solid figures and greater detail; followed by animation with depth of field and greater fluidity "to bring life to it"; and lighting, the final version with shadows, highlights and "everything as photo-real as possible."
Stating the main difference between live action and animation, Hoy said, "In live editing, you have the footage they give you; in animation, if you need something, you ask for visuals."
"From the very beginning, it's a collaboration of director, editor and storyboard artists," Draheim said. "You're joined at the hip with them for the next year and a half, and you get anything you want, anything you can dream of."
Ichioka added, "Editors by nature have to be very adaptive. In animation, you have to have a well-defined workflow and you have to adapt to the house style where you're working. I've worked with Zoetrope, Pixar, Laika and DreamWorks. Now I'm doing Amusement Park at Paramount; each has its own variation of the basic workflow."
After screening a Progression Reel from Moana showing the evolution of the Lava Monster, Draheim described some of the Disney house style: About every three or four months over the years-long process, the story reel is screened in a theatre for Disney artists, directors, producers and Disney Animation creative head John Lasseter, to analyze and improve the whole story.
Once they go into animation production, the editor said, "About 20 key personnel fill a small, hot screening room called the 'sweat box' to analyze every shot. These 'sweat box' sessions ramp up from once or twice a week to once or twice a day in the final months of production."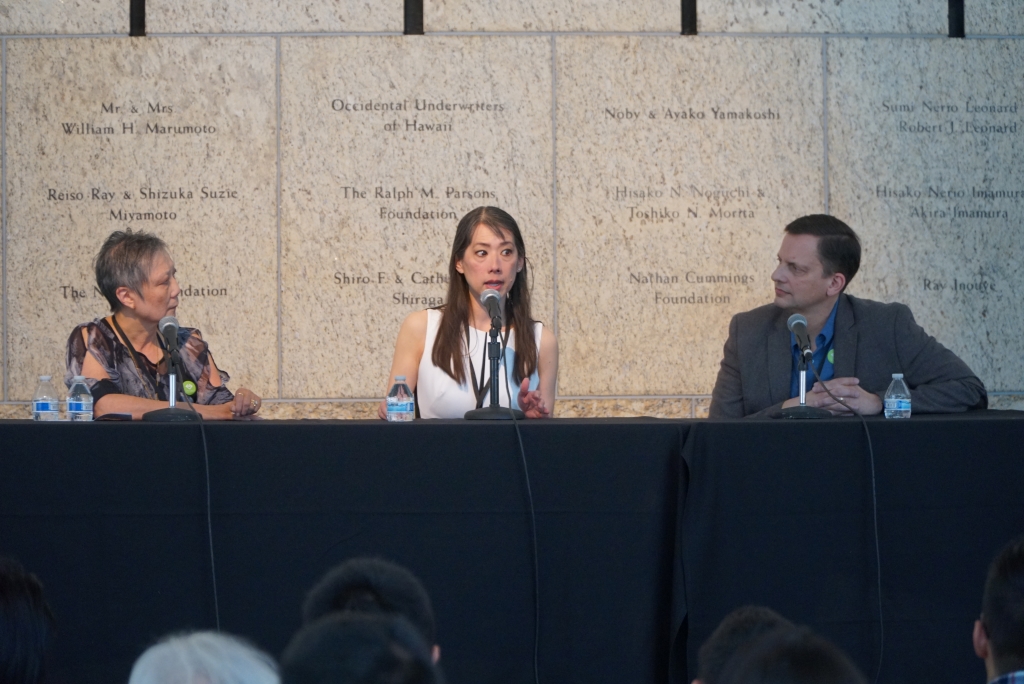 He explained, "We're always trying to look at the whole thing. If there's a change in Act I, it'll have a ripple effect in Act III; a change in Act III will send us back to change things in Act I. Not only is every department adding things from stage to stage, but the editors are working with every department at every stage."
He also noted that long before they record the actors' voices, the crew members records their own voices for "a scratch track as a living, breathing script to guide us through the process."
Hoy asked, "Did you get the sense on first reading the script of Frozen that it was going to be a big hit?"
Draheim, who won an ACE Eddie for Editing of an Animation Feature for the show, exclaimed, "No way! A year and a half ago, Moana was unwatchable. Our greatest help was when John Lasseter took over the reins at Disney." He also mentioned that Disney just announced, "We've started on Frozen 2 for release late in 2019. It's in the early stage, almost exploratory…"
Going more deeply into the writing, Boxtrolls editor Ichioka said, "There's the written script and the visual script translating the written into the visual; it brings a big change. You go down a lot of rabbit holes. You add and subtract characters and story points, refining along the way."
To the moderator's query about previews, Draheim replied that Disney starts to screen them for feedback four or five months before finishing: "But when we screen the project for preview audiences, half of it is in the storyboard version." Ichioka added, "There's a metric used to measure for the audience response when a show is screened in storyboard and layout."
Moving on to technical processes, Draheim said, "Adobe Photoshop and After Effects are our best friends." One of the reasons, noted Ichioka, is that they give an editor the means "to inform animation and layout just what you're envisioning."
She also told of shooting animators' performances on iPhones and cutting those visuals "so the director can use it as a tool to guide where a scene is going." Another counter-intuitive technique she noted was shooting green screen for stop motion when "demands for puppets or sets exceed the availability of these assets."
Recognizing how the 2009 film Avatar's use of 3D changed animation production, Hoy asked the editors how the change has affected their shows. Both agreed that planning for animation in 3D now starts early on. At Disney, though, while they plan it from the beginning, Draheim said, "That's done separately; I never see it."
On the show Ichioka is now editing, 3D was introduced at the layout stage. Needing to work carefully and judiciously with the stereoscopic process, she told of developing a "depth script for very specific well-regulated 3D moments." Similarly, Draheim said, "Disney's approach is that less is more. It's always very subtle. We do all the tests to see what's entertaining and what's going to put the audience off."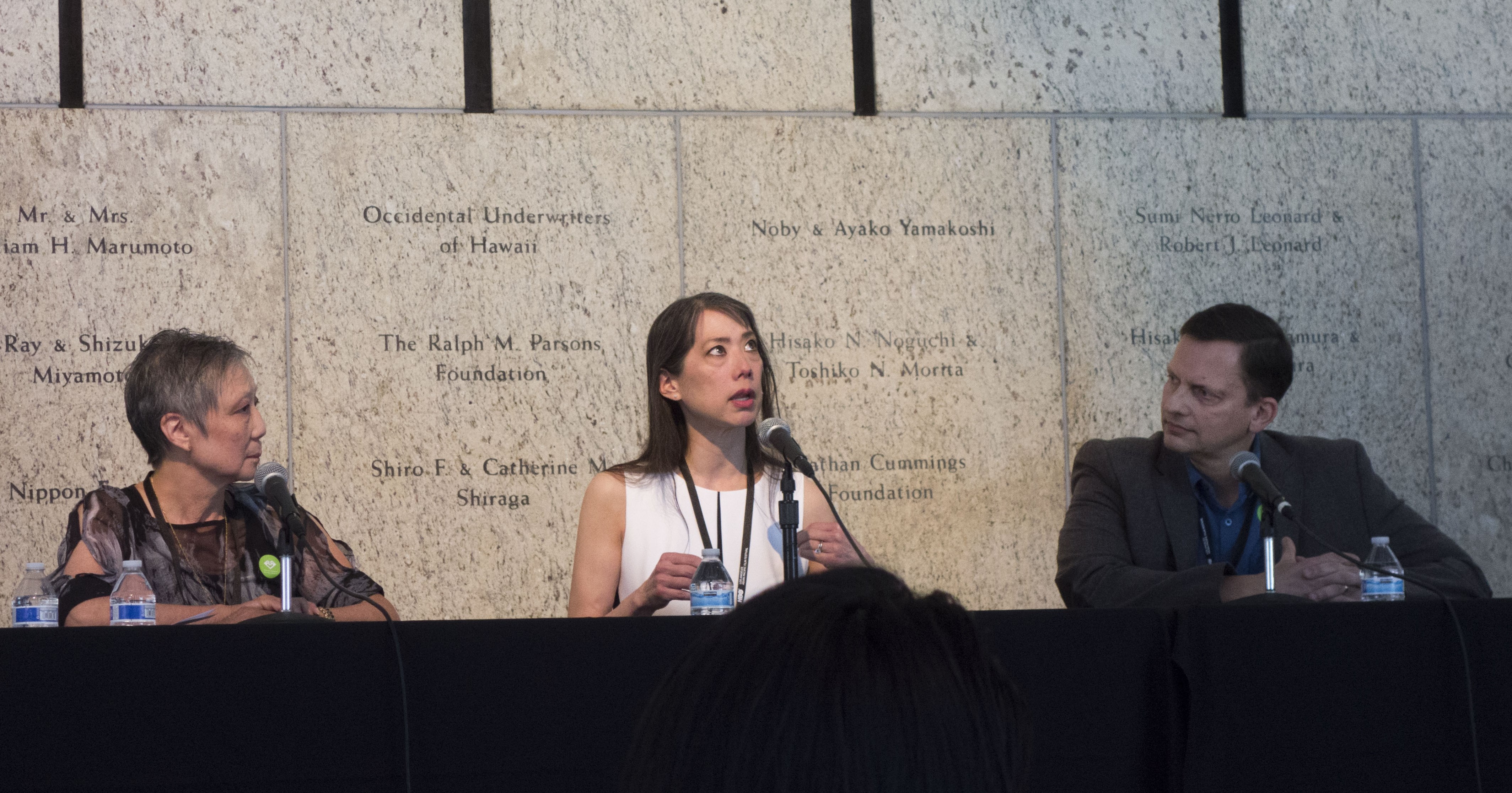 To the moderator's question about other changes in animation over their careers, Draheim said, "When I came in, we were just starting to work on the Avid…and we've been lucky being able to create a cohesive team over the years; it feels like family every time we're together." When you work a lot with people, Ichioka added, "We have a shorthand from shared experience."
She continued: "Also what's changed is the role of the editor and the assistant. We used to hand clips to the assistant and discuss it. Now that it's all digital, the assistants are down the hall and the learning is not as immediate."
"How do you choose your team?" asked Hoy. In interviews, Ichioka said, "I always ask, 'What's your superpower?' I'm always focused on their strengths to see how it fits overall with the rest of editorial." Draheim added, "You'll have one assistant strong on editing, another assistant stronger on technical knowledge."
From the audience, director/cinematographer Michael Goi (American Horror Story, 2011-present), who had participated in the Director Guild's C3 panel earlier that day, asked, "Is there a place for a cinematographer on your team?"
The Disney editor responded, "I'm amazed at what they can come up with at staging and lighting. We approach our CG like a live action film."
When Hoy asked about women as editors of animation, Ichioka observed, "There are a few; you remember their names because there are so few."
Addressing the issue of balancing work and family life, Draheim admitted, "You don't. Moana was one of the hardest experiences, working 90, 95 hours a week and trying to figure out how to edit at home."
Another audience question concerned the working relationship between director and editor in animation. Draheim pointed out that he has worked with directors who want editors to give a lot of detailed input, "but the directors are there for the very back-end of approvals." Ichioka added, "While directors can't spread responsibilities too wide, they can't do everything — and you have to learn to do what they want, not what they say. Notes don't take everything into account."
The issue of how to offer suggestions naturally arose. The Boxtrolls editor recalled the view of Walter Murch, ACE, CAS: "You may not know what is right but you should offer an alternative. I cut an initial full version and an alternate version." Draheim said, "Let's give every storyboard its day in the sun, and we offer alternatives." Moderator Hoy noted, "It's how you present your new idea. Diplomacy… Read your director; is he in a good mood?"
One audience member sought advice about becoming an editor in animation. Ichioka's response was, "Start as a production assistant. Come early, stay late, ask questions." Draheim supported that by telling how his first assistant started as a production assistant and now "he is the best first assistant editor at Disney."
With time running out, Hoy concluded the discussion with a tip on joining the Editors Guild, IATSE Local 700: "If you work as a non-union assistant editor for 100 days, you can show your pay stubs; that's the easiest way to get in."
Later, CineMontage asked the panel to sum up how editorial at the hub interacts with the other departments to create animated features. Ichioka simply replied, "It takes a village."