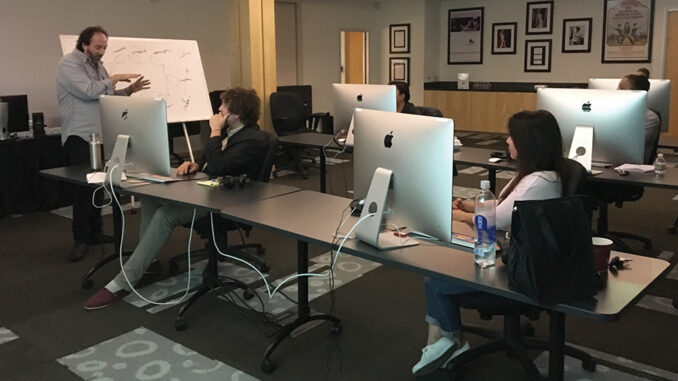 by Edward Landler
The Membership Outreach Committee recently offered three separate classes, each comprising two sessions over two consecutive days, to initiate a new series that will be scheduled regularly in the future: the Editors Guild Master Class Series. Presented in the Dede Allen Seminar Room in Los Angeles, these Master Classes are far more intimate than the usual Guild seminars.
Like all future Master Classes, each of the three was limited to only five Guild members who were mentored by a veteran prepared to offer an intensive program of key editing skills in the sessions. Says committee co-chair and sound editor Stephanie Brown, "The Master Classes must be small enough for each participant to receive direct and immediate feedback, allowing significant one-on-one interaction between mentor and student."
The first Picture Editing Master Class with Stephen Rivkin, ACE (Avatar, 2009), President of the American Cinema Editors, was held October 15 and 16. On October 26 and 27, another Picture Editing class was led by John Heath (Picket Fences, 1992-94), who also wrote Concrete Wedding Cake, a concise and straightforward book on editing. Supervising sound editor Eileen Horta (Lucifer, 2015-present) taught a Dialogue Editing Master Class November 12 and 13.
The committee is now planning an ongoing schedule of Master Classes. Guild President Alan Heim, ACE (All That Jazz, 1979), and supervising sound editor Greg Gerlich (The Iron Giant, 1999) have each agreed to lead future courses in picture editing and sound effects editing, respectively. "We want to provide enough classes to meet membership interest," Brown explains. "As more of our experienced members volunteer to mentor for the series, we eventually hope to have at least one two-session Master Class every month."
The series emerged from roundtable meetings organized two years ago by the committee for picture editors and assistant editors to discuss the loss of post-production mentoring through apprenticeships and internships. With heavier workloads, shortened post schedules and rapidly changing technologies, committee co-chair and picture editor John Vitale notes, "It's become rare for editors to have time to share the expertise and personal skills learned through experience with their assistants." Brown adds, "Assistants don't get the chance to edit because they are often called upon to be the technical support."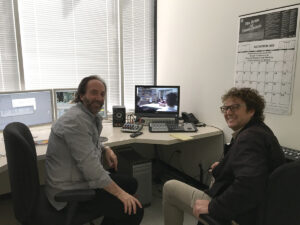 The Master Class Series was conceived as a way to give assistants the means to experience editing as not just a technical procedure but as the art and craft of putting together dramatic narrative from visual and audio elements. "It should also be a place for those seeking to rise in their craft to learn the politics and diplomacy of interacting with producers, directors and other post-production personnel," says Vitale.
During the Master Class sessions, each participant had his or her own iMac workstation with Avid Media Composer 8.5 or ProTools 11. For the picture editing sessions, the students worked with dailies from particularly challenging scenes from actual TV shows. "I tried to get them to build a step-by-step approach to the material based on the editing objectives of following the story and leading the audience," Heath explains.
"We emulated the real-life situation of the editor, working with producers and directors and getting notes," Rivkin recounts. "At the end of the two days, any one of the students' versions could have been used for actual broadcast."
Knowing that assistants have little time on a mix stage to observe and understand the effect of sound editing decisions, Horta says she gave her students "a comprehensive introduction to dialogue editing." Through practical exercise, they received hands-on experience that included laying tracks, fixing awkward overlaps from the picture editor and figuring out what scenes required ADR.
Asked for comments to help plan future sessions, the classes' assistant editor participants responded strongly to the one-on-one involvement afforded by this experience. At the craft level, Adriano Muñoz notes, "I had to study every option available in the dailies…to construct a coherent and visually readable narrative." Takeika Burton writes, "I definitely have a better assessment of my strengths and what I still need to work on." Offers Nida Ball, "To top it off, we were provided valuable life lessons for editors who wish to succeed."
"To broaden the interest among members in the Master Class Series, the Outreach Committee hopes to expand the focus of classes to cover more craft designations," says Brown. Vitale adds, "Sound design, re-recording mixing, music editing, animation editing…these are all possibilities."
Summing up the idea of the series, Rivkin says, "If you've ever had someone who trusted you enough to give you a chance to show what you can do, then you understand the importance of giving something back to help the next generation of editors."
Members interested in teaching a Master Class or suggesting another class topic should contact the Membership Outreach Committee through the Guild's Executive Administrator Lisa Dosch at ldosch@editorsguild.com.