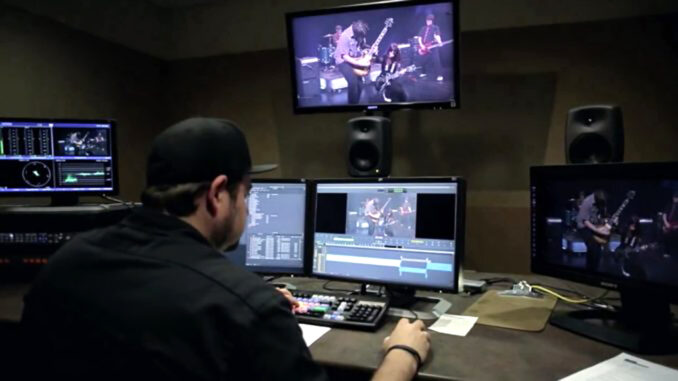 by Emlyn Pugh
"Right, how do we want to do this? I know, let's start gently with, 'Welcome back to the show' before the break…then we'll go with the classic segue, 'Someone else with high hopes is…' Make sure you inflect at the end there. And we'll finish with an epic, 'Twenty nervous contestants…but only one…will change…his life…forever!!!'"
"OK, got it, no need to shout. Let's lay it down."
From the high notes of The Voice to the high-octane action of Amazing Race, the sharp teeth of Shark Tank to the silky tones of American Idol, the unrelenting behemoth of a genre that is competition reality (love it or hate it) comes lovingly adorned and structured with voiceover (VO) and host links.
For competition reality (CR) editors, it's the opening gambit, the spine of the timeline, the connective glue betwixt common themes and sometimes totally unrelated narrative and other challenges. We've all been there, expertly fumbling to connect our edit software to the microphone until surrendering and summoning our tech-savvy assistant to make it work. Capturing our own scratchy scratch copy.
Wincing at the sound of our own voice, yet comforted by the thought that it will eventually be replaced by the show host's velvety purr. Bed down a cue, cut over the B-roll and season with sound design; done. Move on to the next sequence. But what happens when that guiding VO light goes out, aside from wrestling with a microphone and pop shield a lot less often? Constructing a two-hour network CR show, with no VO or host links, takes some serious storytelling craft. That's what has been happening on America's Got Talent.
Having just finished its 11th season, AGT has totally done away with VO and presenter links for its pre-recorded audition shows. The spaces have been filled with scripted and storyboarded season premiere openers, montages of the auditions and audition "process," and unscripted reality moments, crafted to lead — or mislead — the audience in the direction of the next performance. But what does this mean in real edit terms? Well, what was formerly a single mono audio track (easily interchangeable if the story goes in a different direction) is now a compression of a huge variety and volume of footage, meticulously organized, whittled and weaved to get us from point A to point B.
Losing the VO was originally conceptualized in Season Seven, because show producers thought it was taking away from the flow of the cuts. Therefore, the editors began to craft their sequences, where possible, without VO sign-posting every move. With revolution comes evolution; each season, the volume and style of the content has diversified and developed. Fast-forward to the present season and it has grown into a project not for the faint-hearted.
With AGT being a variety CR show, you can imagine the smorgasbord of contestants and content: Dancing dogs, daredevils, magicians and mime artists. Multiply that by shooting 24 days of preliminary audition reality, shot by six electronic news-gathering and reality crews in nine cities. Then add 13 videotape recording (VTR) audition days, with a 14-camera bank (mixed frame rate) multi-cam. Bolt on the surrounding contestant reality, master and on-the-fly interviews and judges' moments (on set and in their green room). We are now talking the foundations of a project propping up 100 TB of raw and transcoded media. So what's the solution to making this mountain into a molehill? The sort.
"It's a mind-blowing amount of footage," exclaims our lead assistant editor, Chris Peters. "On top of the VTR multi-cam shoot, we can be handling 2 TBs a day of raw footage, all at different frame rates, formats and codecs. On a VTR day, there can be over 26 cameras rolling simultaneously; we run out of letters in the alphabet to categorize them. But we treat everything shot as if it's the priority and sort it so it can be recalled at a moment's notice. Every piece of footage gets labeled and categorized, no matter how unimportant or obscure it may seem. It could be the piece which makes the entire season!"
It's an incredible feat of media management. For the audition reality sort alone, there are over 18,000 individually labeled sub-clips of material, all strung out and organized into 50 sequences per shoot day to be at the editor's fingertips instantly. That's without going into 600-plus sequences of B-roll string-outs. Then, for editors, to take a step back and look at the matrix of material laid before us, it is a feast of footage and a banquet of B-roll. Personally speaking, there is huge satisfaction for an editor to tell an entire story without the need for commentary. The possibilities open up and we, in essence, become the writers of the piece.
Looking forward, is losing the copy the wave of the future? Could reality replace VO altogether on CR shows? Of course not. Writing good, funny and succinct VO is an art, and totally necessary when explaining a complicated task or challenge. However, speaking as an editor, it is a lot more fun and rewarding to craft without it.