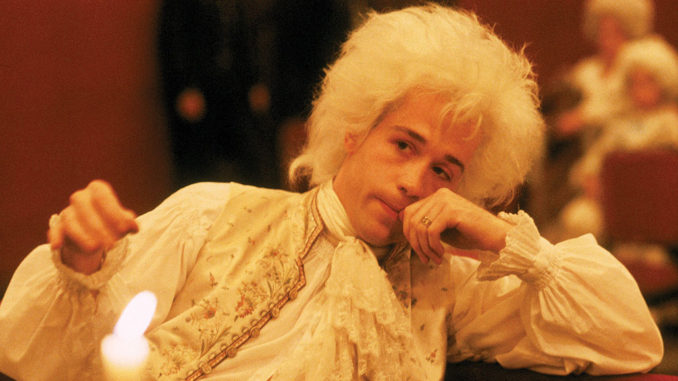 by Kevin Lewis
Throughout a directorial career which spans almost half a century––but only 19 films––Miloš Forman has focused on one theme: How society grinds down the individual and is basically corrupt and hypocritical.  Considering that Forman literally escaped from Communist Czechoslovakia in 1968, this is hardly surprising.  What is unusual is that he is one of the few foreign directors to succeed in the money-driven American film industry with his own projects and be rewarded with two Academy Awards for directing as well as two Best Picture winners.  Forman created a spectrum of bizarre outsider characters (Andy Kaufman, Larry Flynt, George Berger in Hair, etc.), especially in his signature films, One Flew Over the Cuckoo's Nest (1975) and Amadeus (1984), the Oscar winners.
Amadeus, which premiered 25 years ago in September 1984, has enjoyed a wider audience because of its insouciance––rare in an historical and biographical film.  It is about Wolfgang Amadeus Mozart and his nemesis, Antonio Salieri, in 18th-century Vienna.  The film's theme of artistic freedom versus corporate product is still pertinent.  Mozart was crude, insulting and spontaneous, whereas Salieri curried court patronage, composed mediocre music cannibalized from his successful predecessors, and used religion as a cover for intrigue against all competitors––including Mozart.
In the 1980s, its parallels with President Ronald Reagan and his dismantling of the National Endowments for the Arts and Humanities were clear.  Perhaps the most memorable line in the film is when Emperor Joseph II, played by Jeffrey Jones, compliments Mozart on his music but adds his philistine comment: "Too many notes."
Forman was not interested in adapting the 1979 British play by Peter Shaffer, which was the dramatic hit of its London and Broadway seasons, and made it clear to his producer that he hated biographies about composers.  "I lived half of my life in a Communist country," he told me in a 2002 interview for DGA Magazine.  "In Communist countries, they love to make movies about composers.  Composers compose music and they don't talk subversive things.  They were the most boring films I ever saw."
But he soon realized that Shaffer was using historical characters to express abstract ideas about creativity.  Forman recalled that the six-month shoot was his  "happiest collaboration" with the author of an original work.  "It's very difficult for an author, whose work––whether it be a novel or a play––is successful, to change anything," he added.  The film so eclipsed its theatrical origins that Shaffer revised the play along the lines of his screenplay for revivals.  Purists carp about the factual errors, but Forman said, "I think Peter Shaffer was faithful to the spirit of the facts."  Shaffer wrote the script while listening to Mozart's compositions in their chronological order, so the music and opera sequences do not stop the drama but express the evolution of the composer's mind. The musical sequences are trailblazing, thanks to Twyla Tharp's dynamic choreography.
With his non-fiction editing background, Michael Chandler was able to see why the opening shot of Salieri attempting suicide was not working… It seemed too much of a set piece, too theatrical.
Forman worked in close collaboration with the same cinematographer, Miroslav Ondrícek, on most of his films, but with a succession of picture editors.  Though his picture editors speak fondly of Forman, they agree that editing sessions were intensive and protracted.  Chris Tellefsen, A.C.E., who edited Forman's last two American films, The People vs. Larry Flynt(1996) and Man on the Moon (1999), recalls that the director loved extras and shot an incredible amount of footage of these fleeting figures in his moving canvas.  Amadeus is a greater film because of this; the period extras not only enhance the background, but give the film the texture, look and feeling of an 18th-century painting.  Ondrícek consciously strove for a painterly look by using candles rather than artificial lights.  Period rooms looked lived in rather than staged, and theatre scenes are authentic.
Shooting in Prague during the Cold War, and being watched by the secret police, was a concern for Forman, who became an American citizen in 1977.  The Czech city was decided upon as the production location for Amadeus because of its 18th-century architecture.
For the film, Forman hired editors Michael Chandler and Nena Danevic, both of whom were Oscar-nominated and won the ACE Eddie Award and the BAFTA Award.  Other post-production honors went to re-recording mixers Mark Berger, Thomas Scott, Todd Boekelheide and Christopher Newman, who won the Best Sound Academy Award, and sound editor John C. Nutt and Berger and Newman, who won the BAFTA Sound Award.  Danevic had worked on the editing in Europe and later in Berkeley, where Chandler joined the production.  Forman had liked Chandler's editing on documentaries and the feature film Never Cry Wolf (1983), and told him, "Surprise me."  He wanted the editor to come up with solutions when scenes were not working.
Forman had shot over 750,000 feet of film, but Chandler was used to navigating through that much footage.  "Miloš knew he was making an epic, which was sprawling in various directions," Chandler recalled in a recent interview with CineMontage.  "Coming from a documentary background helped me see the forest from the trees."   It was a pity that digital editing was not invented then because, according to Tellefsen, Forman embraced the idea that he could edit ten different versions of a scene.
"You have to cast right; if you do, you don't have to work anymore… If you don't cast right, you can do somersaults and usually it doesn't work." – Miloš Forman
With his non-fiction editing background, Chandler was able to see why the opening shot of Salieri attempting suicide was not working because it seemed too much of a set piece, too theatrical.  In reviewing the rushes, he saw that Ondrícek was filming these "beautiful, evocative street scenes of Prague," substituting for Vienna, before the slate went down, and used those shots instead of Salieri.  "We hear the voice off screen and it's a far more elegant way of dealing with the story," Chandler explained.  "Then Miloš said, 'Why don't we start the Don Giovianni chorus there?'"
Editor and director collaborated and brought a cinematic rather than theatrical vision to a film of a play.  In the DGA Magazine interview, Forman broke down the filmmaking process, revealing why post-production was his pleasure.  "The hardest part is the actual shooting; the most pleasant is the screenwriting and the editing because you have time," he said.  "You have time to change things.  You have time to think, time to play with it, to experiment when you are working on the script.  When you are shooting, that's it.  You say 'Cut.  Next setting.'  And that's it.  You constantly suffer throughout the whole shooting with doubts of whether what you and the people in front of the camera just did was the very best you could do.  You never are sure of that, and that doubt is not very pleasant."
Forman also feels that accurate casting is 90 percent of the filmmaking process.  "You have to cast right; if you do, you don't have to work anymore," he continued.  "If you don't cast right, you can do somersaults and usually it doesn't work."  He was determined that a star would not be cast in the film, because he did not want the viewer to be distracted from the drama.  In a way, he got his wish.  Despite the fact that F. Murray Abraham, who is a stage actor, won the Best Actor Oscar as Salieri, and Tom Hulce as Mozart was nominated, neither of them became stars.  Meg Tilly, who did become something of a star a few years later, was cast as Constanze Mozart.  But she had an ankle injury and was replaced by Elizabeth Berridge, who, true to form, did not become a star.
The director was reluctant to cut Amadeus to a 2:40 theatrical run, which meant editing Kenneth MacMillan as Michael Schumberg out of the film, along with the scene where Constanze humiliates herself before Salieri for her husband's sake.  The version of this film to see is the three-hour director's cut on Warner Home Video because it contains these approximately 20 minutes of excised footage.