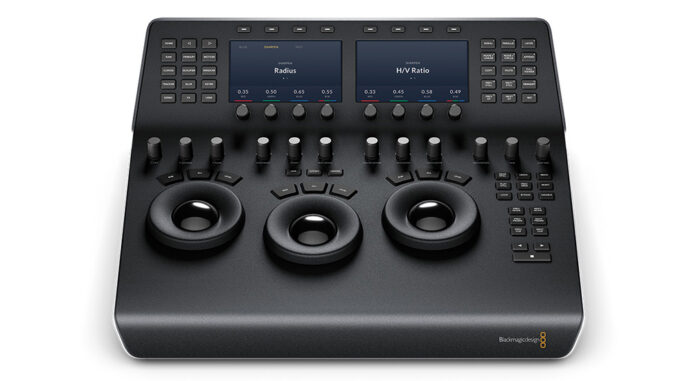 by Joseph Herman
Blackmagic Design continues to maintain its impressive track record of delivering well-designed products, including cameras, software, switchers, converters and a plethora of other useful tools for the production and post industry. Among the interesting products Blackmagic introduced recently are the DaVinci Resolve Mini and Micro Panels, two control surfaces that are sure to help you be a more effective colorist.
Recently, I had a chance to review the Mini Panel and, in this article, I'll share my thoughts about the console. While we're at it, I'll also go over a few of the remarkable new features of DaVinci Resolve 14 which, although it has not yet been officially released, is available for download as a public beta from Blackmagic's website, www.blackmagicdesign.com.
If you are involved in any meaningful way with color grading for film and television, there is no doubt that you know about DaVinci Resolve, or are, in fact, already using it. Resolve is, of course, one of the world's pre-eminent color-grading environments and is used on many high-profile projects, including notable feature films, television shows, music videos and commercials.
However, while Resolve has always been a leading color-grading application (even before Blackmagic acquired the software back in 2009), its prowess doesn't end there. Blackmagic has been hard at work adding other ambitious features to it, such as professional-level editing, media management and pro audio mixing, with the intention of making the software a complete post-production environment. In Resolve, you'll not only be able to color-grade your footage, but compile and edit all your shots as well as mix and sweeten the audio. From ingest to final delivery, Blackmagic wants you to start and finish your entire project in Resolve.
Aside from all that, there is another truly great thing about Blackmagic DaVinci Resolve and that is how inexpensive it is. DaVinci Resolve is free — you can't get any more inexpensive than that! The price of DaVinci Resolve Studio, which contains additional professional features such as multi-user collaboration, 3D tools and more, has recently been dropped to $299. Considering that the software once cost thousands of dollars, and just a few months ago was $995, I'd say that's a pretty darn good deal.
Mini and Micro Panels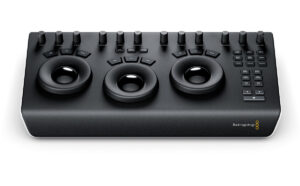 While both versions of DaVinci Resolve can be operated with a mouse, many professional colorists turn to dedicated control panels to do their work and consider them to be must-have accessories. Control panels allow for simultaneous adjustments to the image as well as more precise control, improved creativity and productivity versus using the humble mouse.
In past years, colorists could purchase Blackmagic's Advanced Panel for DaVinci Resolve. At a price of $29,995, this massive panel may not exactly be cheap, but it is comprehensively full-featured and high-quality.
While high-end color facilities can easily justify paying for the advanced panel, small one-man shops or freelancers may find it prohibitive to spend that much on a console. Luckily, there were cheaper third-party options available, such as the Tangent Wave panel. Costing around $1,500, the Tangent panel boasts a set of trackballs, knobs and buttons that work with DaVinci Resolve or DaVinci Resolve Studio, and was a viable choice for colorists who couldn't afford the pricier advanced panel.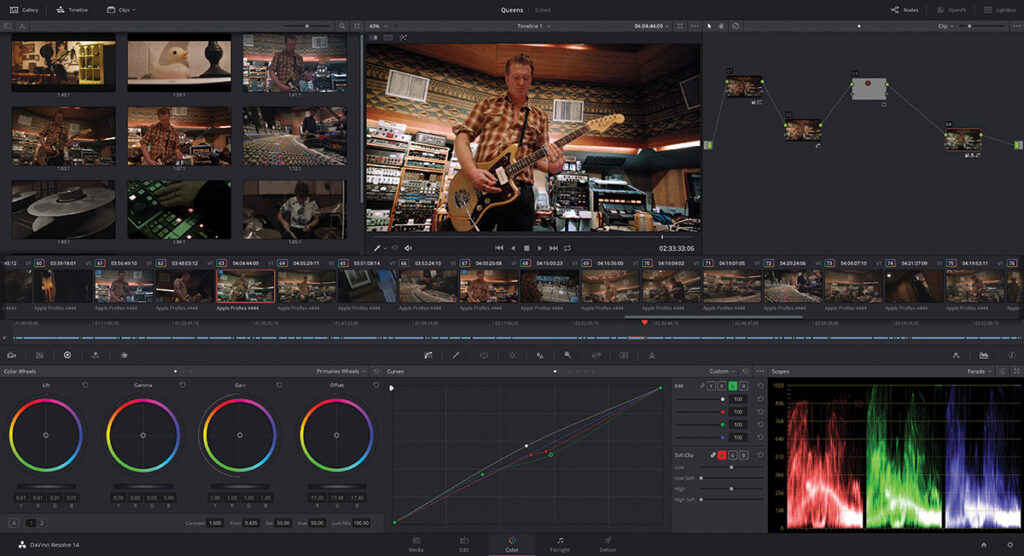 In March, however, the equation changed as Blackmagic introduced two important new compact control panels for DaVinci Resolve and DaVinci Resolve Studio, namely the DaVinci Resolve Micro Panel ($995) and the DaVinci Resolve Mini Panel ($2,995).
While both panels include smooth, high-resolution, weighted trackballs, primary correction-control knobs and navigation and transport keys, the Mini Panel adds two LCD screens as well as additional controls. The Mini Panel is what I got to play around with for a couple of weeks.
Look and Feel
The DaVinci Resolve Mini Panel came in a heavy-duty box that has a carrying handle on the top and could be used as a carrying case for the console in the event you want to take it with you to your next gig, or even install it on location for on-set color correction. While I wouldn't exactly call the Mini Panel light, it shouldn't be too much of a problem carrying it around providing you are in reasonably good shape.
Upon opening the case and inspecting the console for the first time, you will understand what gives the Mini Panel its heft. It is very rugged and sturdy, a good thing if you are a colorist since it will no doubt become the main surface upon which you work. Its metal enclosure feels like it is armored to survive a battle.
The Mini Panel is also impressively handsome and will make you look like a color-grading pro while you sit behind it, spinning the trackballs and adjusting the knobs as you bring your images to life. It may even impress your clients, which might be enough to justify you charging a little more than a newbie colorist who only uses a mouse and keyboard! But all joking aside, your increased level of productivity when using the Mini Panel should be all the justification you need to bill like a pro.
Working with the Mini Panel
There are three high-quality trackballs prominently placed front and center on the Mini Panel, and they feel exceptionally good beneath your fingertips, allowing you to adjust multiple parameters of the image at once, such as gamma, lift, gain and color balance. While this, in addition to operating the various precision color-correction knobs on the panel, may require a bit of practice to get used to, both operations will end up becoming second nature before long, making it difficult to contemplate going back to using a mouse for your color-grading work.
Think of it like trying to knead dough to make a loaf of bread with just your pinky finger instead of digging into it with both of your hands; it's a much more difficult job. A control panel like the Blackmagic Mini Panel provides a fluid, tactile experience during color correction. This allows for enhanced creativity for, and the adjustment of, multiple parameters of your image at the same time.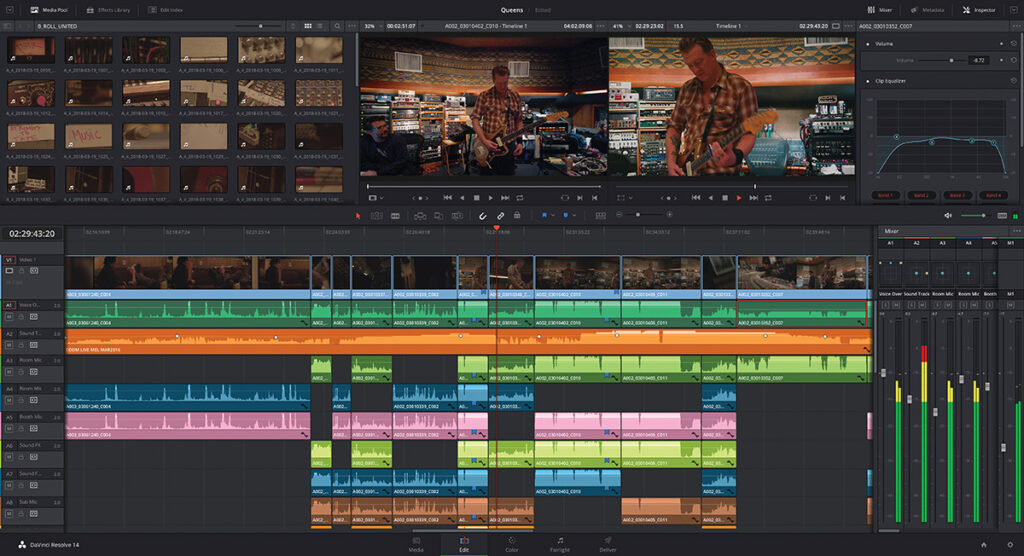 The three trackballs allow for RGB balance adjustments to lift, gamma and gain — each with a master-level control set via a movable outer trackball ring — while the primary knobs can be used for Y Lift, Y Gamma, Y Gain, Contrast, Pivot, Mid-tone Detail, Color Boost, Shadow Highlight, Saturation, Hue Rotation and Luminance Mix.
There are also other control knobs, which allow for super-fine adjustments and can be pressed to quickly reset a parameter. In addition, all buttons are illuminated. This is important in letting you see what you are doing and which controls are active, especially in color suites where lighting is often turned down low.
As professional-level editing continues to become a crucial part of DaVinci Resolve, Blackmagic's new control panels include on-board editing controls, in addition to color correction, to help do things like navigate the timeline and perform commonly used editing functions.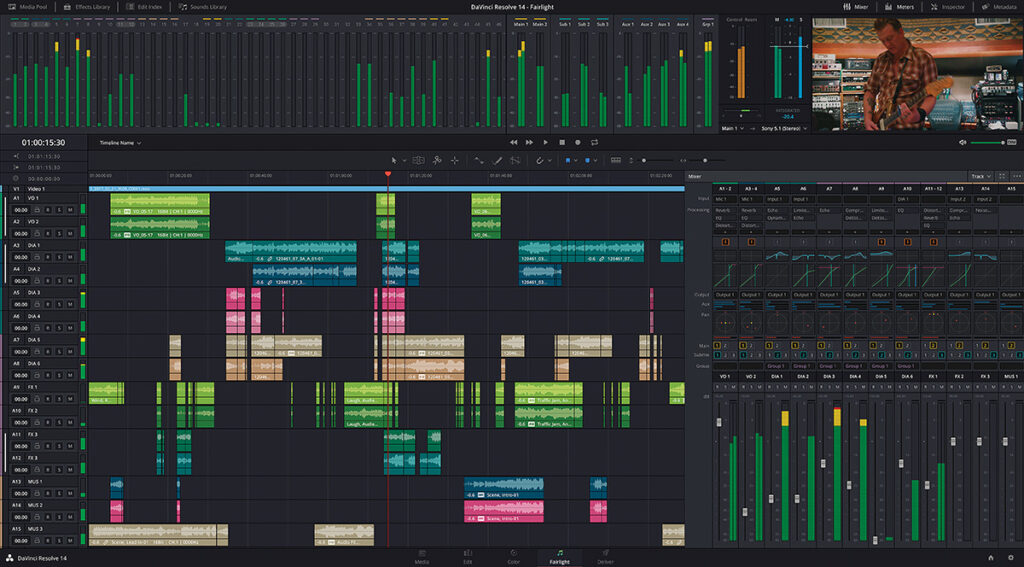 As mentioned previously, one of the major differences between the DaVinci Resolve Mini Panel and the smaller DaVinci Resolve Micro Panel, besides their sizes, are the two high-resolution LCD screens on the Mini Panel, which give you visual access to a lot of menus containing many of the advanced color-grading features of the program. They display information and parameters for the tool you're currently using, and continuously change context depending on what you're working on at any moment.
This is especially useful when working with DaVinci Resolve's comprehensive set of scopes, such as the RGB parade and vectorscope to correct poorly exposed footage as well as achieving unique and creative looks. Resolve's scopes give you deep insight into what is happening in your image, and the process of using them is enhanced with the Mini Panel. In addition, on the right side of panel, you'll find a range of transport and color-grading buttons for commonly used commands.
There are also dedicated controls for working with nodes, grabbing stills and navigation. You can add points on a curve and adjust them as well as work with power windows, without your fingers ever leaving the panel and touching a mouse. Practically everything you need to do in Resolve can be done with the DaVinci Resolve Mini Panel. And it keeps getting more capable as Blackmagic Design continues to expand its capabilities.
To Buy or Not to Buy?
If you're a professional colorist and spend much of your day working in DaVinci Resolve or Resolve Studio, whether you should get one of Blackmagic Design's control surfaces for DaVinci Resolve should not be too hard of a decision. The Mini Panel's three high-resolution, weighted trackballs, 12 primary color correction knobs, 18 dedicated navigation and transport keys, and two five-inch LCD screens (as well as other controls) will help you be a better and more effective colorist.
At $2,995, the Panel is also a great price, especially when compared to the Advanced Panel that costs 10 times the price. Those who want to pay less can go for the DaVinci Resolve Micro Panel ($995), an excellent value while being of significant higher quality than other third-party consoles in its range.
The enhancements to Resolve 14 are breathtaking, and make a compelling case to use Resolve, not only for its world-class color tools, but as a complete post-production solution that includes editing, color grading, audio mixing, media management and finishing.
Note on Resolve 14
DaVinci's color tools are world-class; there's no question there. But when Blackmagic announced it would incorporate nonlinear editing in version 10, many an editor's ears perked up. Since then, the company has been hard at work improving Resolve's editing functionality. However, while I was impressed with the editing enhancements in Resolve 12.2, I was still not convinced to make it my primary NLE.
That has changed. Frankly, I am blown away by the revolutionary new features in Resolve 14. First, there's a new playback engine that dramatically increases the speed of performance for video playback and user interface responsiveness.
Next, there are major enhancements to working with and mixing audio, with Fairlight audio built into DaVinci Resolve. Now you can do advanced audio sweetening and mixing right inside the Resolve environment without having to round-trip to another application.
In addition, enhanced multi-user collaboration tools let multiple people edit, color and mix audio from multiple systems, all in the same project at the same time. And there's much, much more.
The enhancements to Resolve 14 are breathtaking, and make a compelling case to use Resolve, not only for its world-class color tools, but as a complete post-production solution that includes editing, color grading, audio mixing, media management and finishing. That's where I'm headed, for one.
More information about Blackmagic Design's DaVinci Resolve 14 can be found at www.blackmagicdesign.com/products/davinciresolve/.