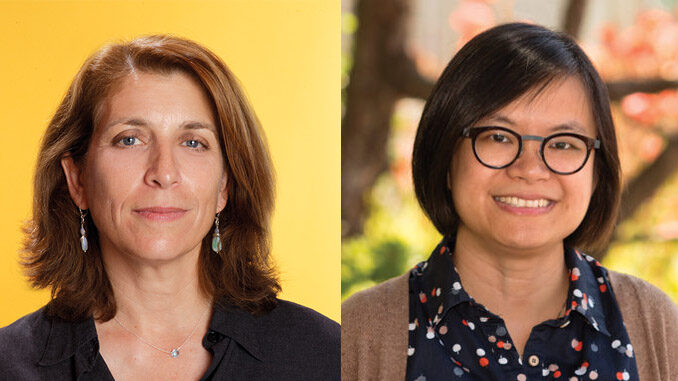 Picture editor Maryann Brandon, ACE, and sound editor/sound designer/re-recording mixer Ai-Ling Lee have accepted invitations to join the Science and Technology Council of the Academy of Motion Picture Arts and Sciences.
The council also welcomed five other new members: technology development supervisor Nafees Bin Zafar, makeup artist and designer Bill Corso, vice president of archives at Paramount Pictures Andrea Kalas, general manager of Digital Studio for the Walt Disney Studios Leon Silverman and cinematographer Steve Yedlin, bringing the council's 2017–2018 membership roster to 25. Among the returning members to the council is Academy vice president and picture editor Michael Tronick, ACE.
Brandon earned an Oscar nomination for her work on Star Wars: The Force Awakens. Her credits include such films as Star Trek, Star Trek into Darkness and Passengers, and she is currently working on the feature The Darkest Minds for 20th Century Fox. She has been a member of the Academy since 1998, and also is active in the Directors Guild of America (DGA), American Cinema Editors (ACE) and Women in Film (WIF). In October, Brandon appears in TCM's Trailblazing Women series.
Born in Singapore, Lee earned Oscar nominations for Sound Editing and Sound Mixing for La La Land. Her credits include Buena Vista Social Club, Spider-Man 2, Transformers: Dark of the Moon, Godzilla, Wild, Deadpool and Battle of the Sexes. She has been a member of the Academy's Sound Branch since 2014.
Established in 2003 by the Academy's Board of Governors, the Science and Technology Council provides a forum for the exchange of information, promotes cooperation among diverse technological interests within the industry, sponsors publications, fosters educational activities, and preserves the history of the science and technology of motion pictures.
In related Academy news, Brandon and Lee, along with Foley artist Alyson Moore and others, will be panelists on the "Get It in the Can! Post-Production" seminar as part of the Academy's third annual Careers in Film Summit on Saturday, October 14, at the Samuel Goldwyn Theater in Beverly Hills. Five other panels will be part of the summit, a day-long event providing high school and college students the opportunity to learn about careers in the motion picture industry, as well as hear from Academy members, Oscar-winning and nominated filmmakers, and other industry professionals about the skills, education and hard work required to achieve success. The summit includes six panel discussions in all, and also will be live-streamed on www.Oscars.org.
The panelists, whose areas of expertise include acting, writing, directing, songwriting and composing, sound design, editing, visual effects, makeup, costume design, production design and animation, will offer students first-hand knowledge of working in the industry and identify essential skills for their respective careers. Sessions also will incorporate film clips and Q&A sessions with students.
Tickets for the Los Angeles event are free, but must be reserved in advance. For more information and to obtain tickets, click here.