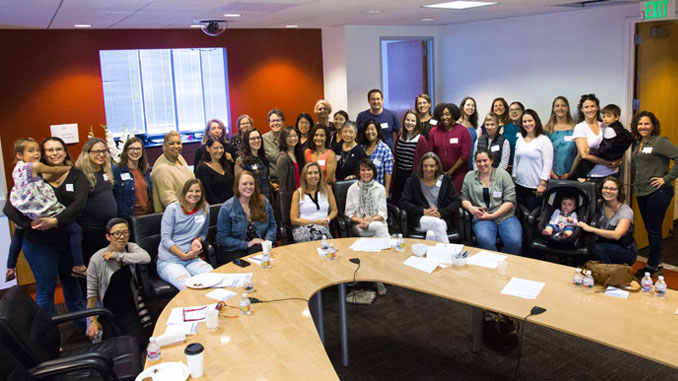 by Debra Kaufman • photos by Deverill Weekes
Last year, the Women's Steering Committee of the Editors Guild's Diversity Committee held its first meeting to discuss keeping women in post-production. "It had a huge impact," said steering committee chair Dorian Harris, ACE. "One thing that came out of the presentation and our survey is that there are a lot of women in the Guild who are mothers, or thinking about becoming mothers, and there are different problems in being a mom in this business." A New York Times article about an "anti-mom" bias at work (https://www.nytimes.com/2018/05/16/opinion/workplace-discrimination-mothers.html?action=click&pgtype=Homepage&clickSource=story-heading&module=opinion-c-col-right-region ion=opinion-c-col-right-region&WT.nav=opinion-c-col-right-region) inspired Harris to propose a roundtable discussion of the issue for June 30.
That Saturday, over 40 women members gathered at the Guild's LA headquarters to begin addressing this complex topic at a roundtable entitled "#MomsToo." Amy Adrion, who directed Half the Picture (2018), which "celebrates the groundbreaking work of female film directors and investigates the systemic discrimination" against women in Hollywood, was also in attendance. She began the discussion by summarizing the history of women in the workplace in the US, referring to an article on the subject that appeared in Mother Jones last year (https://www.motherjones.com/media/2017/05/working-mothers-moms-gender-workplace-children/). "The film business presents completely different problems," Harris explained. "We are all freelance, so paid maternity leave or daycare at work is something we've never had."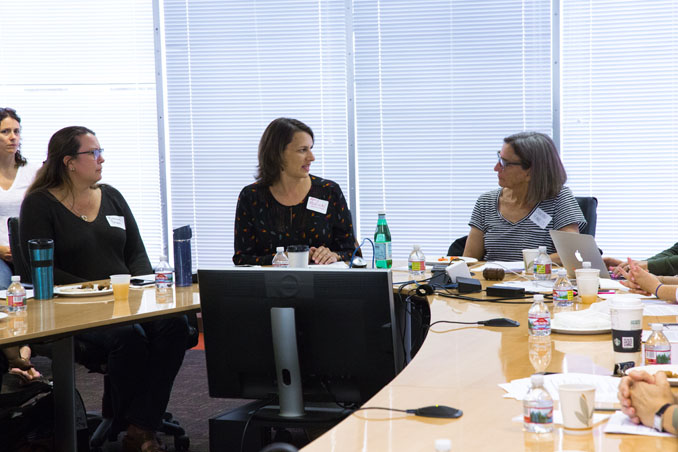 "A lot of younger members who are moms, or thinking about it, don't have female role models in the business," Harris continued. "The women in our business who are mothers are in the closet – it's our hidden secret that we have kids at home." This includes herself and several other women in the room, whom she acknowledged: Shannon Baker Davis; Bobbi Banks, MPSE; Maryann Brandon, ACE; Amy Duddleston; Maysie Hoy, ACE; Stephanie Lowry; Debra Neil-Fisher, ACE; Sabrina Plisco, ACE; and Julia Wong, ACE.
Some of those working mothers spoke about the challenges of raising children while working. "I was an assistant for a long time," said picture editor Hoy, who is chair of the Guild's Diversity Committee. "I totally burned out and took eight years off to raise my two boys, and then got back into the game easily." Her strategy, she revealed, was to stay in touch with a group of sound editors with whom she had worked. "I'd call them up to have coffee or lunch," she continued. "I kept this going all the time I was a mom taking care of kids."
When she was ready to return to work, Hoy got a job as an apprentice. "I said, 'As long as it's a Guild show, I'll take it,'" she recalled. "From there, I met people at the right time to move up. But I couldn't have made the leap without the support of my husband and family." She also remembered that, when she went back to work, she went on a couple of interviews during which male directors asked if she had children. "Once I said yes, they asked who would look after them," she revealed. "After that, in the next interview, I said they were old enough to take care of themselves." She mentioned that her brother, who is also an editor, went for an interview just after he and his wife had their first child. "The director asked how his wife and daughter were doing, and then asked if he was ready to go on location," she related.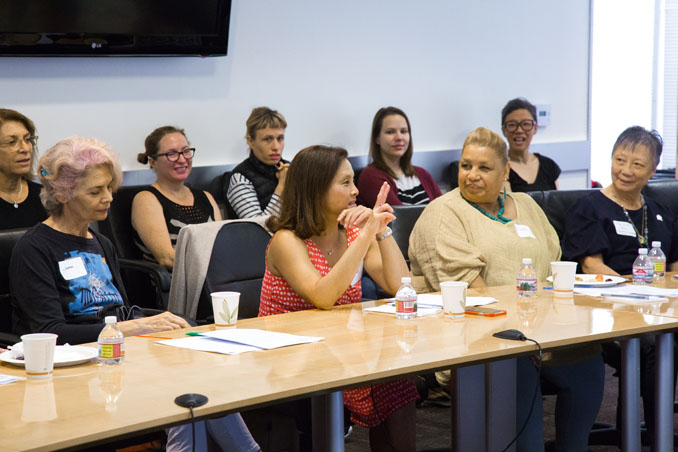 Sound editor Banks' advice was: "Be determined." Then she added, "There is a village that helped me watch my kids. You need the support of your family – and village." Music editor Lowry reported that she was pregnant when she worked as an assistant editor on Grand Canyon (1991), with editor Carol Littleton, ACE. "At the time, I couldn't imagine being a film editor and a mother," she says. "I thought I needed to get out of the film business." Instead, she became pregnant again before being able to transition to a new career, and had to go back to work to support her growing family. As luck would have it, she found work as an assistant music editor, and discovered that motherhood was not completely incompatible with that job.
Brandon, who has a TEDx talk on the topic (https://www.youtube.com/watch?v=PWCM0Biq1X8), explained that she has told every producer that she has two kids, and even brings them to the cutting room because, "It's really important to me that my kids understood where I was, what I do and who I was with. I feel very strongly about being forthright about who I am and what I can bring. I'm really open that, for me, it's family first. I tell producers that I understand storytelling better because I'm a mother.
"Men don't get asked the same questions, it's true, but people have responded to me across the board," she continued, adding that she had turned down the chance to become a TV director. "I knew I wouldn't be able to be a mom the same way because I'd be out of town way too much," she said. "There have been times I've thought I should have seized that opportunity – but then again, I believe one always thinks the grass is greener in another job. It's just a fact of life."
Assistant editor Aleigh Lewis stressed how important it is when there is a family environment on a show. "It makes a huge difference," she said. She was hired on Bob's Burgers (2011-2018) when she was eight months pregnant, and told the producers she would take maternity leave. "They let me work for a month and then take three months off," she says. "The showrunner has a family, as do all the writers and animators. It was the type of environment that wants you to be a family person. The family environment gave me the confidence to take the time I needed with my first daughter instead of rushing back to work in fear of losing my job." Since leaving Bob's, she explained that she is usually the only mom in the whole crew.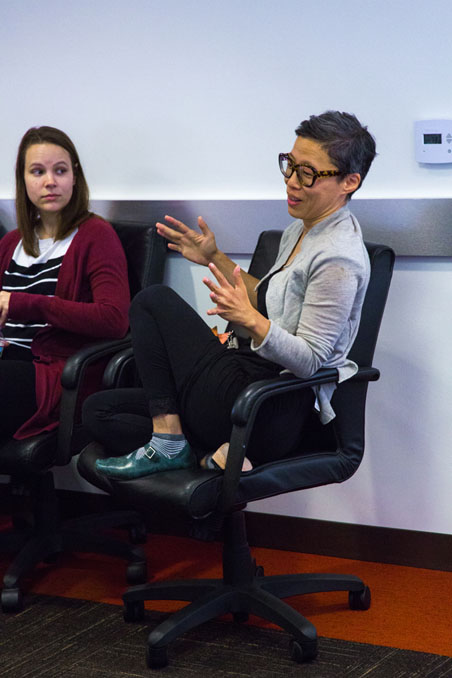 Picture editor Chi-yoon Chung revealed she couldn't get a job at all when she was pregnant, but joined the editorial crew of Fast and Furious 6 (2013) as a second assistant editor after she had her baby. "They were the nicest people," she said. "They got me a refrigerator so I could pump breast milk, and let my husband, who was the main caretaker, come and visit with the baby." As an editor, she recently hired a new assistant editor for The Rookie (2018), a woman who also had trouble finding a job while pregnant. "I hired her because her story resonated with me and I wanted to show her that it's fine to be a working mom in TV," Chung related. "As more of us get into positions of power, we're able to say, 'I know you can make it work.'"
Picture editor Davis reported that being a mother of color raising a daughter was actually a selling point that got her hired on a show about a mother of color raising a son. "They sought out someone who had that sensibility," she revealed. "The tide may be changing a little bit. They now have these shows about all these different types of people, and they can't keep hiring white males to craft them."
According to Davis, during her first pregnancy, she did a stint on on Project Runway (2004-present), which was also a positive experience because her post producer was completely accommodating. "I found that having to juggle, even during pregnancy, you start to be more efficient," she explained. "When you're working, you're working. Being a mom has made me way more efficient, and if the subject comes up in an interview, I make a point of saying that. You learn creativity and innovation when you have a toddler."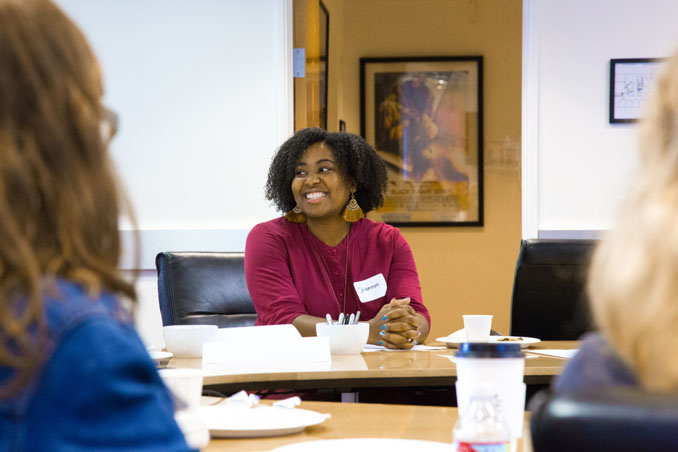 Plisco, a picture editor, said being in TV made it easier to be an editor and a mom. "That's what helped me raise my daughter," she claimed. "I didn't travel while working in television. The TV world is more conducive to having children because there are bigger teams to cover and support you."
When her daughter got older, she moved into features. "About 20 years ago, I went on an interview with a female director, which was not that common at the time," Plisco said. "Her first question was if I was a mother; I was surprised hearing this from a female director. As soon as I said yes, I knew I didn't have the job – and I knew it wasn't the right job." She also brought up the topic of job-sharing, saying that she once knew two women who job-shared as assistant editors on a TV series. "Why can't that happen more?" she asked.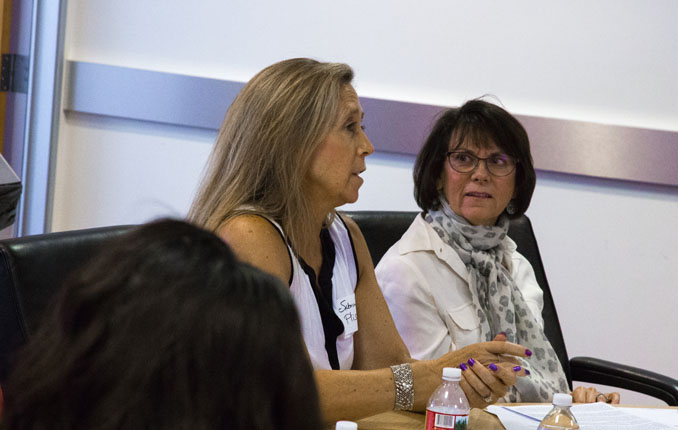 Jessica Pratt, a former assistant editor who is now a field representative for the Guild in Los Angeles – but stressed that she was not representing the Guild at this event – and herself a mom, responded that job-sharing is complicated. "If there's a weekly guarantee, the producers can't pro-rate; they have to fulfill it," she told the group. "If someone says you don't have to come to work on Thursday, they still have to pay you – which is why job sharing doesn't work." She added that managing expectations is a strategy: "If you say my child is sick and I need to take him to the doctor, it won't necessarily work every time, say, if you have a deadline. If you act like you expect the producers to say no, maybe they will. But if you say it like you expect them to understand, that helps."
Pratt also suggested that attendees help each other craft and practice conversations, and later added that a member's sick hours could be used to stay home to care for a sick child.
Assistant editor Rebecca Weigold-Stocker related how she started a job when she was six months pregnant. "The producers asked if I were interested in coming back after I gave birth," she said. "They also said I probably wouldn't get my rate because it was predicated on them knowing I would leave. A few months later, they called to ask me back, and I said, 'Only if I got my rate.' You just have to stand your ground and know your worth. They paid it.
"It's never convenient when I have to leave early for my child's concert or open house, and some people don't like it," Weigold-Stocker continued. " But I make sure the work gets done and anything pressing is taken care of. The best thing we can do for each other as women is to help each other out – cover for each other, recommend other women, hire other women."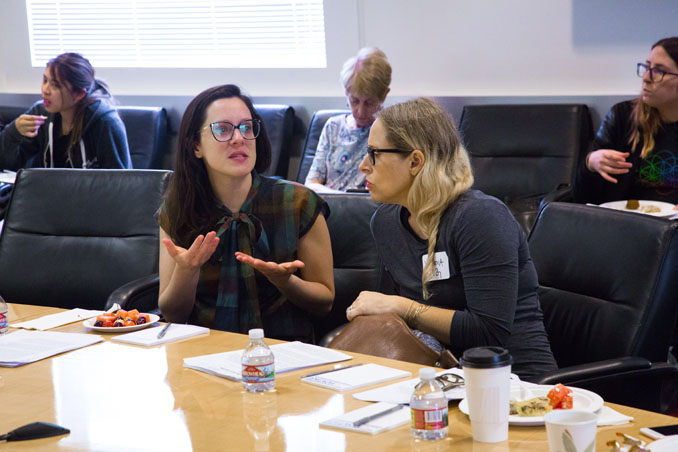 Assistant editor Victoria Lang, who is seven months pregnant, brought up the issue of banking hours for health benefits. "When you work, you accumulate so many hours and the six-month window to use them is kind of crazy," she said. "If a Guild member is sick or becomes pregnant and is having a hard time getting hired when she starts showing, it can put that person in jeopardy of losing coverage. It's incredibly stressful to deal with a medical issue or pregnancy, maintain your hours, focus at work and figure out how long you'll be covered if you need to be out of work for awhile. Why can't the hours we bank be used by other people? What happens to the hours we bank that we never use? We have to figure out a way that people don't lose coverage."
Responding to Lang's comment, Pratt said, "The MPI Active Health plan has provisions in it relating to different types of disability. Those who are disabled in any way can find the best disability insurance company in their area to talk through their options. However rightly, they can protect their primary income and make it easier to earn money and get an income despite having this hurdle in their way. Depending on the circumstance, it is possible that hours while on disability may be credited towards health coverage." She also reminded everyone that it's important to support people with disability. Furthermore, she suggested that any members put on disability by their doctor should contact Motion Picture Industry Pension and Health Plans directly to discuss their specific circumstances if they are concerned about a possible lapse in coverage.
"We also have links at EditorsGuild.com, under the 'Resources' section, that can help guide members to State Disability Insurance, Paid Family Leave, and Family and Medical Leave Act resources," Pratt continued, adding, "As for banked health hours, they are capped at 450 and all contributed hours are credited towards each individual's pension."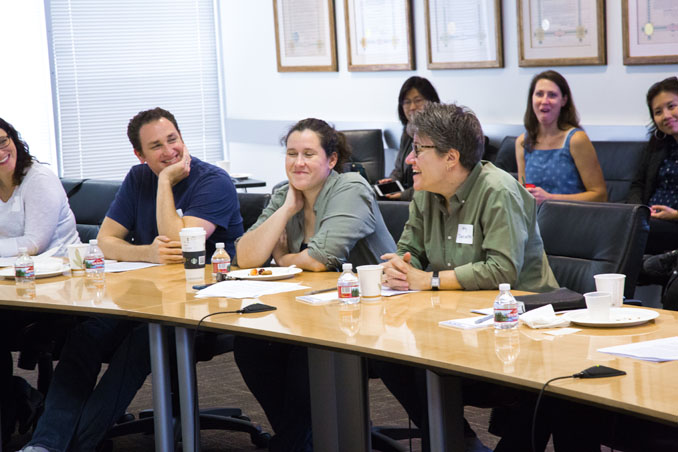 Giselle Murillo, a picture editor, described what she had learned about family life from the many male editors she's befriended. "They regretted they weren't present for their wives, and never felt like they were home enough," she related. "A lot of guys have that struggle, but they don't have to worry as much."
Only one man, Sam Casas, a re-recording mixer, attended the event, admitting that he never expected to be the only male in attendance. "I think that's sad, but also telling," he said. "When I leave for work, I feel guilty because I know how hard it is to be a parent. We all have to make our own decisions, but from my point of view, we won't make progress if women feel they have to withhold the fact that they're pregnant or have the desire to have a family. We're here as a species because we have children. It's a regular part of life – but that shouldn't prevent you from being fulfilled as human beings."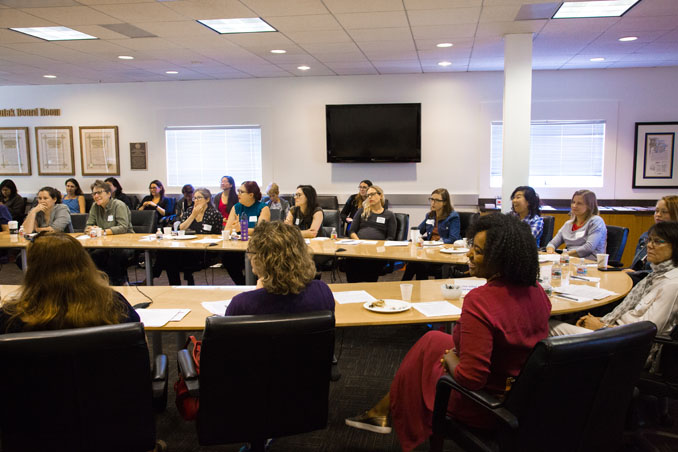 Assistant editor Cecilia Hyoun, who is chair of the Asian Pacific Steering Committee, said that when she was pregnant, she was assisting two women editors, one of whom was a mother, and a post supervisor who was also a mother. "I had the fortunate experience of being completely understood," she said. "It's great that we're having this conversation, and I want to reiterate how important it is to support other women, who are both coming up under us and especially those who were here before us. The more experienced women have had to endure greater challenges. As we support them and they rise, we will all rise with them.
"I also want to remind everyone that we have the opportunity to support not just the moms but the dads, too," Hyoun added in conclusion. "As parents in this industry, we experience a special flavor of oppression and we help counter it by supporting one another."