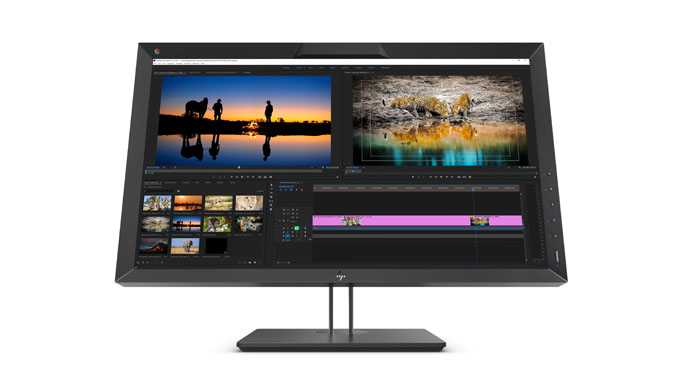 by Joseph Herman
There are a lot of reasons why creative media professionals require a display on their desks that is capable of representing highly accurate colors. To start, animators must be confident that color choices will result in final renders that look how they expect them to look. Photographers, photo-retouchers and illustrators must be sure that their images will reproduce correctly on a billboard, poster or a book cover. Those who do high-end color-grading for film and television must be sure the movie on which they are working will look the same on the big screen as it did when they were sitting at their desks. Video editors also need a color-accurate reference monitor in order for directors or clients to properly preview the cut.
In the world of video and broadcasting, reference-quality 10-bit monitors can cost in the tens of thousands of dollars — a significant sum of money unless one owns a large color facility or editing house. While these specialized monitors might offer some advantages — such as SDI inputs and outputs — boutique-style color houses, individual colorists, creative artists, animators and photographers will find it hard to justify the cost of a high-end reference monitor.
Thankfully, now those who want great color fidelity in a high-quality display have another option. Engineers at Hewlett-Packard have just released a remarkable display, which features advanced color reproduction suitable for demanding creative work at higher-end production and post facilities, and is available at a price that is surprisingly affordable, even for independent colorists and designers.
As many already know, the "Z" in the name of an HP product indicates that it is a member of the company's Z series, a family of workstation products aimed squarely at those doing high-level creative production and post work (as well as other demanding tasks). HP's Z Series products are built to higher standards, meant to withstand the rigors of punishing workloads and demanding production environments.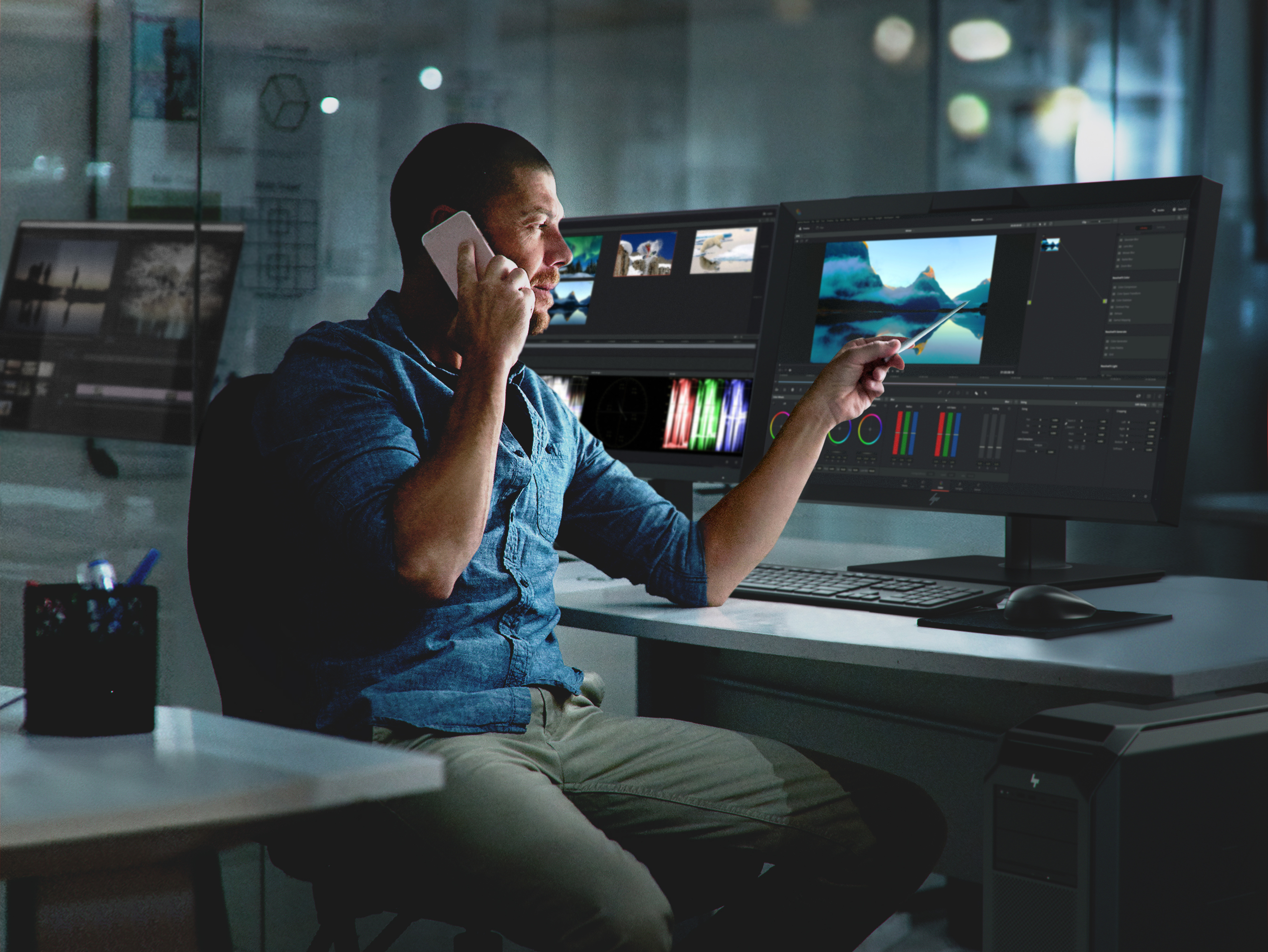 Within HP's "Z" line of products are the DreamColor displays. DreamColor, for those unaware, are a special breed of Z display that is specifically designed for advanced color applications in filmmaking, animation, broadcasting, advertising and the visual arts. HP partnered with top animation and production houses to develop DreamColor technology, winning them a Scientific and Engineering Award from the Academy of Motion Picture Arts and Sciences in 2015. According to HP, in fact, 80 percent of Oscar nominees for Visual Effects used an HP DreamColor Display between 2011 and 2018.
With truly wide and extended color gamuts, the HP DreamColor Z27x G2 Studio Display delivers consistent and accurate color on a high-performance IPS panel. What's a high-performance IPS panel? According to Greg Staten, HP's DreamColor architect, in order to create a superior panel for the color-critical user, IPS was re-invented from a cellular level with new technology that HP has dubbed "High-Performance IPS." Among other things, the technology allows colors in exacting environments to be deep, rich, on-center and truly consistent when viewed off-axis — not to speak of delivering deep, rich blacks. As a result, HP claims that the Z27x G2 is the world's most advanced color-critical display. However, aside from the redesigned high performance IPS display, the Z27x G2 Studio Display has a lot of other innovations to admire, not the least of which is a built in XYZ colorimeter and a keyboard-switching KVM.
Design 
The review unit arrived in a thoughtfully packed box. When the monitor was attached to its sturdy base, its slick and handsome design was immediately apparent. It will look great in any modern high-end facility, as well as on a desk in a private studio. However, while the Z27x G2 gets high marks in the industrial design department, the more important test of the display came next, when I attached the display, turned it on and began to view some images on its high-performance display IPS panel.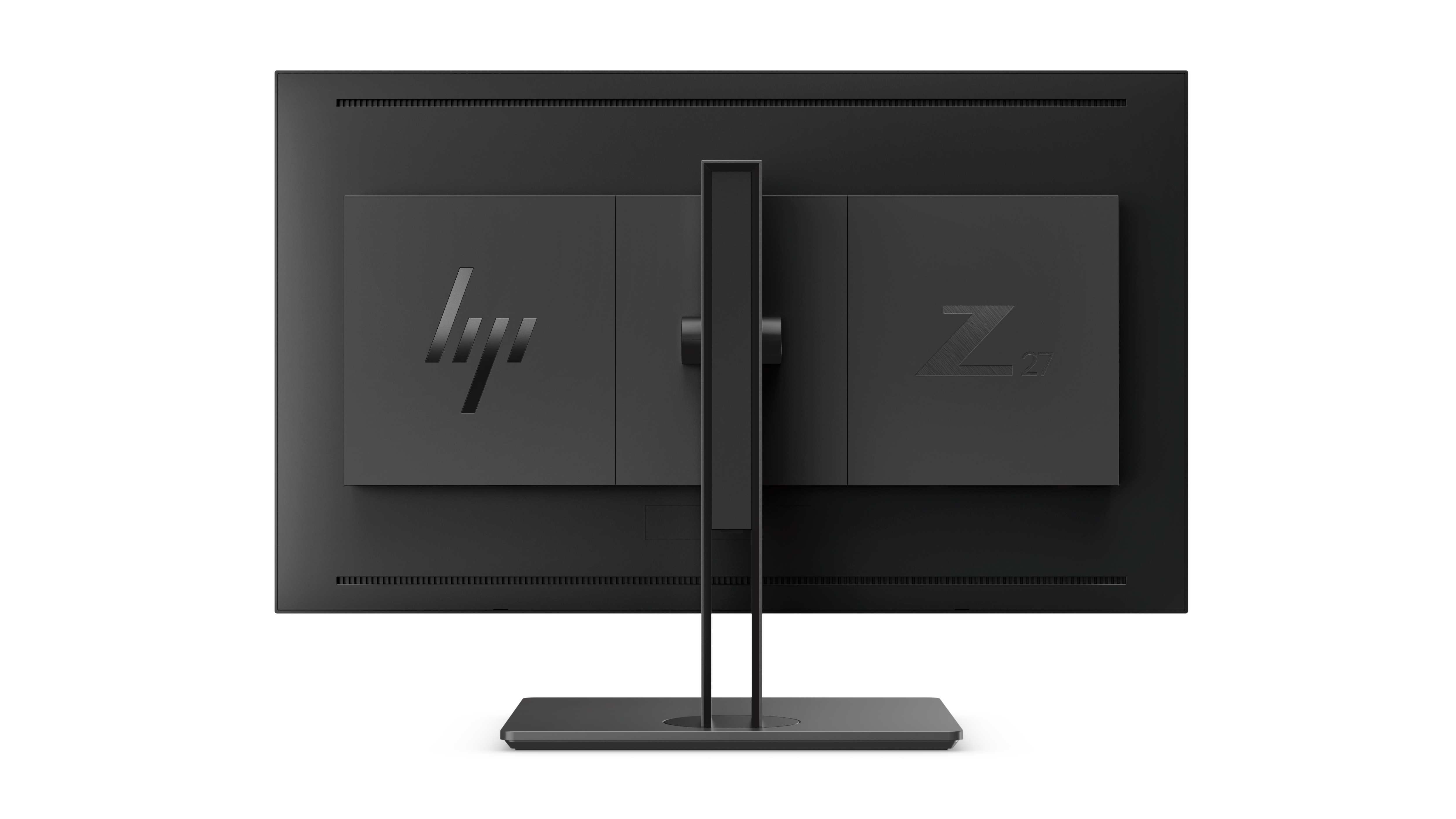 It didn't come as much of a surprise that the quality of the image was, in no uncertain terms, astounding. The high-performance IPS panel is perfectly matte and non-reflective, and each and every pixel appears super-sharp and crisp. Colors are remarkably rich, and blacks, as promised, are deep and dark. I happened to watch an episode of Versailles (2105-present) on Netflix on the HP Z27x G2 and the images looked so realistic that it seemed I could reach into the screen and touch the faces of the actors. It was that good.
While television shows and movies can be watched on it, let's examine the display's professional features.
The Right Resolution
The HP DreamColor Z27x G2 Studio Display has a 27-inch diagonal screen with QHD (2560 x 1440) resolution. In fact, this is a very popular resolution since it is high enough for large creative applications while still avoiding the ultra-tiny pixels found on displays with higher resolutions. According to HP's Staten, it was a resolution specifically requested by customers. I too find it just the right size and preferable to a 4K display. (For those who insist on a higher-resolution display, take a look at the HP Z31x.)
As to be expected, the display nicely covers the most popular color gamuts with 100 percent coverage of sRGB and BT.709. It also has 98 percent coverage of DCI-P3 and Adobe RGB — both more expansive color spaces than sRGB and, in the case of DCI-P3, more suitable for motion picture production. The display comes with built-in factory presets for DCI P3 D65, BT.709, BT.2020, sRGB D65, sRGB D50, Adobe RGB D65, and Adobe RGB D50. However, if required, there is the option to calibrate to custom color space by specifying the color primaries, white point, gamma luminance and name, via StudioCal XML. More on that later. This ability to customize the display a highly engineered color tool which, according to HP, includes an internal processor (sort of like of a computer built into it) to handle the numerous ways it can be customized and calibrated .
Built-In Colorimeter
In the past, in order to accurately color-calibrate a display, a third-party calibration solution from companies such as X-Rite, Spyder or the popular Klein K10-A was required. These colorimeters usually consist of a hardware sensor plus software that runs on a computer. One of the most remarkable features about the HP DreamColor Z27x G2 Studio Display, however, is that it has an XYZ colorimeter built into the top bezel that automatically swings down and calibrates the display whenever desired — or at automatic intervals. That means a separate third-party colorimeter is uneeded. In addition, since the display is self-calibrated, no host-based software is required. But, for those who prefer an external calibration solution, the HP Z27x G2 also includes support for many third-party colorimeters, such as those by Klein, Photo Research, Konica Minolta, X-Rite and Colorimetry Research.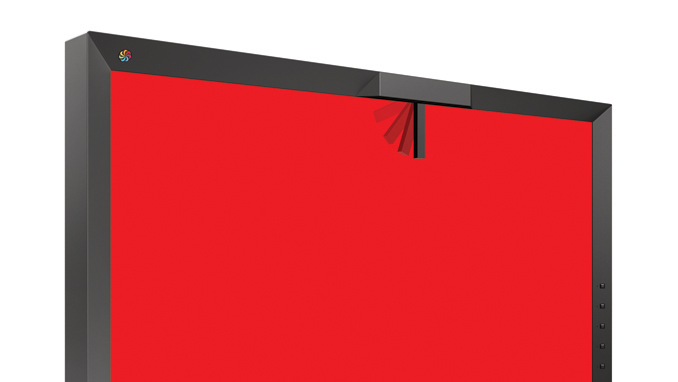 Aside from being able to run the integrated colorimeter on a schedule, or on demand, the Z27x G2 can be aligned it to the standard house instrument in one's facility. It also runs independent of the host PC, so the computer doesn't have to be on when it runs.
The display has many other remarkable features, such as multiple refresh rates, which allows the choice of a suitable refresh rate that matches the frame rate of the project on which one is working. There's 48 Hz, which is good for motion picture projects shot at 24 fps; 50 Hz,which works well for European broadcast projects; and 60 Hz, which is the broadcast standard for the United States.
The HP DreamColor Z7x G2 Studio Display's high-performance panel sports 10-bit color — or 30 bits per pixel — making it able to display billions of colors. An 8-bit panel (24 bits per pixel) only displays 16.7 million colors. That might sound like a lot, but in areas of smooth color variations or gradients, 8-bit displays can exhibit unsightly banding. On 10-bit displays, subtle gradients display smoothly.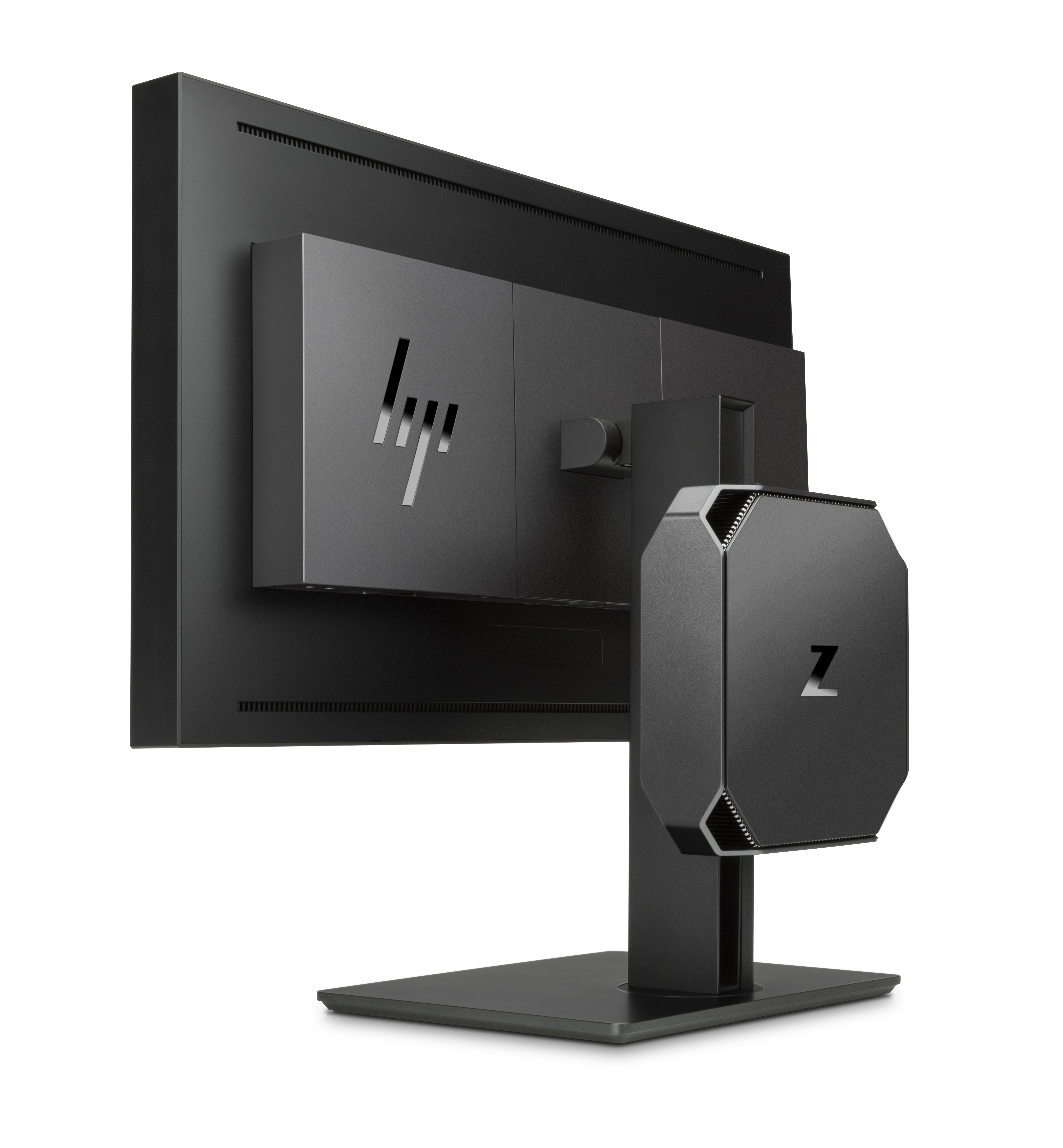 KVM Switch
In the world of production and post-production, it is not uncommon to have two computers at a desk. For example, one running Linux for compositing and another running Windows for video editing or animating in 3D — or even doing more common office tasks like writing e-mails or accessing the internet.
With an integrated KVM (Keyboard/Video/Mouse) switch in the HP Z27x G2, HP has saved us the expense of buying two displays, one for each computer. What's a KVM switch? It allows for switching the display between two different inputs, yet sharing a single keyboard and mouse. Thus, no need for two displays, two keyboards and two mice, keeping the desktop nice and tidy. Even better is the fact that the KVM switch is keyboard-activated, so it can be switched between the inputs with a simple key sequence.

Another nice feature is that the HP Z27x G2 includes Picture in Picture (PiP) or split-screen functionality, so the contents of the two separate inputs can be viewed. In the case of side-by-side display, one can choose to maintain the original aspect ratio of the display, or have it fill each half of the screen from top to bottom, each side having a resolution of 1280 x 1440. Now that's a useful feature.
Masks, Markers and StudioCal XML 
The DreamColor HP Z27x G2 Studio Display contains a set of integrated film aspect ratio and extraction markers, safe action and title markers, and DCI aspect ratio masks, which are available through the built-in menu system (or OSD). Markers and masks are useful when working, previewing an edit or using the Z27x G2 on set to check color.
Custom markers can also be created if required. The innovative display features a comprehensive HP-defined XML schema called StudioCal XML that allows customization of the display in several ways. With a little bit of scripting, one can do things like define custom markers and masks as well as create custom calibration configurations for a facility. One can also create custom input names as well as upload and modify calibration LUTs.
StudioCal XML's syntax is documented in the display's comprehensive manual (located on a CD which comes with the display) and scripts can be transferred to the display via a USB drive. StudioCal XML is a powerful technology that turns the HP Z27x G2 not only into a nice display, but an advanced and flexible power tool.
Ports and Things
The HP DreamColor Z27x G2 Studio Display has two inputs for HDMI 2.0, two inputs for DisplayPort 1.2 and one input for USB Type-C (all have HDCP support). There are 4 USB 3.0 ports, 2 USB 2.0 ports and one analog output. The dimensions of the screen (without the stand) are 25.24 x 2.58 x 14.93, and the viewing angle is 178° horizontal, 178° vertical. Brightness is 48 to 250 cd/m² calibrated, and the contrast ratio is 1500:1. For environmentally conscious users, the display is arsenic-free with mercury-free backlights.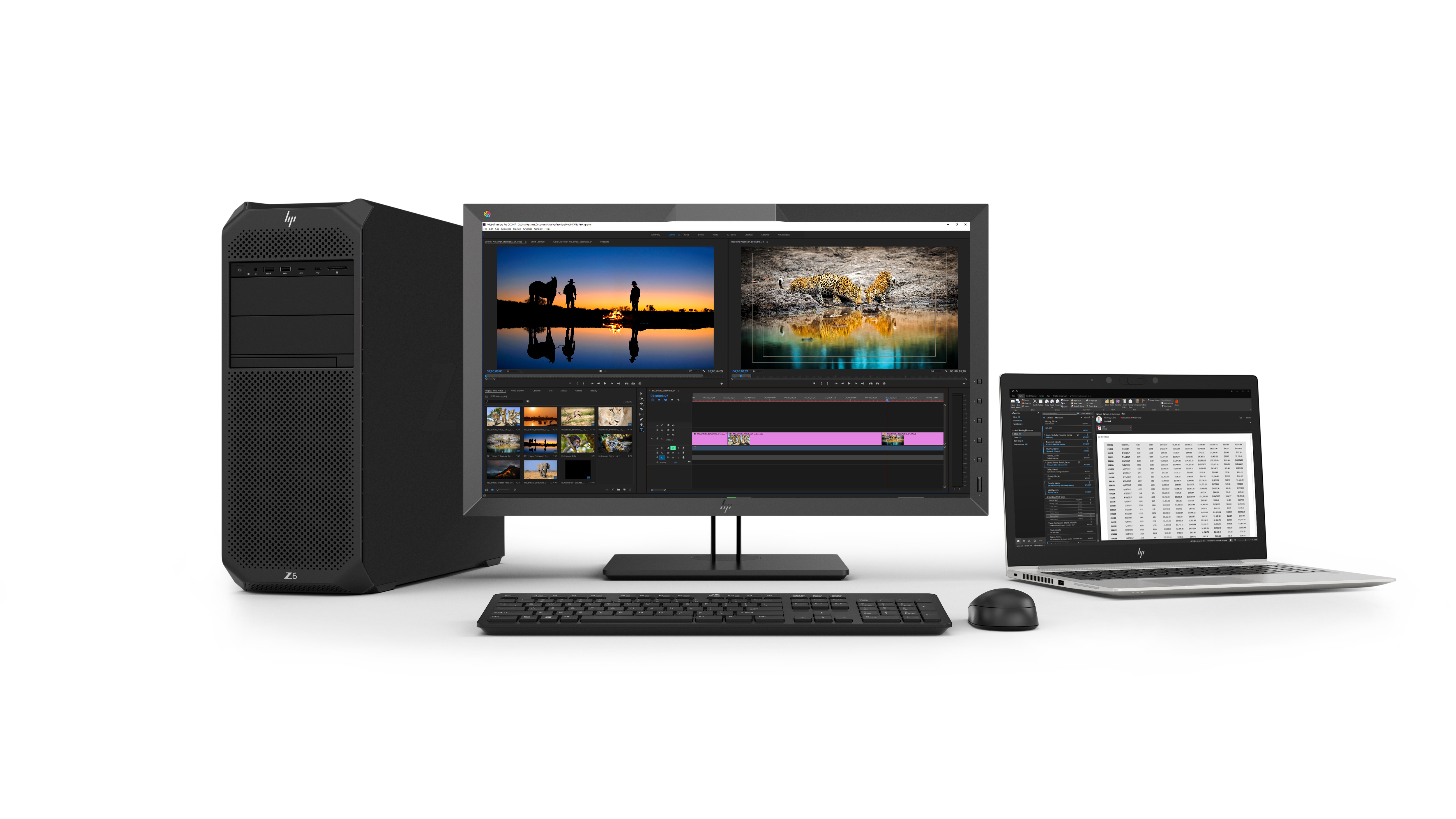 A factory calibration report is included in the box, along with important accessories like a DisplayPort cable, HDMI cable, USB-C to USB-C cable, USB-C to USB-A cable and CD documentation kit. On the back of the display is 100mm mounting bracket, so it can be install on a VESA mount.
Conclusion 
HP has engineered an advanced color tool in the DreamColor Z27x G2 Studio Display that offers innovations not seen before on a DreamColor display, such as an integrated colorimeter, a keyboard-switchable KVM and the ability to customize the display through StudioCal XML.
Whether one is an animator, visual effects artist, photo-retoucher, illustrator or video editor seeking a monitor for accurate color reference, the Z27x G2 DreamColor display is a great choice. What's even better is its affordable price of $2,000.