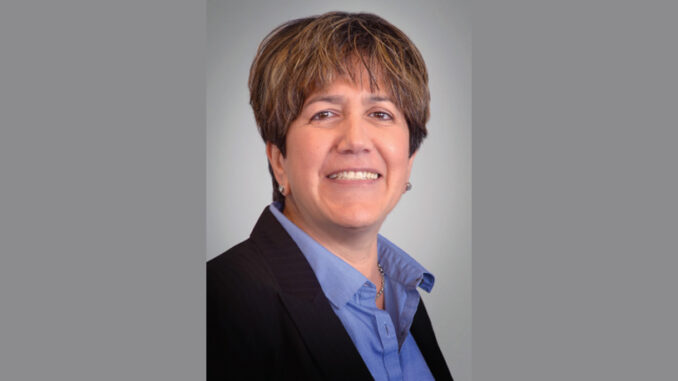 By Cathy Repola
There are two epidemics today. One is COVID-19, and the need it has created to help our members to ultimately overcome it and return to work safely. The other is systemic racism and discrimination. These two things are at the top of my priority list, and they are what I have been dedicating most of my time most recently.
By the time you read this, we will hopefully have concluded negotiations with AMPTP on standardized safety protocols for resuming work in the entertainment industry. In fact, by the time you're reading this, hopefully much of that work has started to resume. I have realized something with crystal clarity during this crisis: Our work isn't just essential, sometimes it is what makes life fulfilling. For many, it defines who we are. That means that the disruption caused by the pandemic isn't just an economic crisis, but a personal one. To be without work, for many people, has caused a re-evaluation of who we are as non-workers and who we can be outside of the work we perform to provide a living for ourselves.
The entire staff has continued to work remotely from our homes, in order to continue our efforts to make belonging to a union a part of what gives more meaning to your work and also to your lives. The union staff sincerely care about you, the members. I am proud of their commitments and what they contribute every day to one of my primary goals – for the "union" to provide a stronger sense of meaning to you. We will continue all of the efforts to do more, be more, do better. When you joined the union, you entered into a partnership and as in any partnership, it takes both parties to create a successful relationship. I invite you to join us in that partnership. I am always willing to listen to what you feel we can do to continue to evolve as a successful union and I welcome the opportunity to engage with members. We are in this together. I extend myself to you and ask for you all to extend yourselves to me and the rest of the staff who are truly dedicated to assisting you, listening to you, being advocates for you and making a difference in your lives.
Now, I have always been a big proponent of admitting what I don't know. I can say that I know what it feels like to be discriminated against and judged as a woman, because I am one. I can say that I know what it feels like to be discriminated against and judged as a lesbian, because I am one. I can say that I know what it's like to feel discriminated against and to feel the pain of hearing anti-Mexican rhetoric, as I am half Mexican. But I can say that I don't know what it is like to be an African-American person. While I am sure there are some similarities, I am certainly aware that there are vast differences as well. So where I can empathize with any group of people who have been ridiculed, thought less of, judged, held back and held down, I do not personally know the fear of feeling physically threatened, fearing that every time I go out of my house, I or a member of my family may be confronted with despicable and blatant discrimination and the threat of physical violence, to be afraid to be confronted by a police officer. I do not know, at the core of who I am, what it is to be Black.
So this is an ongoing process of education for me as a Guild leader. I will continue with my efforts to be a part of the events and dialogues in all areas of our membership.
I don't think anyone who is not Black can fully understand the experience of being Black in America. To that end, as the National Executive Director of the Editors Guild, I feel it is my duty to educate myself, to become as informed as possible, to listen, to have and to initiate conversations that may be uncomfortable to some, to recognize and to embrace what we as a union can do to uplift our Black members, to be an advocate on their behalf, to be an important part of real solutions. I vow to utilize my role to explore ways to do so as a union and to be a leader in this transformation that is long overdue. There are many conversations going on among our Board of Directors, our Committees (not just the Diversity Committee), interested members, affected members and allies, in addition to people outside of our union expressing interest in wanting to make a difference. There is much work to be done and again, by the time you read this, you will have seen more put in place. But I do believe the foundation has been laid, and we can no longer ignore or look the other way at what is an obvious systemic racism problem, not just in the world and in this country but also within the entertainment industry and more specifically within the community of members we represent. The time for change has come, it is upon us, and we must not lose the opportunity of this moment.
Cathy Repola is National Executive Director of Motion Picture Editors Guild.