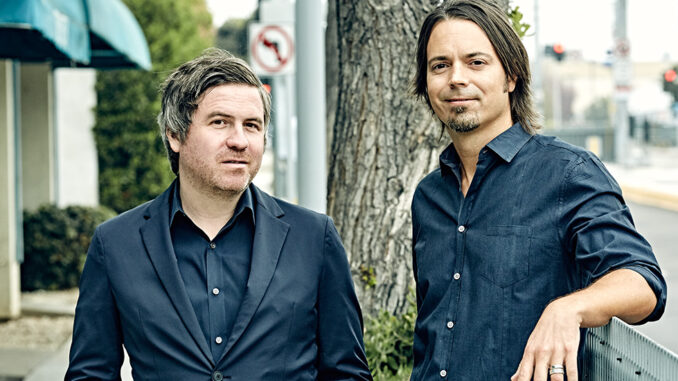 by Mel Lambert • portraits by Christopher Fragapane
While music editorial normally is one of the last chores to be completed prior to the mix — preferably against a locked picture — the creative choices start early in the process. An orchestral score or prominent source music can propel a dramatic narrative as strongly as the dialogue. For two recent productions, talented music editors ensured that the director's and showrunner's dramatic intents were fully realized through a carefully crafted and edited music soundtrack. Focusing on the important role played by music editors during film and online series post-production, CineMontage reached out to music editor David Klotz, who worked on the recent Netflix series Stranger Things, and Jason Ruder, lead music editor for La La Land, which opens in theatres in limited release through Lionsgate December 9, and goes wide a week later.
LA LA LAND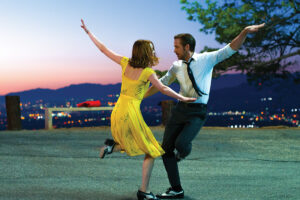 Writer/director Damien Chazelle's musical La La Land, which was completed mid-summer, stars Emma Stone as Mia, an aspiring actress who serves lattes to movie stars between auditions, and Ryan Gosling as Sebastian, a jazz musician who survives playing cocktail party gigs. With an intricate score by composer Justin Hurwitz — who also worked with Chazelle on his Oscar-winning Whiplash (2014) — La La Land chronicles the myriad decisions that begin to fray the fragile fabric of the couple's love affair, causing their dreams to stumble and fall.
Ruder, based at 2Pop Music on the Warner Bros. lot in Burbank, recalls early meetings with the film's executive music producer Marius De Vries and the composer when he served as music editor on the film from the start of post-production through the end of the final mix. "It was a complex project, with a combination of orchestral music by the composer together with several original songs featuring Justin Hurwitz's music, with lyrics by Benj Pasek and Justin Paul," Ruder says. "Because I came on during post, Nick Baxter served as recording engineer for the song pre-records, and also recorded Justin's dazzling score." Baxter also coordinated playback on set and oversaw live vocal and music recording with production sound mixer Steven Morrow, CAS.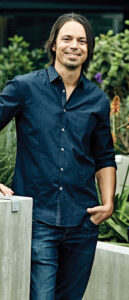 "Justin Hurwitz was an intricate part of the process from start to finish," Ruder stresses. "He and Damien had such amazing history from Whiplash, and knew each other's sensibilities so well; Justin was always on set with a keyboard.
"La La Land was unique in the sense that the music comprised a few large numbers and many intimate duets between Emma and Ryan," the music editor continues. "For the smaller scenes with just the two of them, we had pre-records. But because Damien was after an 'organic' sound — not unlike Les Misérables — oftentimes these [elements] were not even used, and we opted instead for live takes."
To capture that elusive "musical magic," several live vocal elements were captured on the set. "Actors wore earwigs [to hear Hurwitz playing piano on the set] and there were multiple mics, both lavaliers and booms," Ruder recalls. "But mostly, the booms were used. For post, I was constantly trying to patch the pre-recorded material for elements that needed to be replaced. In comparison to the raw and 'human' sound that Damien loved in the on-set vocals, the pre-recorded music soundtrack was slightly over-produced. For a better match, many of our vocal replacements ultimately were picked up on an ADR stage." Ruder also handled pre-records on several previous movies, including Dreamgirls (2006) and Straight Outta Compton (2015).
"The movie was so beautifully filmed, but there were many long shots that were single takes with little intercutting," he explains. "The result is simply gorgeous and unique these days, but it did make sync a challenge. I did not have the luxury of rolling many shots, or looking for alternative takes with the picture department. We had to make sync work with the vocals — and especially the piano that was prominent in the audio tracks. Ryan and Emma were very well-rehearsed, which helped a lot, but there is always sync work needed during music post-production."
Given that the movie is such a fantasy, Ruder acknowledges, "We did quite a bit of exploration regarding how the vocals could be treated going in and out of musical numbers. We would always examine when fantasy kicked in while transitioning from a scene with production dialogue into a musical number. Thankfully, we had re-recording mixer Andy Nelson in the dub [handling dialogue and music]; he's great at achieving that type of seamless blending."
According to Baxter, the vocals and guide music tracks were pre-recorded at Conway Recording, Igloo Studios in Burbank, and at producer De Vries' project facility, with subsequent orchestral recordings following at Sony Pictures Studios' Barbra Streisand Scoring Stage in Culver City. "We also tracked Ryan and Emma's vocals live on-set for the songs 'City of Stars' and 'Audition (The Fools Who Dream),'" he says. "To help any blending that would be necessary between the pre-records and these live tracks, we had the same boom mic for all vocal recording and ADR: a Sennheiser MKH-50." Baxter also served as scoring mixer and recordist on the film.
For music editorial, Ruder received a number of 24-bit/48 kHz stems as Avid Pro Tools sessions from the pre-records, including a cocktail lounge band used for a couple of production songs, together with the musical score. "These stems were pretty wide," he says. "I received between 10 and a dozen 5.1-channel stems, although on some songs I received stems with separate vocals and vocal effects, plus separate ambiences. The big band numbers comprised drums, bass, piano, horns and backgrounds, plus ambient sources; we also had a small jazz trio. The orchestral cues were relatively simple — maybe up to 30 to 40 discrete tracks. Everything was recorded in the same room at Sony, including spot mics on the vibes, piano and drums, plus overheads, which helped to maintain a cohesive sound perspective."
All music tracks were in perfect sync, which made Ruder's job a lot easier in post. "But with picture edits being made down to the final mix, I needed to tidy up the tracks to make them sound as seamless as we needed, and ensure transitions worked between the pre-records and the live vocals," he adds. "We re-recorded to 5.1-channel and, for the Dolby Atmos pass, pulled out elements for objects that would work in the surrounds and overhead ceiling speakers. We had extra mics put out on the Streisand Scoring Stage for those sources."
The music editor considers his most difficult task on La La Land to be maintaining tight sync between sound and picture during the long song takes. "I spent a lot of time manipulating those tracks with quarter-frame accuracy, which can drive you crazy!" he concedes. "I also needed to accommodate Justin Hurwitz's vision of how music works within Damien's narrative arcs to create a convincing sonic environment."
STRANGER THINGS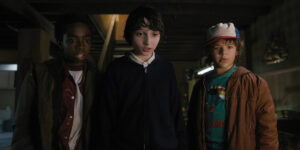 The recent Netflix series Stranger Things from co-creators Matt and Ross Duffer, which dropped in mid-July, follows the intricate story of a young boy who has disappeared while his mother, a police chief and the child's friends face terrifying forces when they try to get him back. The eight-part sci-fi/horror miniseries, which stars Matthew Modine, Winona Ryder and David Harbour, and is scheduled to return early next year for a second season, features an eclectic score by Austin-based Kyle Dixon and Michael Stein.
"I had an initial Skype call with Kyle and Michael in November 2015, right after I had been hired," remembers series music editor Klotz. "This was their first gig scoring a TV show and we had a discussion about how the process works — specifically what I would need from them for the final dub. During the call, I learned how they were working in their studio, using exclusively all-vintage analog synthesizers from the early 1980s. This was real hardware and not instrument plug-ins. And they were recording their cues into Apple Logic, while composing to digital picture, also being replayed from Logic. So I needed to develop a workflow to import their timecode-based cues into Pro Tools for my music editorial."
Some of the composers' vintage synthesizers from the late '70s and early '80s lacked patch memories. "They mentioned that there was a possibility they might record something," Klotz continues, "and then never be able to re-create that exact same sound again if they had to go back to redo a cue or address a note. And sometimes Kyle and Michael would find cool sounds by accident on their synths. That's when I thought this was going to be a fun and challenging project!"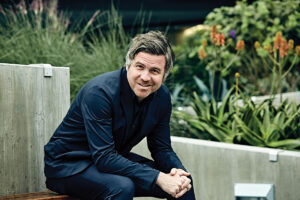 For the first few months of production, the composers worked directly with the Duffer brothers. "They were writing ideas while the show was being filmed and sending MP3 files of their sketches," Klotz says. "By the time I started on the show in early 2016, the composers had amassed a library of music that the Duffers and picture editors began to use as they assembled the shows." The music editor came to the project through a previous connection with associate producer Rand Geiger, with whom he had worked on FX Network's The People v. O.J. Simpson: American Crime Story. He also works as music editor on HBO's Game of Thrones and FX's American Horror Story.
"By the time we spotted our first episode, we had a lot of music that was working, and identified the spots where we needed to have some new material," Klotz explains. "I created my spotting notes online so that Kyle and Michael could also access them. We would leave annotations for one another, and hence keep track of what had been written and what had been delivered. This is where we also noted that some cues could be re-used again in other episodes. For instance, when Hopper [Harbour] races to a quarry to find the body at the end of Episode 103, I took those stems and re-cut them for the scene where Hopper discovers the Nether in Episode 105."
Because the two composers were working in Logic and Klotz worked in Pro Tools, the music editor sent them AAF files of his music edits. "They could then import those AAF files into Logic, add additional elements and re-export all-new WAV-format file stems again," Klotz explains. "But cues for Stranger Things were sparse; some of them consisted of maybe one or two elements. There might be an arpeggiated melody and a pulse for one cue, and maybe just a simple pad for another. Between eight and 10 stereo tracks is the widest we ever got with stems."
When the post-production team reached the mix stage for a particular episode, the latest turnover from picture editorial became the guide. "The AAF from editorial had the composer's MP3 files temped throughout," Klotz says. "So when I got the final 24-bit/48 kHz stems from Kyle and Michael, I re-cut them to match the edits in the MP3 files used for the temp. Of course, because those edits in the temp were pretty rough, there was a lot of work to make the cues work the way in which the directors wanted, and yet still sound musical and in time, etc.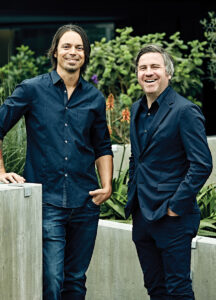 "For the first four episodes, I had the luxury of time to work on the music tracks," he continues. "But for the final four, I had to finish editing the final elements the night before the dub!" Klotz then prepared his final sessions in Pro Tools and delivered them to the stage at Technicolor at Paramount, where re-recording mixer Joe Barnett imported the music session into his master dialogue/music session.
To add ambience effects on source music elements, the music editor used Universal Audio's DreamVerb Room Modeler plug-in. "I also needed to remove some noise from the vintage-synth stacks, using the iZotope RX-5 plug-in for Pro Tools."
During the 5.1-channel dub for most episodes, music editorial had to conform its master Pro Tools session as visual effects updates were arriving. "Also, the Duffers would have a lot of minor tweaking — starting music cues a little later or a little earlier, for example, or maybe having a certain element in a cue land on a specific picture cut," Klotz explains. "It was helpful having multi-channel stems available to make these kinds of precise, last-minute adjustments! My biggest challenge was matching the cues that came back as finals with the MP3 sketches that often sounded different."
He also relates how he had to extend a cue used at the end of Episode 103, when the executive producer wanted to use Peter Gabriel's cover of the David Bowie song "Heroes." Klotz says, "He wanted it to be an instrumental under the dialogue, whereas on the song we only had about 10 seconds of such material," Klotz relates. "I took that section and another 10 seconds from the end of the song, and created loops to generate a much longer instrumental section. It took a lot of work, using between two and three different parts, but it sounded great!"