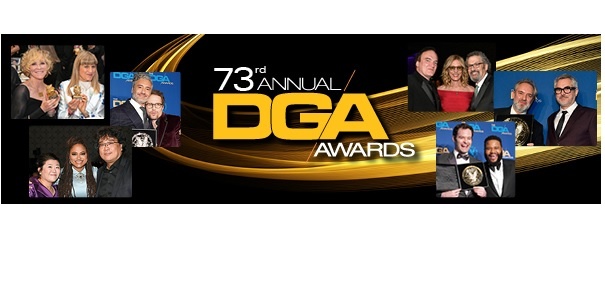 Reprinted from Deadline Hollywood by Anthony D'Alessandro and Denise Petski on April 11, 2021.
History has been made at the 73rd annual DGA Awards. Nomadland director Chloé Zhao has won the marquee prize for Nomadland, marking the second time the DGA has given the guild's top prize to a female director after Kathryn Bigelow for 2008's The Hurt Locker.
Zhao, along with fellow DGA nominees David Fincher for Mank, Lee Isaac Chung for Minari and Emerald Fennell for Promising Young Woman, also is nominated in the Best Directing Oscar category.
Zhao used her acceptance speech to thank and honor the work of each of her fellow nominees, beginning with Fennell. "Emerald, you are so brilliant, so daring, and in such control of your craft with a unique voice, I can't wait to see what thought-provoking journey you're going to take us on next. Lee, your film touched me on such a personal level. You're able to show us so much beauty and love in such an honest and authentic way, I think it's incredible what you've done. Aaron, you're a poet, I can feel my heart beating with yours when watching your film, it's such a passionate and exhilarating ride, I don't want to ever get off. David, your film is a masterclass. All your films are. You're not only a master of the craft, you also have created some of the most nuanced and humanistic performances I've ever seen. Your conviction is so inspiring and there's no one like you." …
Paris Barclay Delivers Moving Speech After Receiving DGA Honorary Life Member Award; Encourages Sons to Be 'Men of Purpose'
Reprinted from Deadline Hollywood by Anthony D'Alessandro on April 10, 2021.
During this past year of virtual awards ceremonies, it's not often that we've had a poignant moment to truly pause, reflect and be moved.
That emotional moment came tonight during the DGA's streamed 73rd ceremony when industry icon Paris Barclay was bestowed with the guild's Honorary Life Member Award by Ava DuVernay.
The DGA- and Oscar-nominated DuVernay called the former DGA President of 2014-2017 "one who stood alone as the first in multiple categories again and again, and used that position not to celebrate himself, but to pry open doors for the second, the third and the hundreds of us who followed him: The Black directors, the LBTQ directors, the directors who've been seen as others; pushed and left at the margins, the edges. Paris stands in the center and welcomes us all." …