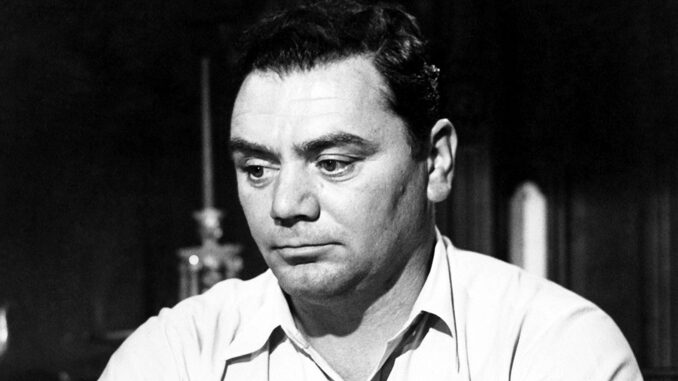 by Kevin Lewis
Because the shortsighted Hollywood film industry did not want anything to do with the new invention called television in the mid-1940s, the radio industry took over the burgeoning medium. New York became the dominant center for the first decade of TV, as the radio studios were located in Manhattan. The television industry made rapid artistic strides because the generation of directors, actors and playwrights who advanced the medium was already based in New York, working in the adjacent Broadway theatre industry.
The so-called Golden Age of Television is most associated with live TV dramas, preserved on kinescopes. Live television was the logical production choice, as film would have required a lengthy production schedule. Videotape, which enabled programs to be used for future broadcasts, was not developed until the mid-1950s.
Beginning around 1948, the generation of directors who would revitalize Hollywood in the 1960s (Sidney Lumet, Franklin Schaffner, Arthur Penn, John Frankenheimer, etc.) were recruited by television from theatre and radio. Many of them were World War II veterans who learned their technical skills in the military rather than the film industry. The original drama shows they directed were for such weekly anthology series as Studio One, Philco-Goodyear Television Playhouse, You Are There and Playhouse 90. These dramas were written by Depression- and war- weaned playwrights who would shake up the film industry — such as Reginald Rose, Rod Serling, Stirling Silliphant, Horton Foote and Paddy Chayefsky. Major film stars like Charlton Heston, Paul Newman and Jack Lemmon achieved their first fame on live television.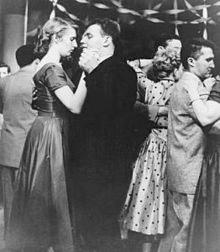 Chayefsky created a national sensation on May 24, 1953 with a live broadcast of his original teleplay Marty on NBC's Philco- Goodyear Television Playhouse, directed by Delbert Mann and starring an unknown actor named Rod Steiger. The show also featured Nancy Marchand as Clara, in a breakthrough role that led to her long television career. NBC was deluged with calls and letters from viewers who responded to a non- Hollywood fantasy love story, which mirrored their own frustration with their compromised dreams.
Marty is a lonely, middle-aged Bronx butcher who lives with his aged Italian immigrant mother and longs for a wife and children, like his cousin has. Week after week, he goes with his friend Angie to the dance hall in the East Bronx, only to be rejected by any woman he approaches because he is portly and unattractive. He meets an unattractive girl, Clara, because he takes pity on her when her blind date offers him five dollars to take her off his hands. He enjoys talking with her and they draw closer because of their shared history of pain and rejection. But he devalues her and almost loses her because his friends call her a dog and his mother and cousin castigate her because if Marty marries her, he will not take care of his widowed mother and aunt.
Harold Hecht and Burt Lancaster, who had founded their own independent film production company, Hecht-Lancaster (later Hecht-Hill-Lancaster when James Hill became a partner), decided to make a feature film of the teleplay. Hecht and Chayefsky knew each other and were born in the same section of the Bronx. Lancaster was from East Harlem. Though none of them were Italian, they loved this story of a tight-knit Italian community (which still exists in the East 180s). This marked the first time a television show became a feature film, and it changed Hollywood filmmaking. In the next few years, such teleplays as Twelve Angry Men (1954, film 1957), Patterns (1955, film 1956), Days of Wine and Roses (1958, film 1962), Requiem for a Heavyweight (1957, film 1961) and The Miracle Worker (1957, film 1962), among others, became the most acclaimed movies of their era.
Though widescreen was the normal ratio in 1954, Lancaster shot the film on location in the Bronx in 1:37 ratio and in black-and-white. Chayefsky and Mann were retained as screenwriter and director and had a unique non-Hollywood contract for the time. Chayefsky had total control of the script, which was expanded from the hour-long format to a 94-minute film, and Mann, who had never directed a feature film, could veto extra footage. United Artists agreed to finance the film for Hecht-Lancaster, which had a final production cost of $340,000, because the initial HL productions Apache (1954) and Vera Cruz (1954) had been hits for UA.
NBC was deluged with calls and letters from viewers who responded to a non- Hollywood fantasy love story, which mirrored their own frustration with their compromised dreams.
Three supporting actors were retained from the television production. Lancaster cast Ernest Borgnine as Marty because he had worked with him in From Here to Eternity (1953) and Vera Cruz (1954), and admired his acting. Betsy Blair was cast as Clara. The producers wanted to distance themselves from the original casting to create a new work in the public mind. In the process, they made a lighter film. Steiger exploded off the small screen with pent-up anger, while Borgnine, who is probably closer to the ethnically Italian character than Steiger, is more benign. Marchand was truly tragic instead of the plain and gentle Blair, who was Chayefsky and Lancaster's choice.
That choice, however, presented problems. Though she was married to one of Hollywood's top stars (Gene Kelly), Blair was gray-listed in the industry because of her left-wing views. Kelly went to Dore Schary, head of production at his studio, MGM, who achieved hiring clearance from the House Un-American Activities Committee (HUAC) flacks. Hecht himself was an informer, naming names for HUAC. Lancaster was under investigation, though never called by HUAC, and was denied a passport to travel abroad by the State Department until mid-1955.
Lancaster was always a rebel against the Hollywood rules, and never bought into his sex symbol role. He appeared in the trailer for Marty, telling audiences that he grew up near the Bronx neighborhood and understood these people, and that viewers would agree the film was the most unusual, true love story they would ever see. He called in his favors, and Walter Winchell extolled it in his column, saying that the film would be a great sleeper. Though it opened in a small theatre in Manhattan in April 1955, audiences flocked to it. Eventually, the film grossed over $3 million, making it one of the more profitable movies — with a 10-fold return.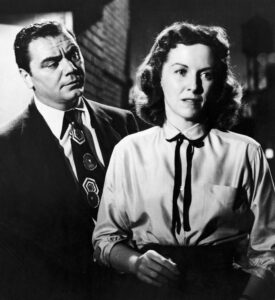 The film won the Palme d'Or at the Cannes Film Festival that May, the first year the festival's top honor was so named. Borgnine shared the Best Actor Award with Spencer Tracy (Bad Day at Black Rock) and Blair won Best Actress. In February 1956, it won four Oscars out of seven nominations: Best Picture, Best Director, Best Actor and Best Screenplay. Blair was nominated as Best Supporting Actress. Marty was not nominated for the film editing of Alan Crosland, Jr. Crosland, who was the son of the director of The Jazz Singer (1927), had been an editor at Warner Bros. for almost a decade before he became editorial supervisor at Hecht-Lancaster in 1954. After editing Sweet Smell of Success (1957) for HL, he became a television series director (The Twilight Zone).
Marty marks one of the first times that a music editor was credited (Robert Carlisle), along with sound recording editors (Roger Heman and John Kean). The Oscar- nominated cinematography of Joseph LaShelle of the streets and stores of the old Gun Hill Road is irreplaceable historical footage now.
The television Marty of course has no film editing but it reflects what TV technical directors and camera operators learned from Hollywood film editors. The camera moves are so choreographed from room to room in seamless fashion that the transitions resemble editing.
The Steiger version is available on DVD from the Criterion Collection. The Borgnine version is available on MGM DVD in a roughly 90-minute version. The CBS/Fox VHS copy is 94 minutes long with a scene between Clara and her parents after her date that is not included on the DVD version.
Marty may resemble an Italian film by Vittorio de Sica or Ermanno Olmi, but it is really a New York movie; made by New Yorkers about New Yorkers — with exposed nerves. Its classic line, "What do you want to do tonight, Marty?" "I don't know, what do you want to do tonight, Angie?" was invoked a few years ago by Representative Barney Frank (D-Massachusetts) in a Congressional session to describe his stalemating colleagues: "We're like a bunch of Martys, wondering what to do." The difference is that Marty knew when to make a decision.