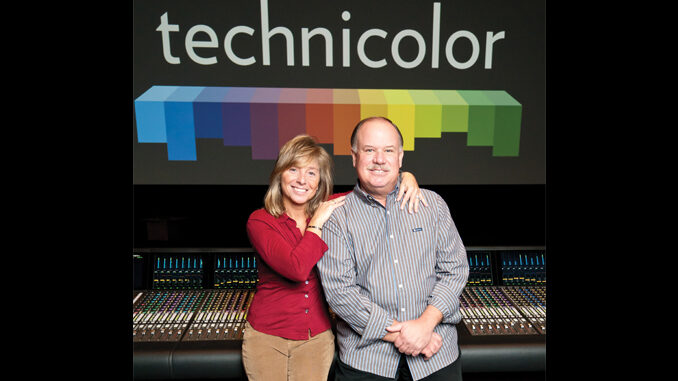 by Mel Lambert
Representing one of the most exciting new sound post-production facilities to be built in Tinsel Town in several decades, the Technicolor at Paramount complex on Melrose Avenue in Hollywood comprises eight re-recording theatres, three ADR stages, a large Foley stage, eight sound design suites, 16 editorial suites, six DVD/ Digital New Media editing/encoding rooms and a pair of 7.1-channel HD video layback/ Transfer/QC rooms.
The new ground-up facility occupies almost 65,000 square feet in Paramount's Post-Production building, the remainder of the third floor being taken up by offices and picture editorial suites. Overall architectural and interior design for the new complex, which occupies the original footprint of Paramount's landmark Crosby Building and Stage 10, was by George Newburn and Jackie McNaney from Studio 440 Architecture and Acoustics, with David Schwind and Cristina Miyar from Charles M. Salter Associates serving as acoustic consultants for the various spaces.
The project is being completed in two key phases. Phase 1, which came on line late last year, comprises the first pair of large re- recording theatres: Stage 1, helmed by Scott Millan, CAS, and Greg Russell, CAS, and the identical Stage 2, a new home for Terry Porter and Anna Behlmer. Thereisalsoa quartet of medium-sized stages designated 5 through 8, the re-recording crews for which relocated from Technicolor's former stages on the nearby Sunset Gower Lot.
Stage 5, helmed by Andre Perreault and Ken Burton, handles re-recording for a variety of TV programs, including Criminal Minds, Vampire Diaries and Army Wives, in addition to independent movies such as Vipaka from director Philippe Caland. Stage 6, home for Joe Earle and Doug Andham, handles re-recording for Glee, Castle and American Horror Story, while Stage 7, with Peter Elia and Kevin Roache, serves Revenge, Eastbound and Down and HBO's True Blood and Showtime's Dexter. Stage 8, home for Michael Colomby and Adam Sawelson, handles re-recording for The Secret Circle and Rizzoli & Isles, as well as Hung for HBO.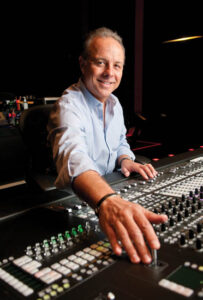 In addition, ADR1 Stage is helmed by mixer Judah Getz, while the refurbished Foley Stage in an adjacent building boasts the creative talent of mixer Scott Curtis, working with staff Foley artists Dawn Fintor and Alicia Stevenson. Stage 1's Millan also serves as Technicolor at Paramount's sound director for feature films.
Phase 2, scheduled for completion by mid-year, will comprise the remaining pair of mid-sized theatrical theatres (Stages 3 and 4), an ADR2 Stage, identical to ADR1, and a large ADR3 Stage designed to accommodate larger ensembles during animation projects. There will also be various sound design and editorial suites, DVD and QC rooms.
"Technicolor at Paramount comprises a high-density, one-stop sound facility," says Curt Behlmer, Technicolor's COO of Digital Cinema, who oversaw design and outfitting of the new complex. "Film and broadcast post-production is a highly collaborative process; the seamless integration of System 5 digital consoles with EuCon, Pro Tools workstations and Nitris DX for HD video playback offers us a cost-effective workflow with a focus on end-to-end flexibility."
According to Tony Mazzei, who heads up Technicolor's West Coast post-production sound services, design of the new facility stresses consistency of performance. "All re-recording theatres are designed to be fully interchangeable, in terms of acoustic signature and technical resources," he says. "We often need to start pre-dubs on one stage, for example, and then transfer to another. Or we might be mixing a theatrical release simultaneously in two or more theatres. That sonic consistency for our re-recording mixers and editors is essential."
Mazzei stresses four important elements that set the new Technicolor facility apart from its competition: "First, our talent is second to none — not only the re-recording engineers and editors who work with our film and broadcast clients, but also the engineering crew, headed up by Michael Novitch, chief engineer of Technicolor Sound Services, assisted by Tom Virostek, Rodrigo Ortiz, Evan Rautiainen, Dean Alling and David Green. Secondly, we stress excellence in terms of the caliber of our creative talent, technical resources, engineering staff, fully integrated workflow and interior design. Thirdly, our creativity results from a unique combination of front-line talent and time-efficient work processes to fully optimize our flexible spaces. And finally, hospitality, in terms of client resources and a relaxed, friendly environment within the multi- room complex. By coincidence, that spells out TECH [talent, excellence, creativity, hospitality], which we consider to be at the heart of a successful post-production facility."
The new multi-room complex has been constructed to be a 21st-century, state-of-the-art, filmmaker-friendly sound post-production facility, outfitted with the best technology and staffed by a truly creative group of mixers, according to Millan. "Technicolor's major financial investment says a lot about the value of this creative process to the filmmaking community," he says. "I can now give my clients the best possible creative experience, and the optimum opportunity to develop their vision of the film's soundtrack."
"This truly is a beautiful facility," adds Behlmer. "Our room is extremely flexible, with great technology. I had not worked before on a System 5 console — I'm more familiar with the Neve DFC platform — but it took just a couple of days to get up to speed on my sound effects section. For today's complex multi-channel film mixes, we need that extra speed and agility; we have more to do in less time. I have known Terry Porter for many years, but have not worked with him before. It's going to be a great adventure!"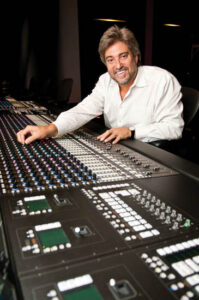 After 23 years working in Walt Disney Studios' main theatre and two years freelancing, Porter is looking forward to a new challenge. "Stage 2 is a wonderful environment," he acknowledges. "The new Technicolor one-stop complex will offer filmmakers a lot of bang for the buck; we can go into any stage and the sound and technology is there. I like the Toy Boxes [DSP processing engines] loaded with Pro Tools plug-ins, and the interconnectivity [via high-speed data networks] to anywhere in the world. I'm looking forward to working with Anna and to having the unique opportunity to work in a brand- new facility that has been done absolutely right."
As Stage 5's Perreault offers: "What makes the new Technicolor at Paramount venture special is that we have a group of 50 to 60 highly skilled artists and engineers in a purpose-built, state-of-the-art complex run by an open door-style management. There is no place in the world any of us would rather be right now; in fact, most of us come to work — even when we're not scheduled — to hone our templates, try new plug-ins, review yesterday's work or set up for tomorrow's session. Or simply to sit down with a cappuccino at the console and say out loud, 'Boy, aren't we the lucky ones!' Acoustic signatures and picture brightness in each room are as close to identical as was ever achieved; the rooms translate extremely well from stage to stage."
"The Toy Boxes are particularly useful for storing favorite plug-ins settings between sessions," adds Stage 6's Andham. "For example, I can store and instantly recall favorite reverb and processing settings, which ensures consistency between shows." His partner Earle also makes extensive use of the System 5's built-in dynamics and EQ. "Our technical department did a great job of setting up this room for us," says Earle. "We were mixing from Day 1."
"For us, Stage 7 is very flexible," explains Elia. "We can create workflows that are appropriate to our style of mixing. Kevin Roache and I like a traditional, film- style of working, which is a breeze on the System 5 console. Rather than print master from Pro Tools automation, we prefer to punch-in [on multi-channel stems] as we mix, and then make a final print-master pass after we secure final approval." Roche adds, "The System 5's automation with EuCon control of Pro Tools means that we can recall favorite snapshot console settings and set up the room in about 30 minutes prior to downbeat. That saves us a lot of time!"
"Because I worked at Sunset Gower on an Avid ICON console, I love the ability to control all of Pro Tool's plug-ins from the surface," says Stage 8's Sawelson. "The System 5 with EuCon takes that connectivity to the next logical step. We really put the room to the test during a recent mix session for The Secret Circle when I had 130 channels of music assigned and panned to three eight-track Pro Tools sessions. Using the console's VCA-style masters, I could ride stem levels from just one fader, and quickly mute tracks as necessary." Colomby, his mixing partner, explains, "For TNT's Rizzoli & Isles, we also need the flexibility and connectivity that the System 5 offers. The full integration of Pro Tools is a definite plus for complicated mixes, where speed is essential. And the System 5 is a great sounding console."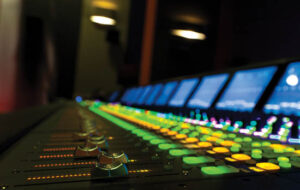 Getz relates that ADR1 is definitely one of the best sounding rooms in which he's had the pleasure to work in. "For solo and group ADR sessions, I need to be able to work quickly and consistently," he says. "The room's interconnected systems make that easy to achieve. I use an MS mic set up so that I can spread or narrow the result as necessary, and the talent never goes off mic. I use the D-Command's phase inversion and aux busses to recover my left and right channels, plus mono, from the MS. And I don't have the phase problems you often encounter with X/Y techniques."
Foley mixer Curtis has worked recently on a number of landmark productions, including Contagion and Magic Mike for director Steven Soderbergh. "When the stage was refurbished last year, Technicolor went back to the same company that had made the original acoustic treatment so that we could maintain the same ambience that our clients liked about this space," he says. The acoustics after the upgrade were identical, confirms Foley artist Fintor. "We have a great collection of props and surfaces here that offer a limitless number of creative options," Fintor explains. "The new facility is fully interconnected," adds Foley artist Stevenson. "We have a perfect combination of talent and technology, with full support from the re-recording mixers and sound editors." Both Fintor and Stevenson joined the new facility after 14 years at Fox.
"Paramount Studios has never had a complete post-production facility," Stage 1's Russell concludes. "It was exciting to talk with [Paramount Film Group president] Adam Goodman two and a half years ago regarding the possibility that they might open a full-scale post facility. At the time, he asked me: 'If we build it, will you come?' — right out of Field of Dreams! I replied, 'If it's done right, I would absolutely consider it.' With Avid System 5, Pro Tools and a fully integrated digital workflow, it was certainly done right; Technicolor has built a world-class post facility."