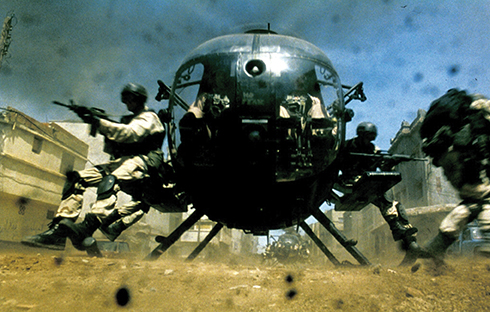 Saluting 'Black Hawk Down'
I just wanted to say how great it was reading the latest article in the "This Month in Film History" series focusing on Ridley Scott's war epic Black Hawk Down [CineMontage NOV-DEC 12]. For me, seeing the movie wasn't just a routine visit to theatre — it was an event. Your article stirred up the unforgettable experiences surrounding the first time I saw the film that arguably changed my life.
I was in high school when the film started its Oscar-qualifying run in New York and Los Angeles on December 28, 2001. I probably didn't know at the time what a "limited release" was, but I did know one thing for sure: I couldn't wait 21 days for the film to open in my home state of Connecticut. So on December 29 (I still have the ticket-stub!), I took the train into New York City with my father, uncle and cousin with one specific purpose: See this movie.
I still remember the first time I saw the shot of four MH-5 "Little Birds" in the helicopter-insertion sequence all hovering off the ground and turning in unison. This was the exact moment when I realized how much time and effort went into the filmmaking process. I imagined all the crewmembers it took to communicate over headsets and walkie-talkies to coordinate every precise movement. I loved seeing your article mention the picture and sound editors and the technical prowess they brought to the film.
I'm overjoyed that 11 years after the film's release — and nearly 20 after the real-life incident that it depicts — the Army personnel involved and the filmmakers who brought their story to the screen are still getting the recognition and attention they so richly deserve from industry members and dedicated cinephiles.
Michael Sohcot
Videotape Operator,
Los Angeles
I was "stoked" by the fascinating history of post-production sound on the West Coast ["Let There Be Sound," CineMontage NOV-DEC 12].
This issue of CineMontage has superb photos of the Guild's 75th Anniversary Gala, which I had unfortunately missed. Among the attendees was our good friend, the stalwart Bill Elias. On page 38 of the magazine, there is a smiling photo of Don Rogers of Sawyer Sound, whom I remember from the Quinn-Martin phase of my career while working for Don Hall.
Frank Howard
Sound Editor (retired), North Hollywood, CA