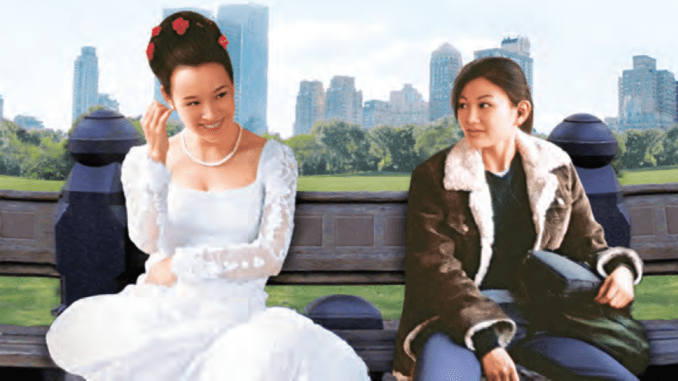 By Donna J. Choo
I grew up in Hawai'i, on the island of  O'ahu, where my moviegoing love began at Queen's Theater in Kaimuki, and the Waialae and Kailua Drive-ins. It was at Queen's, before it screened only X-rated films, where I longed to be Charlie in Willy Wonka's glass elevator. It was where I finally understood my sister's high school crush on Al Pacino while watching "Serpico," and where my brother and I began our lifelong obsession with "Singin' in the Rain." We dared to be dreamers then.
I came of age at drive-ins on a steady diet of Carnation's Malted Milk and Disney, then moved on to snack bar pizza, and Boone's Farm, when wine with screw tops were for underaged teens. I remember those wonky metal drive-in speakers that precariously tapped against the car window as the film echoed around you from the surrounding cars, together under the stars.
I also grew up knowing early on that I was different. I knew I was queer before there was a language for it, before pro-nouns, hashtags, rainbows, Pride parades, and same-sex marriage were even a thought, much less believed possible. So despite my love of cinema, like one of my favorite Gershwin tunes, what I saw onscreen meant love was for everyone else, "but not for me."
That is, until 2004, when Alice Wu made her directorial debut with the romantic comedy "Saving Face." It features two Asian American women falling in love with all its familial messiness — the pain, dysfunction, laughter, acceptance, and love. Brilliant, on-the-rise, young surgeon, Wilhelmina ('Wil') (played with goofy endearing diffidence by Michelle Krusiec) is closeted yet dutiful and committed to her feisty widowed mother, Hwei-Lan (a radiant Joan Chen). Just as Wil starts a promising romance with openly gay, sexy prima ballerina Vivian (played with subtle yet sultry charm by Lynn Chen), Wil's mother moves in with her. She's 48, single, and pregnant, and has disgraced her own parents. Wil must choose between her mother and her truth. Yet, both daughter and mother are surprised to realize how much they share in common.
Where I first saw "Saving Face," I can't remember at all. However, I'm certain it was opening weekend, because to this day I habitually and religiously support these little-engine-that-could films on crucial opening weekends because box office talks. Since then, I have watched it countless times, and am always reminded how far ahead of its time it was. Not only does it offer a romantic comedy with an Asian tomboy who gets the girl, it's positively feminist. There's a middle-aged woman as a "cougar" before the term ever entered our vernacular. Moreover, there's talk of menopause, and matter-of-fact mention of choice when it comes to unplanned pregnancy, which is now seen so differently since the overturning of Roe v. Wade.
For me, what also truly resonates is when Wil walks across a crowded dance floor, followed by the watchful eyes of family and friends, and asks Vivian simply, "Dance with me, please." As the two women awkwardly do so, most people keep dancing while some leave abruptly in protest. Then, in unison Wil and Vivian say, "Fuck 'em," and kiss. It's wonderful and revolutionary and gives the coming-out story — particularly in 2004 when it premiered — a rarely seen ending, one in favor of humor and hope.
Years ago, I became friends with a fellow MPEG member, film editor Ashley Monti. Born in Toronto and raised in Rome, she is the biggest fan of "Saving Face" I know. To this day, she regularly loans out her personal DVD, determined to hook new fans. She recently told me, "'Saving Face' helped me come out to myself."
Ashley and I couldn't have grown up more differently and yet, in this quirky romantic comedy we both see bits of ourselves. Isn't that what great films do? They are transcendent, and transport us, and represent ourselves in ways that truly matter.
Donna J. Choo is a story analyst and writer, Film Independent Fellow, and recent honoree at the Julia S. Gouw Short Film Fund.
Donna.J.Choo@gmail.com.