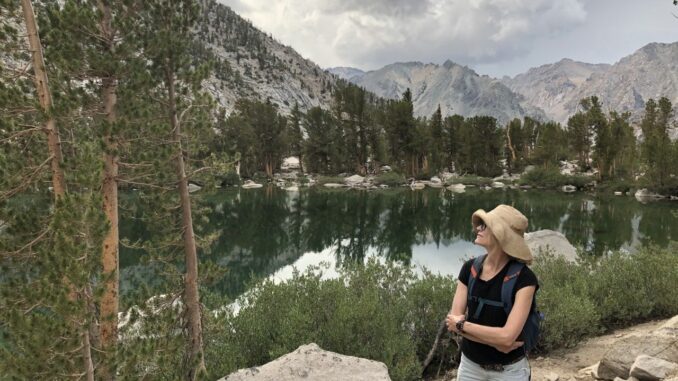 By Jane Loranger Bordal
I was one of those "well-rounded" kids with varied interests—a dabbler, whereas my older brother with a Super 8 camera knew he wanted to direct. Our parents drove him into the city to see "Taxi Driver," and got me the banjo I asked for after seeing "Deliverance." There was a love and respect for movies of all kinds in our home in an isolated suburb, many watched repeatedly on TV: "Shane," "Spartacus," "Duck Soup."
My ex-schoolteacher mother passed on her love for books by reading aloud, and gave wise advice on my first audition: Go for the witch, not the ingenue, in the 6th grade play. Mixing messages, she then sewed me a flowery crone costume edged in pink ribbon. My dad was a psychology professor who once studied for the priesthood, and I'd inherited something of his quiet, studious nature.
After high school (journalism, volleyball, bread baking), I entered Harvard with vague goals of self-discovery that seem quaint in these anxious times. It was the Reagan '80s, but my dreams were inspired by romantic '60s images: People strumming guitars on grassy hillsides. Following flirtations with two other majors, I settled on English and gravitated toward creative writing.
I fell hard for student theater. An introvert, I was easily overlooked at auditions, but a professional director on faculty cast me in a one-act at the A.R.T., then Sam Shepard's "A Lie of the Mind" at Trinity Rep. Instead of working on my senior thesis, a collection of original short stories, I spent afternoons speeding down I-95 to rehearsals in Providence, soaking up David Wheeler's tales of directing young Pacino and DeNiro. It was thrilling but stressful. I'd already spent a semester off avoiding the thesis, copy editing for a Boston publisher and hanging out with my boyfriend, a strummer of guitar on grassy hillsides.
When I finally finished school, acting called louder than writing. I got my SAG card dropping my R's as Agnes Fitzgerald in "The Kennedys of Massachusetts." The hard landing in New York was cushioned by an internship Off Broadway. Then came day jobs copy editing at Spy and Interview magazines, and numerous fruitless auditions ("Basket Case II," "Hellraiser III").
Finally, a Big Break: Errol Morris, Lou Diamond Phillips, female lead—it sounded so promising. I packed my bags for the Navajo Reservation and "The Dark Wind." A tabloid headline in the production office foretold trouble: "HOPI SNAKE PRIEST CURSES REDFORD FILM." I moved to L.A., hoping for momentum from a movie release that never happened. A friend of a friend slipped me his stapled-together handout, "Robert McKee on Story Structure," and hired me to read scripts for Island Pictures. Soon I got in with the USC film school crowd, reading for ICM.
There were acting classes. There were deer-in-headlight commercial auditions, complicated by the quest to identify my "type": Young Mom, Farm Woman, White Trash. I never did find my place in TV, and eventually my nice manager dropped me. A few more auditions from an agent in a cowboy hat, and that was that. Good riddance! I started writing again, a screenplay about a badass singer, two rival stalkers, and a support monkey. ICM handed me a book coverage gig I adored. The gods sent me one final "acting" role—Vons deli clerk in a Wells Fargo ad, directed by a guy in my yoga class—ensuring SAG health insurance through labor and delivery. The guitar strummer and I were proud parents.
Freelance reading suited new motherhood. I could stand at the HBO Xerox machine with a baby strapped to my chest, and control my schedule. I kept treading professional water after son No. 2. Now in the DreamWorks Story Department, I returned from vacation to learn the studio was unionizing. While I hadn't sought this moment, I recognized it from my AFI professor friend's "Hero's Journey" handout. But wait—was it the Call to Adventure, the Approach to the Inmost Cave, or the Ordeal?
Whatever. It was a stroke of good fortune after years of dithering. A reader no longer, a Story Analyst at last. I was immediately laid off amid a writers' strike, a bumpy start—but things worked out.
This profession shares something in common with my old love, acting. Pleasure lies in applying your entire life to it, and your secret heart. Every experience is relevant to judging and shaping material, whether it's seeing "Charulata" at a Satyajit Ray festival, or hiring a caregiver named Charulata for your mother with Alzheimer's, or driving your kids to hundreds of piano lessons. There will be scripts about dementia, scripts about classical music. A Fela Kuti concert, the Oslo Viking Ship Museum, camping out, screwing up. Whatever you read about—news, politics, history, race, psychology, robots, the Poem-a-Day in your inbox—informs your vision. Empathy is a vital skill. Dabbling is beneficial.
Bordal is a Story Analyst who lives in Santa Monica.