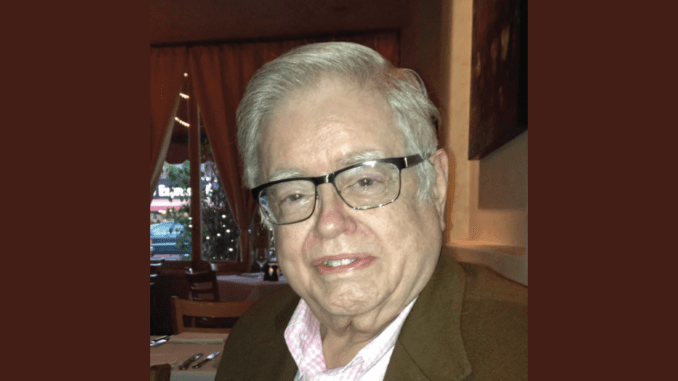 NOVEMBER 10, 1941–AUGUST 28, 2022
Picture editor Tucker Wiard, ACE,  loved editing. On classic network television series ranging from "The Carol Burnett Show" to "Murphy Brown," he loved making a scene sing, and he embraced the technical challenges that came with the job.
Wiard, who died on August 28 at the age of 80, loved editing so much that he chose not to pursue the occasional directing opportunity that came his way.
"Tucker had such a passion for editing that he didn't want to go and do anything else," said his widow Nancy, a now-retired longtime producer on "The Young and the Restless," in a recent interview with CineMontage. "If that's your passion, and that's what you want to do, then stay with that passion and enjoy the heck out of it."
For pursuing his passion, Wiard was honored and revered within the industry. "Murphy Brown" creator Diane English first worked with Wiard on the series "My Sister Sam" before tapping the editor to join her new show from the pilot through the series finale. In a statement to CineMontage, English described Wiard as an ideal cutting room collaborator.
"One of the most important aspects of choosing an editor is not only how compatible they are with the material but how well you get along in the editing room," English said. "I loved how much he loved the show — how his laughs were so genuine."
Wiard was a child of the Midwest. He was born in Detroit and grew up in Lansing, Michigan, where he attended J.W. Sexton High School. In 1962, he graduated with a degree in radio and television from Michigan State University. Even then, his long-range goal was clear. "He wanted to be in television — always," Nancy Wiard said.
While at Michigan State, Wiard was a member of the National Society of Pershing Rifles, and upon graduation, he entered the U.S. Army. At Fort Benning in Georgia, Wiard developed and saw through to completion the Studio and Remote Videotape Department. "He talked about buying these huge, behemoth machines, and flying back in the aircraft," Nancy Wiard said.
After leaving the Army, Wiard worked at stations in Chicago and Michigan before, in 1968, moving to Los Angeles, where he gained employment in the Videotape Department at CBS. "He started out doing the technical stuff," Nancy Wiard said. "He did not start out as an editor, but he was very interested in editing." When a colleague took a sabbatical, Wiard seized an opportunity to work as a videotape editor on "The Red Skelton Hour." "He was actually editing [by inputting] the hour, the minute, the frame, and dubbing to another machine," Nancy Wiard said. "At that point, things became a little more creative, and the editor maintained total control on a show."
Wiard ascended the ranks quickly at CBS, working on the pioneering sitcom "Good Times" from 1974 through 1976 and on the variety program "The Carol Burnett Show" from 1976 through 1978. That year, Wiard won the first of five Primetime Emmys for Outstanding Achievement in Video Tape Editing for a Series for the finale of the Burnett program, "The Final Show."
Although Wiard excelled at comedic material throughout his career, he received considerable attention for his work in other genres. With picture editors Ken Denisoff and Janet McFadden, Wiard co-edited the public-television miniseries version of Nathaniel Hawthorne's "The Scarlet Letter" in 1979 and, with picture editors Bill Breshears and Pam Marshall, co-edited ABC's "American Bandstand's 30th Anniversary Special." Both projects garnered Wiard additional Emmys.
'He was a wizard at helping me find the most graceful cuts,' says Diane English.
"It was the luck of the draw as to what he got and what came through the door," Nancy Wiard said, pointing out that her husband did equally well with comedic and dramatic material. "He was just such a totally gifted editor. He edited 'The Young and the Restless' occasionally, when they were lucky enough to get him."
Other sitcoms on which Wiard worked included "Charles in Charge" and "Alice."
But Wiard burnished his reputation on "Murphy Brown," the iconic CBS series starring Candice Bergen as the titular character, a trailblazing television news-magazine anchor contending with sexism, the news of the day, and single motherhood.
In her statement to CineMontage, English credited Wiard with honing the show during the editing process. "I always came in too long. Not seconds but minutes. Many minutes," English said. "He was a wizard at helping me to find the most graceful cuts. Sometimes it came down to the painstaking process of pulling a single second out of every edit just to bring the show in on time without losing a favorite joke or moment. He never balked."
Nancy Wiard remembered: "The 'Murphy Brown' pilot episode was turned over to the network, and then from there, they belonged to the network, but that episode was so tightly edited, CBS was unable to find an edit to get the show to go to time."
Wiard considered the show to be a high point, his wife said, and his colleagues recognized his efforts with eight Emmy nominations over the run of the show, resulting in two wins: for the pilot and for the episode "On Another Plane."
Following the end of the original run of "Murphy Brown," Wiard, who joined the American Cinema Editors in 1992 and was ACE Eddie-nominated twice, stayed active as an editor as well as a mentor. "He did a lot of training with other editors," Nancy Wiard said. "He trained an awful lot of people on the Avid and other systems."
Retired picture editor Stuart Bass, ACE, met Wiard in the 1980s at the Emmys. "He won that year — I didn't," Bass said. "We kind of hit it off. I think this is important for all editors: that you're both left-brained and right-brained. He had a lot of technical acumen, but on the other hand, he also knew how to build a story."
Even after he retired in 2009, Wiard remained engaged with his chosen medium. "He was up to date on what was going on and how things work," Nancy Wiard said. "He was very happy sitting at home. Every once in a while, if he saw something that he thought was really well-edited, he would say something."
But few shows were ever quite as well edited as those cut by Wiard.
"I remember a time when he literally built a guest actor's performance in the editing room and that actor got an Emmy nomination," English said. "We joked that it should have gone to Tucker. He was as good as it gets."