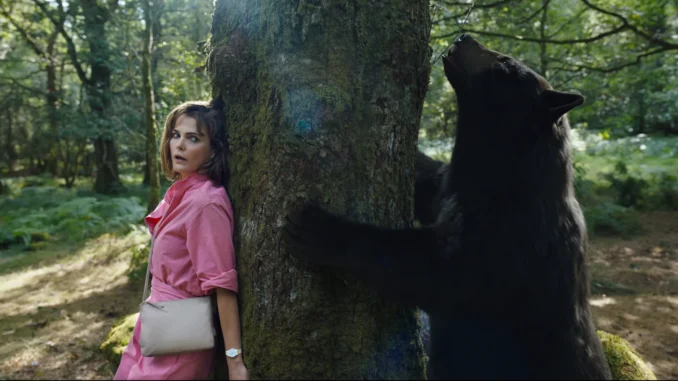 By Peter Tonguette
When the characters in the new movie "Cocaine Bear" first encounter the massive, murderous, and drugged-up title character, their first reaction is generally to run.
When picture editor Joel Negron, ACE, first heard about the film from producers Phil Lord and Christopher Miller, though, he jumped right in. As Negron recalled, "This is my third Lord Miller production, and when they asked, 'Hey, do you want to do a movie called 'Cocaine Bear'? I said, 'I'm in. 'Cocaine Bear' — what could go wrong?'"
On-screen, plenty does: In the Universal Pictures release set in Georgia in the 1980s, Keri Russell stars as Sari, a sensible nurse whose independent-minded daughter Dee Dee (Brooklynn Prince) trades school for an adventure in the Chattahoochee-Oconee National Forest in Georgia. There, Dee Dee and her friend Henry (Christian Convery) first make contact with a bear whose already fearsome disposition has been seriously altered after partaking in, and quickly becoming addicted to, bags of cocaine that have been scattered in the forest.
In the film written by Jimmy Warden and directed by Elizabeth Banks, also turning up at the forest are Daveed (O'Shea Jackson Jr.) and Eddie (Alden Ehrenreich), both in the employ of Eddie's father, drug kingpin Syd (the late Ray Liotta); an earnest, honest law-enforcement official, Bob (Isiah Whitlock Jr.); and a romance-obsessed forest ranger, Liz (Margo Martindale), and her significant other, Peter (Jesse Tyler Ferguson). Each has their own agenda, but none can escape their eventual encounter with the cocaine bear. Effortlessly cutting between storylines, Negron keeps multiple characters in the mix of the movie — until (spoiler alert) some meet unhappy ends. Much blood is spilt, many gags bitten into.
But for editor Negron, the ending has been considerably happier. Making the film was as much fun as he hoped, and the final result has been one of the surprise hits of the early part of the year.
Negron recently spoke with CineMontage about cutting "Cocaine Bear."
CineMontage: What movies were thinking of when you started working on "Cocaine Bear"?
Joel Negron: As I read it, I had a couple of movies in mind, and in my first meeting with Elizabeth Banks, we talked about that. We asked, "Well, is it sort of like a Coen Brothers movie? Is it sort of like 'Pulp Fiction'?" No. It's like pretty much nothing. It's about a bear high on cocaine that eats people, so what movie is like that? It piqued my interest because it was something that I had never seen in a comedy. And when you watch the movie, you can't really compare it to anything else. We wanted people to see a bear mauling somebody and laughing their ass off.
CineMontage: How did you juggle all of the characters in the film?
Negron: There are basically four groups that go into the forest, and they all converge together. The big thing was we needed to get to know the characters, who they are and why they're going into the forest, as quickly as possible. What do we need to know about each character and how can we tell that story in an efficient way? Even the smaller characters, like the two EMTs that go into the ranger station, have a little bit of backstory when they're bickering before they go in. We just looked for those pieces.
CineMontage: Did the movie always include a cold open with a deranged drug smuggler heaving bags of cocaine from a plane?
Negron: That's how Jimmy wrote it, and the song is a song that Elizabeth picked. It's meant to say: "OK, this is going to be a fun movie." It's a tone-setter from frame one, with the music, with what the guy is doing, and with him acting kind of weird. Then he jumps out of the plane and we get into it.
CineMontage: What was it like working with these performances?
Negron: They're all really seasoned actors and really good. The kids were amazing. The little boy was incredible as Henry, and it was interesting as we got his dailies in: He's a kid, and he's 10, and sometimes you see that he's a little distracted. But then, when we found great pieces of him and put them together in a scene, he was brilliant.
Keri was kind of the straight person who was always around odd people, so that made her funnier, especially when she was around Margo Martindale and Jesse Tyler Ferguson. Also, working with the great Ray Liotta was an honor in itself.
CineMontage: Early in the film, there are long gaps between when we see the bear. How did you and Elizabeth work that out?
Negron: We didn't want to overdo it. Especially in the first scene, we didn't want to make the bear to be this crazy thing that's going to be too over the top. We had to be very careful in the first scene and just live in reality for a little bit, but then we added a little accent: The bear is hitting his head on the tree, so you're thinking, "What's going on with this bear?" Then there's a shot where the hiker looks at the bear and the bear kind of flops its hand over, almost like a wave. It's just a tiny weird thing the bear does which we saw in some nature videos. We looked at a lot of YouTube videos, and we incorporated those in our animation.
We had a post-viz team in our cutting room called Halon Entertainment. They were part of our team. We needed the bear to do certain things, and we didn't know exactly where the bear should be placed and what its body language should be. We spent a lot of time getting shots pretty much how we wanted them. Weta Digital was our VFX team — Robin Hollander was our VFX Supervisor — and when we handed the shots over to them, 80 percent of the animation was blocked out. They knew exactly what we were looking for.
CineMontage: How did you and Elizabeth work together?
Negron: Elizabeth does storyboards, has a plan, and shoots pretty much what her plan is. That makes it easier for the editor because, once I get all the footage, I can talk to her about it or I can look at the storyboards and figure out how everything pieces together. If she's missing something, I would go to the set and say, "Hey, how about getting this?"
CineMontage: Where was the film shot?
Negron: We shot Ireland for Georgia, which was really weird but it looked just like Georgia. There are a couple of traveling shots or helicopter shots that are Georgia, but pretty much everything else was a little state park in Ireland.
During the shooting, I would go on the set a couple days a week, and in between setups, I would talk to her about the footage that I saw earlier or the scene I was working on. We had really nice conversations about what her intentions were. I got a lot of direction while they were shooting, and I got to understand what she was looking for. Once we got into the cutting room, I was already way ahead of the game.
CineMontage: How did work progress in the cutting room?
Negron: Elizabeth is super-collaborative and really funny, so it's fun to be around her. She's just always laughing. She'll have an idea, I'll try it, and then I'll say, "Well, maybe there's a different way to do this." She wants to see what I'm thinking.
For example, there's a scene inside the ranger station just before the ambulance arrives. I said, "You know, I think this needs to be more like an Alfred Hitchcock thriller." There are all those classic shots that you get when you're doing this sort of movie. The audience is saying, "Don't open that door, don't open that door." I suggested it, and it just builds and builds and builds. I showed it to her and she said, "Oh, that's great." Then we live with it, show it to an audience, and see how they like it.
CineMontage: Was this a movie you showed to a lot of audiences before release?
Negron: We did. With comedies, you always do that. They're touchy because one thing that you do two minutes earlier could mess up the joke later. Comedy is really precise, and you have to be aware of that. The best way to know that is to show it to an audience. We did a lot of preview audiences, and we made adjustments. You learn a lot sitting with the audience and listening to them, and it's also fun. Especially with this movie, because it's scary and funny and you get jump scares and people cracking up. That, to me, is just joyful.
CineMontage: You're pushing the movie just to the edge of what people might consider too shocking.
Negron: It's a fine line. You can cross that line so easily, and we did a lot. We showed it to an audience, and if it wasn't where we wanted it to be, we toned it down a little bit and brought it back.
CineMontage: Can you say a few words about your editorial team?
Negron: Christian Sharaf was my first assistant. He came with me to Ireland. We had two local Irish members of the editorial team, second assistant editor Jackie Jarvis and PA Aisling Phelan. I had a great visual effects editor, Kevin Stermer, who was also with me. We also had a postproduction supervisor and VFX producer, Petra Holtorf-Stratton, who was there. She was integral in making sure that we had what we needed when we were traveling and then when we moved back to LA.
CineMontage: As the movie came together, did it turn out to be the movie you thought you were signing up for?
Negron: It's a bizarre, violent, funny movie, and, yes, it is exactly what I signed up for.