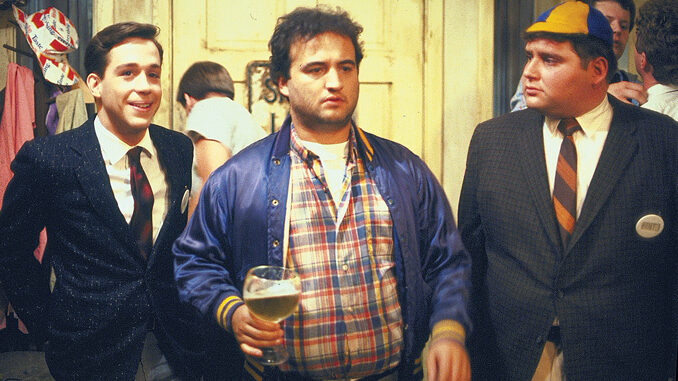 by Mitchell Danton
My father, the late actor/director Ray Danton, was a gifted man. He was handsome, had a baritone voice, stood over six feet and weighed a chiseled 190 pounds in his prime. He per- formed in London and on Broadway. He had also played tough guys like Legs Diamond and George Raft in the movies.
By contrast, I was an ordinary-looking kid who, at the time, could hardly imagine having a career in the entertainment industry. I enjoyed movies growing up in LA during the 1970s, though, and loved escaping into films of all genres. But one film would leave a lasting impression on my young mind. It was a raunchy comedy about a bunch of rowdy frat guys that was released in the summer of '78. It was called Animal House, and I loved it!
Animal House is the story of the Deltas, who attend mythical Faber University in 1962. They are a band of miscreants who live college life to the fullest. Led by womanizer Otter, played brilliantly by Tim Matheson, and backed up by the hilarious Bluto, (comic legend John Belushi), the Deltas stand up to the authoritarian forces that try to destroy their lifestyle of college debauchery. Even their nemesis, Dean Wormer (cast perfectly with the stoic John Vernon), and his henchmen, Omega brothers Greg Marmalard and Doug Neidermeyer, are unable to stop their shenanigans.
In one early skirmish, Neidermeyer rides a horse around a group of cadets and verbally abuses a Delta pledge named Flounder. Otter, wielding a golf club on a nearby hilltop, retaliates by driving a well-aimed ball into the horse's backside, causing the animal to rear up. Otter fires another shot that hits Neidermeyer's helmet, knocking him off his mount. As the horse drags Neidermeyer along the ground screaming, Otter quips that the point of golf is "just to enjoy yourself!"
Fed up with their antics, Dean Wormer puts the Deltas on "Double Secret Probation." Undaunted, they throw a salacious toga party. The aftermath is an entertaining trial between the Deltas and Dean Wormer. Despite a patriotic speech by Otter, they get expelled from the university. In a final battle cry, Bluto rallies the troops with, "Was it over when the Germans bombed Pearl Harbor? Hell, no!" In the end, the Deltas prevail by sabotaging Faber University's beloved home- coming parade.
Like my movie heroes the Deltas, I was irresponsible. I partied hard, nearly flunked out of high school and didn't go to college. Around that time, I recall my father and I discussing our favorite films. When I told him mine was Animal House, I could see a skeptical look in his eye that seemed to say, "Fat, drunk and stupid is no way to go through life, son." After all, his most beloved film was Wuthering Heights.
Fortunately, I became focused in the 80s. My dad, a successful television director by then, introduced me to the very talented Geoffrey Rowland, ACE This friendship led to me getting a Post PA job on Cagney & Lacey, where I became fascinated with editing. Our incredible executive producer, Barney Rosenzweig, helped me get into the Editors Guild in 1984. Two years later, I quit working on the show, went to college, and graduated with honors from USC's School of Cinema-Television in 1990. Thankfully, my dad, who passed away in 1992, would live to see me turn my life around.
As I've revisited Animal House over the years, I've discovered that it holds up very well. The film is nicely crafted, and the editing by George Folsey, Jr., ACE, keeps the comedy moving at an excellent pace. But perhaps what is most remark- able is the music. Elmer Bernstein's dramatic underscore (a bold choice indeed) contrasts with the vintage songs to create a hysterical dichotomy between the worlds of the Omegas and the Deltas. The film also features a memorable performance by Otis Day and the Knights singing "Shout," which is musical, cinematic and comic genius all rolled into one.
Animal House influences me to this day. For the past year and a half, I've been editing the popular ABC Family series Greek. One of the first scenes I cut on the show had the Greeks on trial for partying too hard. The Dean's restrictions (keg limits and curfews) were ruining their parties. The brothers were arguing passionately with the Dean to get the restrictions lifted.
I quickly realized that this scene was an affectionate homage to the trial in Animal House. I knew how to cut this! In the end, the scene and the episode turned out well, and I've been editing Greek happily ever since. Although my dad would have never believed it, my love of Animal House ultimately did help prepare me for a respectable, well-paying job in Hollywood.