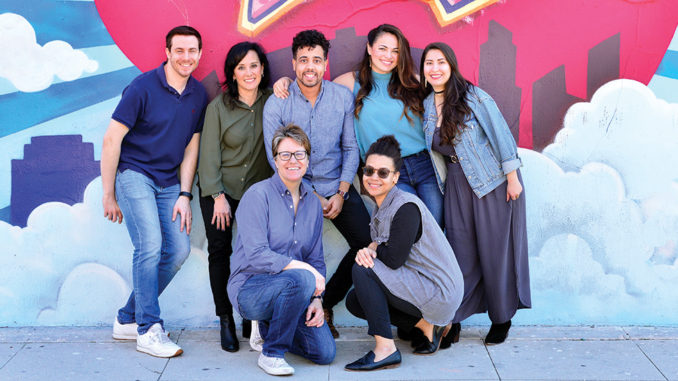 by Génesis Henriquez • portraits by Martin Cohen
I had forgotten just how much of myself my work asks me to leave at the door until I worked on Vida. The Starz network show, which had its second season premiere on May 23, was the first network television show on which I've ever had the pleasure of being asked to assist. My head didn't stop spinning from the offer until several weeks into working on the series' debut season last year. When it finally did stop, it landed smack-dab in the middle of the significance that Vida would have not just for me, but for television itself.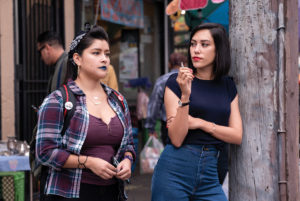 First and foremost, Vida is a story about…well, life. And yet it starts with a death. When their mother, Vidalia (Rose Portillo; Rocio López as young Vidalia), dies following a battle with cancer, estranged sisters Emma (Mishel Prada) and Lyn (Melissa Barrera) are forced to return to their childhood neighborhood of Boyle Heights in East LA. Upon their arrival, the sisters must quickly come to terms with their relationship to a woman who they now realize was a mystery to all the people she left behind.
In the first season, the sisters learn that Vidalia was not only married, but that she was married to a woman named Eddy (Ser Anzoategui), with whom they will now have to navigate co-ownership of the floundering bar and building that their mother left them. This news is especially difficult for Emma to process since she was sent away to live with relatives by Vidalia — for being queer herself.
Throughout the first two seasons of the show, Emma and Lyn's attempts at rehabbing the bar are met with distrust and animosity from the Vigilantes, a group of neighborhood activists weary of the ever-encroaching gentrification that threatens to displace the neighborhood's working-class residents. Mari (Chelsea Rendon) is one of the Vigilantes organizers and is especially distrustful of the sisters, whom she regards as white-tina sellouts.
Yet, the dynamics of Mari's relationship with the sisters are further complicated as their lives begin to converge through Lyn's chaotic relationship with Mari's brother, Johnny (Carlos Miranda), and Emma's growing concern for Mari's well-being. The sisters' attempts also clash with Eddy's desires to preserve the memory of her beloved wife and the life she believes they had led together.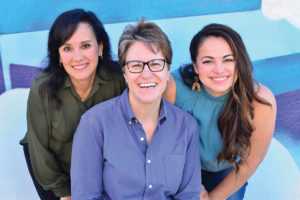 In following the stories of these four vastly different Latina women as they navigate their ties to family, home and self, Vida offers audiences an authentic lens into the often-overlooked Latinx-American experience and some of the many different forms in which it manifests. (Latinx is a gender-neutral term used for persons of Latin-American origin or descent.)
This is no easy feat and, having had a front-row seat to how this small but groundbreaking show came together, I can personally attest to the attention to detail that was paid at every level of production to ensure that Vida represented Latinxs authentically.
Vida was developed with Big Beach TV as part of a Starz initiative to draw in Latinx audiences, and marks several breakthroughs in the history of television. It is one of the earliest –– if not the first –– premium cable network television shows to be helmed by a Latina showrunner, Tanya Saracho, who got her start as a playwright before writing for TV shows such as How to Get Away with Murder (2015-present) and Looking (2014-2015).
Saracho knew from the very beginning of the development process that in order to tell this story authentically, she couldn't just hire actors who looked the part; she also had to have people at every stage of production who understood and identified with the Latinx and queer experiences that this show would bring to the forefront of its narrative. She was supported in her quest for authenticity by our majority-female team of innovative producers and executives; their combined efforts resulted in the first-ever all-Latinx writers room in premium cable.
The extraordinary achievement that is this room's mere existence is not lost on Saracho, or the rest of the Vida writers, whose previous experiences on other shows — where many were the only Latinx writer or were designated "diversity hires" — have been vastly different than on Vida. "It felt like, 'Oh, this is what the dominant culture feels like 100 percent all the time,'" said Santa Sierra, one of the show's writers, in a 2018 interview about Vida's writers room with Vulture.com. "I didn't feel that I had to be LeBron James in this room to be appreciated. It's probably the only time I was gonna be able to do that in this business."
The drive to hire voices that would feel intimately and authentically connected to the stories depicted in Vida continued into production, with the majority of Season 1 and all of Season 2 being directed by women. Our directors were partnered with not one but two female cinematographers, which is noteworthy for a craft historically dominated by male hires. Aside from the camera team, the majority of department heads are also female, another rarity in both television and film production.
Our own editorial team is headed by co-producer Christina Perez (Good Girls, 2018-present) and an all-female picture editor trio: JoAnne Yarrow (Claws, 2017-present), Amy E. Duddleston (American Gods, 2017-present) and Liza D. Espinas (American Crime, 2015-2017). The first season's editorial team was rounded out by assistant editors Sarah Russell (Charlie's Angels, 2019), Mike Boord (The Oath, 2018-present) and myself, along with post supervisor Patrick VandenBussche, post coordinator Christopher Castillo and our beloved post mascot/comfort dog Temo. With the second season departures of VandenBussche and Russell came the addition of Steph Zenee Perez (Robin Hood, 2018) as assistant editor to Yarrow and Azaria Inverary (Hit the Floor, 2013-2018) as post-production assistant, while Castillo was bumped up to post supervisor.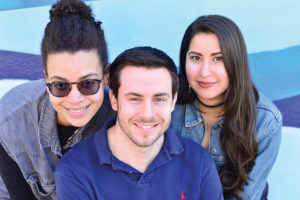 "I was told about Vida by my agent, who pitched it to me as a queer, Latinx comedy/drama set in Boyle Heights, in which gentrification was a big part of the plot," says my own editor, Duddleston. "I was like, 'I need to read that script right now!' When I read it and watched the pilot presentation, I knew it was going to be very different than most shows on television, and I really wanted to be a part of it."
Our workflow on the show was streamlined for Starz's production pipeline, with small variations to the processing of dailies depending on each editor's preference. "Once we're out of dailies, I mostly help with temp sound design and visual effects shots, look for music options, export and upload cuts along with their respective continuities, and occasionally help translate," explains Zenee Perez. "After an episode is picture-locked, we begin all the turnovers, spot for music, sound and visual effects shots, update the effects, music and ADR, and reuse tracking lists."
Outside of editorial, the rest of the post-production departments are equally dedicated to making sure that the look and sound of Vida matches the aesthetic of the story we are all trying to tell. Our sound department, headed by supervising sound editor Cormac Funge (Breaking Bad, 2008-2013), ensured that the distinct sound of East LA that Saracho wanted to capture was achieved.
Funge and his team worked closely with music supervisor Brienne Rose and music editor James Bladon (Manifest, 2018-present) to create the unique audio landscape of Vida as it began to incorporate the live performances featured in Season 2, whereas the first season's music was defined by a mix of needle-drops from various newcomer Latinx artists and an original score by composer Germaine Franco (Coco, 2017). With the current season also came the formation of an all-female collaborative songwriting camp, spearheaded by Pulse Studios, which worked with Saracho to compose songs tailored to individual scenes.
With the picture editors returning for the current season, the relationships between the editorial crew developed just as much as those of the characters whose stories we were telling. "Like in any relationship, in Season 1 we were all just getting to know each other, as well as the vision Tanya had, who these characters were, the story world, etc.," Espinas explains. "By Season 2, we were like family since we had gone through all the growing pains and joys together."
She goes on to champion the strong and empathetic leadership the Vida crew found in Saracho: "Tanya puts so much passion and love into the show and is so appreciative of, and gracious to, her cast and crew — and that resonates in all of us. We share her passion and are fully invested in the show. It's like being a family, for together we give everything of ourselves to bring Vida to life."
This sentiment is also shared by Duddleston, who adds, "We are a tight-knit crew for sure. We eat lunch together everyday, we group text, we hang outside of work and we all know each other well. I think Vida, and its theme of family, definitely brought us closer together."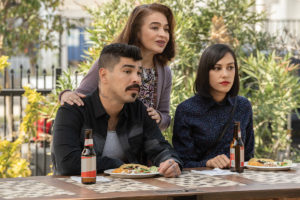 It's appropriate that the tag line for Vida's first season was "Find Your Way Back Home," as working on this has felt like a homecoming for so many of the people on our team who are used to being "other-ized" for the very things this show celebrates about them, such as their Latinidad* or their queerness. "Growing up in a predominantly Mexican-American community," comments Zenee Perez, "I had no idea that Vida would touch on many of my childhood memories, along with numerous issues that affect the Latinx community: the gentrification issue, the identity and culture struggle that a lot of first-generation Americans have to deal with on a day-to-day basis, and gender and sexuality complexities."
Her experience is similar to my own. As the child of a Puerto Rican mother and a Dominican father who grew up in Brooklyn with Spanish as her first language, I, like many of my fellow hyphenated Americans, learned from a very early age that I existed between two worlds. The first was that of the ethnic enclave in which I was raised — the Williamsburg of immigrant factory workers who had arrived in the 1960s, '70s and '80s in search of a better life and who would later come to be displaced by a growing tide of gentrification, similar to the one with which the characters on Vida must deal. The second world was the one we hyphenated Americans are continuously told we should take as our normal, despite the fact that it's very much designed to make us feel the opposite of normal.
Every year, there is a plethora of published articles and studies detailing the huge discrepancies that exist between the actual ethnic makeup of the US population and how the TV business reflects those ethnicities. At 16 percent of the population, Hispanics are the largest ethnic and racial minority in the country (US Census Bureau, 2010). Yet their representation on television amounts to less than seven percent of programming (UCLA's Hollywood Diversity Report, 2018).
For many Latinxs, myself included, it often feels as though the studio/network benchmark for what constitutes a sufficient amount of Latinx representation on television has only served to reinforce negative stereotypes and prejudices that narrow the scope of how Latinxs are viewed globally and within the specific context of US society. These limited depictions constitute a gross and dangerous erasure of the complex identities that make up the Latinx community, especially at a time when we are constantly being "maligned and vilified," as Saracho aptly put it when accepting the 2019 GLAAD award for Outstanding Comedy Series on behalf of Vida.
During times like these — and during all times, really — it's important that our media landscape authentically represent the rich variety of stories that make up the American experience. For its part, Vida, and the many hands and hearts involved in its creation, aims to do just that.
* (Editor's note: Various attributes shared by Latin-American people)