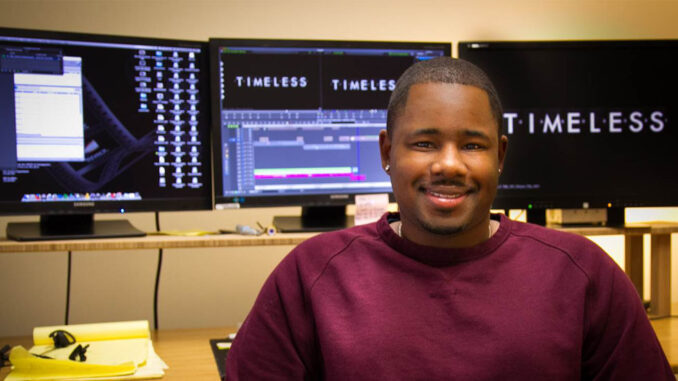 Compiled by Edward Landler
Where are you currently employed?
I am working at NBCUniversal Television.
Current Project?
I am the visual effects editor on the time-traveling mystery series Timeless on NBC.
Describe Your Job.
I manage visual effects for the show. When the picture editors have locked their sequence, I turn over plates to the visual effects team. Once they start pumping out versions, I review them with the executive producers and communicate any notes or feedback they have to the visual effects team.
How did you first become interested in this line of work?
I've always wanted to be an editor/director. When I was a kid, I forced my younger cousins to participate in music videos I would create. The videos soon turned into small scripts I would write, direct and edit. TV in particular is special to me because I like having something new and fresh to look forward to each week.
Who gave you your first break?
I worked on the 20th Century Fox lot in the mailroom and came across a very nice editor named Dorian Harris. She was working on House on the Fox network at the time and she allowed me to bug her and ask questions. I quit the mail room and went to the Los Angeles Film School. A year later, I sent Dorian a package of things I'd worked on in school. She forwarded it to another editor, David Kaldor, who got me a job as a post-production assistant on CBS's The Unit, created by David Mamet.
It's important to be organized so that nothing falls through the cracks. I think checking and then re-checking my work on all the sequences really helps.
What was your first union job?
My first union job was on a pilot called Last Resort on ABC. I landed this because of an amazing producer by the name of Nick Bradley. It was very intense but a really great learning experience.
Which of your credits or projects have made you the most proud and why?
The credit I am most proud of is a project of my own called Damn Near. I wrote, directed and edited this half-hour pilot that landed me a spot in the 2016-18 Disney/ABC Directors Program, one of the Disney/ABC Talent Development Programs. There's nothing like doing your own projects and seeing them succeed!
What was your biggest challenge in your job (or on a particular project) and how did you overcome/solve it?
So far, my biggest challenge has been on Timeless, a show with a heavy volume of visual effects. It's important to be organized so that nothing falls through the cracks. I think checking and then re-checking my work on all the sequences — as well as a great amount of teamwork — really helps. We really have each others' backs here.
What was the most fun you've had at work?
The most fun I've had at work is on Timeless. Everyone is really nice and really funny, including the showrunners. We have a lot of fun here, all while pumping out an awesome show each week.
Jobwise, what do you hope to be doing five years from now?
Five years from now, I hope to be editing and directing television.
What are your outside activities, hobbies, passions?
I write pilot scripts, play pool, hike, spend time with my family and friends, eat and, most importantly, binge on TV shows!
Favorite movie(s)? Why?
Just Friends, Bridesmaids, and Boomerang… I love comedy and movies in which the comedic timing is superior. I can watch these movies over and over again like I've never seen them before.
Favorite TV program(s)?  Why?
Black-ish, Broad City, The Real O'Neals, How to Get Away with Murder, Scandal… I watch  a lot of TV, so I'll just stop there.
Do you have an industry mentor?
Someone I really admire and from whom I learned a lot is Anton Cropper. Anton was one of the executive producers and directors of Suits on the USA Network, where I was an assistant editor. It was intriguing watching his dailies and seeing him interact with the cast and crew. Everyone loved him and, on top of that, he's an extremely talented director. These are major goals for me.
What advice would you offer to someone interested in pursuing your line of work?
Find your entryway and then get to your destination. Don't waste too much time in a position you know won't lead to your ultimate goal.
Was there ever a circumstance when you had to rely on the Guild for help or assistance?
I haven't had to use the Guild for assistance yet, but I've been on a couple of projects where the Guild was definitely checking in on our well-being. It was nice.
Is there anything you'd like to say to your fellow Guild members, some words of encouragement?
I think it's important to keep a positive attitude while climbing the post ropes and really taking everything in. As I grow as a director, I learn so much from my day-to-day experience in post.
Editor's Note: To recommend a member (including yourself) to be profiled in the What Our Members Do feature, contact edlandler@roadrunner.com.