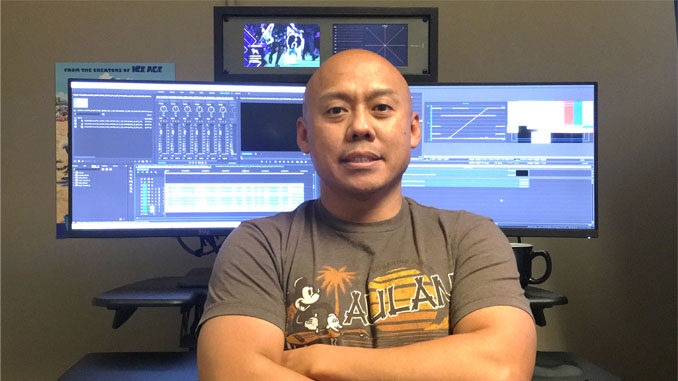 Where are you currently employed?
I work as a Digital Media Operator for Fox Media Services at 20th Century Fox.
Current Project?
Most recently, I'd been working on the domestic and localized versions of The Greatest Showman and Maze Runner: The Death Cure.
Describe Your Job.
My work varies day to day. I work on feature mastering, currently aired programs (Fox, NBC, ABC, FX, NatGeo, AMC), and our library content. My tasks include encoding and transcoding files to Fox specifications, editing out commercial blacks, adding dubcards, logos and subtitles, as well as creating Pseudo Textless versions using Adobe Premiere and Clipster.
Also, UHD, HDR, SDR and IMF/IMP mastering using Colorfront Transkoder; conforming caption and subtitle files via MacCaption; creating metadata and packaging for multiple platforms (iTunes, Hulu, Netflix, Xbox, Amazon, Google, VUDU); distributing files via Aspera, Apple Transporter and our digital delivery; ingesting HD and SD tape formats; making Avisynth scripts; and finally archiving digital assets.
How did you first become interested in this line of work?
After studying film and television back in college, I moved to LA from the Bay Area to pursue a career in the industry. One summer, I was a production assistant for Bunim/Murray Productions in Van Nuys, and I helped out on student projects during the weekends. I couldn't stand working for free but it was a way of networking with people.
Who gave you your first break?
Prime Post, a small family-owned post-production house in LA. I worked there as a videotape operator for a year.
What was your first union job?
Working at 20th Century Fox is my first union job. I am forever grateful to fellow Guild member Gib Johnson who presented my resume to Fox Media Services. I've been in the union now for almost two years and loving it!
Which of your credits or projects have made you the most proud and why?
Probably what I'm most proud of is when I made my first 30-second preview of the National Geographic reality show The Incredible Dr. Pol for iTunes. It's pretty much the only time I get to be creative.
What was your biggest challenge in your job (or on a particular project) and how did you overcome/solve it?
The biggest challenge is balancing work and family. Work hours are long and then there's commuting in LA traffic. I worked swing shift and missed having dinner with my family or reading to my son before he went to sleep. My boy started transitional kindergarten and, with my work schedule, I'd have no quality time with him until my days off. Luckily, I was able to get my work schedule pushed back so I could spend more time with him. The things you sacrifice for your family…
What was the most fun you've had at work?
Definitely the most fun are the parties on the studio lot and the summer celebration that includes a movie screening and a BBQ.
Jobwise, what do you hope to be doing five years from now?
I hope to continue with Fox — pending the future of our Media Services group since the announcement of Disney buyout back in December.
What are your outside activities, hobbies, passions?
There isn't as much free time as I used to have, but I've been busy taking my five-year old son to Tae Kwon Do and practicing with him. I enjoy a good hike — who else can say they hiked Mount Whitney twice? I also run half marathons and obstacle races and, whenever I can, I'll try to sneak in a round of golf.
I Also love to travel — my family and I travel two or three times a year. I can say I'm a foodie as well; be sure to ask me who has the best deli sandwich in LA. Also, love my San Francisco Giants, Los Angeles Kings, Oakland Raiders and Los Angeles Clippers!
Favorite movie(s)? Why?
Star Wars and Marvel movies. Who doesn't love Star Wars? I used to collect Marvel comic books, so I'm into the characters. Sorry, no DC movies for me. Other favorites are The Sandlot and Field of Dreams; I love the game of baseball.
Favorite TV program(s)?  Why?
I don't watch TV as much as I used to, but I'm waiting for one more season of Game of Thrones. I get a kick out of people getting what they deserve, as well as lots of action, an epic soundtrack and, of course, the dragons. The Walking Dead is another favorite that I watch together with my wife. Similar to Game of Thrones, your favorite character is probably going to die.
Do you have an industry mentor?
Encoding technician Ryan Gladden. I worked with him for five years at Deluxe Digital Media. If it wasn't for him, I wouldn't be in this position. He taught me all I needed to know. I just put in the hard work.
What advice would you offer to someone interested in pursuing your line of work?
Work hard, pay attention to detail and keep a positive attitude. Be proficient with the tools of the trade. Most important, make connections with people in the industry.
Was there ever a circumstance when you had to rely on the Guild for help or assistance?
When I got hired by Fox, the staff at the Guild quickly helped me get on the industry roster.
Is there anything you'd like to say to your fellow Guild members, some words of encouragement?
Never give up on yourself. Never give up on your dreams. You're lucky to be working with talented, hard-working people.
Compiled by Edward Landler
 Editor's Note: To recommend a member (including yourself) to be featured on the home page of the Editors Guild website contact edlandler@roadrunner.com.