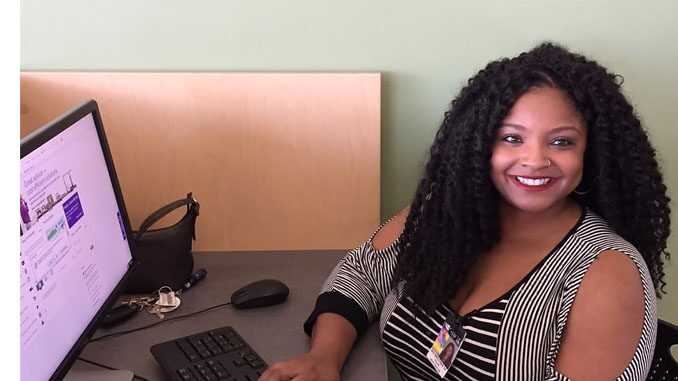 Where are you currently employed?
I work with Our House Productions at the CBS Studio Center in Studio City.
Current Project?
Currently, we're starting up Season 19 of Big Brother.
Describe Your Job.
I log and transcribe reality footage and interviews in real time. When I am logging footage, I am typing detailed descriptions of the scenes and noting what is important. When I am transcribing, I am typing what is said in the interviews word for word.
How did you first become interested in this line of work?
I actually just fell into it. My professor in college, Mike Laponis, recommended me for a job as a transcriber during the summer of my junior year. Before that, I had no idea people were actually paid to do this line of work. I've been at it ever since.
Who gave you your first break?
Almost 10 years ago, a post-production supervisor named Amanda Coppola gave me my first break as a transcriber on the unscripted reality show The Baby Borrowers on NBC. It was about teenagers learning about parenting by trying to take care of real babies for three days.
What was your first union job?
My first union job was Big Brother. Prior to Big Brother, I had worked on many seasons of The Apprentice franchise as a logger and transcriber. The show's post -supervisor, Tim Tevault, recommended me for a logger position at Big Brother. I went in for an interview and was hired right away.
I started logging on Big Brother 13, but I did not become a union member until the summer of 2015 while working on Big Brother 17. Big Brother became union before the start of Season 16.
Which of your credits or projects have made you the most proud and why?
I would have to say that the transcribing project that made me the proudest was Shark Tank because the season I worked for the show it won an Emmy. I received a certificate in the mail for transcribing on the show and I was surprised! I had no idea I would be recognized.
What was the biggest challenge in your job (or on a particular project) and how did you overcome/solve it?
My biggest challenge was logging for the unscripted show, Whale Wars. It was about the Japanese whaling trade and the efforts of conservationists to stop it. I did not know nautical terms, so it was difficult to describe what was going on in the reality footage. I was able to solve the problem by brushing up on those terms on Wikipedia. Thank God for the Internet!
What was the most fun you've had at work?
I always have a lot of fun when I'm working at Big Brother. It's like being at summer camp every year. I enjoy being back on the CBS lot and catching up with my co-workers. Big Brother is also one of my favorite reality shows, so it's nice to be able to be a part of the team.
Jobwise, what do you hope to be doing five years from now?
 When I'm not logging on Big Brother, I am working on other reality shows and talk shows in either the casting department or production department. I would love to continue to thrive in both departments as a casting producer or story producer.
I also look forward to working on Big Brother because of the union perks — and I am such a huge fan of the show.
What are your outside activities, hobbies, passions?
In my spare time I enjoy playing tennis, cycling, cooking and baking.
Favorite movie(s)? Why?
This question is so hard for me because I love so many movies from so many different genres. I'm going to go with the best movie I watched this week, which was Hush, a thriller about a deaf woman who fights for her life on a night that a masked killer appears at her window.
I loved the premise of the movie and it gave me everything I want in a thriller — heightened feelings of suspense, dramatic tension and a crazy villain.
Favorite TV program(s)?  Why?
Right now, I cannot miss one episode of Better Call Saul. I think it embodies all the things that make a television show great — astonishing cinematography, acceptable acting, great story pacing and writing.
Do you have an industry mentor?
When I first started off in the industry, my mentor was my college professor Mike Laponis. During my time in college, he was always so encouraging and he helped me land my first job. For that I am forever thankful. We all know how important contacts can be in this industry and he gave me my first one.
What advice would you offer to someone interested in pursuing your line of work?
If you are pursuing logging, I would say type fast, type accurately, be detailed and, most importantly, make honest connections with people for networking purposes.
Was there ever a circumstance when you had to rely on the Guild for help or assistance?
When I started working on Big Brother 13, it was not a union show. When I became a union member in 2015, I was ecstatic for two reasons. First was the significant difference in pay. The other reason was more personal. My father worked as a set hand on the original Blade Runner and, during that time, an editor approached him and offered to teach him all the ropes about editing.
He was unable to accept the offer at the time because of family reasons and he left the industry before I was born. My dad tells me one of his regrets is not going for it and he is so proud of me because I am in the union that he always wanted to be in.
Editor's Note: To recommend a member (including yourself) to be featured on the home page of the Editors Guild website contact edlandler@roadrunner.com.